Hogs vs. Frogs: confident Porkers w/history on their side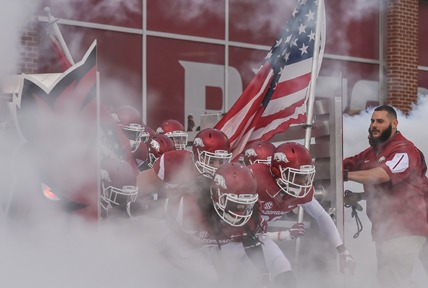 FAYETTEVILLE - Going through the Northwest Arkansas Touchdown Club buffet line this week, a University of Arkansas grad / former Razorback figuratively added Horned Frog legs to his plate.

Oddsmakers have TCU's Horned Frogs a touchdown favorite over Arkansas in Saturday's 6 p.m. ESPN-televised game in Fort Worth. But the alumnus Hog chose history over odds.
"We always beat TCU," he said.
And for the Razorbacks' last 32 Southwest Conference seasons they nearly always did. After his 4-6 debut season, Coach Frank Broyles made gigging the Frogs annually a sure thing.
From 1959-1976, Broyles opened the SWC season at TCU's expense. Lou Holtz, Broyles' immediate successor, continued the mastery over TCU from 1977 through '80 until stunned by TCU in 1981 at Fort Worth.
Other than Ken Hatfield's first Razorback team of 1984 and Jack Crowe's 1990 first of two Razorbacks seasons, Arkansas won the SWC remainders over TCU before leaving the league after 1991 for the SEC.
Arkansas iconic coaches Broyles, Holtz and Hatfield didn't contend with what Coach Bret Bielema deals with for this SEC vs. Big 12 non-conference clash.  They didn't have Gary Patterson coaching on the TCU sideline.
TCU's all-time winningest coach with a 144-47 record,  Patterson comes off 12-1 and 11-2 seasons, capping the 2015 campaign by rallying the Horned Frogs from a 31-0 halftime deficit  to overcome Oregon 47-41 in three overtimes.
Patterson has turned the TCU joke into a national championship contender. And he doesn't joke around about keeping his edge. The former defensive coordinator fumed last week about TCU's defense in its 59-41 season opening victory over South Dakota State.
Though TCU quarterback Kenny Hill earned Big 12 Offensive Player of the Week honors by accounting for five touchdowns, three rushing and two passing, while completing 33 of 49 passes for 439 yards, Hill's smiling attempt to keep the team upbeat after he threw two interceptions was met with a Patterson snarl.
"I told him it wasn't that funny," Patterson said. "It's not about how many yards, how many touchdowns, it's about winning."

Bielema knows Patterson spent this week correcting every first-game flaw.
"As a coach, I have been a big fan of Gary Patterson," said Bielema, whose mostly ultra-successful 2006-2012 Wisconsin tenure includes a 21-19 Rose Bowl loss to Patterson's Horned Frogs.  "A tremendous coach and really good guy in the business that has built that place into something special from the team he puts on the field to the environment we are going to walk into with the tradition of the fans."
Arkansas used to bring more fans than TCU did to their games in Fort Worth, but TCU purple will abound  Saturday night at Amon Carter Stadium.
Patterson knows that Bielema and his coaches spent the week correcting from last Saturday's 21-20 escape of 26-point underdog Louisiana Tech. Better tackling and pass protection, less turnovers, better special teams coverage and defensively preparing for TCU's Air Raid, hurry-up, no-huddle pace are Bielema's priorities. Offensively, his Hogs must set a ball-control tone to slow that TCU pace.
They correct with a lot more urgency, yet Bielema believes in his team with a little more confidence after overcome in a tight game vs La. Tech that was supposed to be a blowout..
"To be in a close game out of the gate was probably a good thing," Bielema said. "I think we know a lot more than people probably know that were in blowouts or one-sided losses. You really find out a lot about your guys when they are in crunch time."