GAMEDAY: Hogs at Colorado State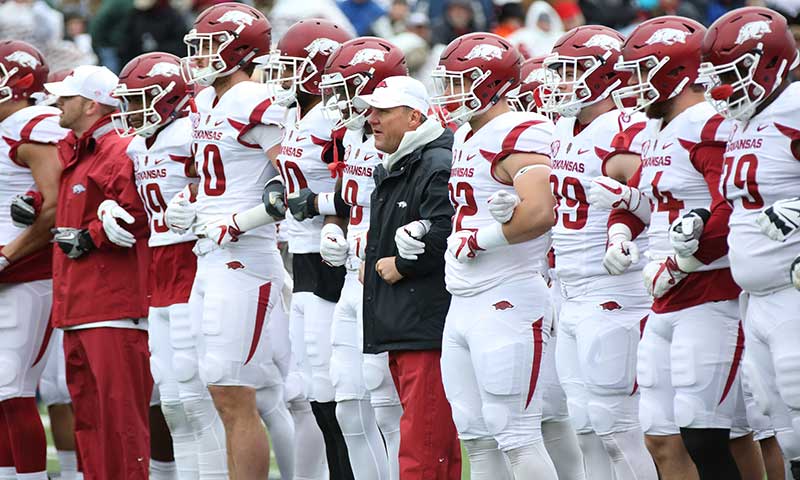 FAYETTEVILLE - An Arkansas team not sure of its caliber visits tonight the Colorado State Rams, who believe they are better than they've shown.

The 1-0 Razorbacks of the SEC and 0-2 Rams of the Mountain West clash at 6:30 p.m. CDT on CBS Sports Network television at CSU's Canvas Stadium in Fort Collins, Colo.

CSU went 7-6 in 2017 and projected in 2018 to place third in the Mountain West's Mountain Division. Coach Mike Bobo's Rams opened Aug. 25 as the favorite losing 45-34 to Mountain West West division member Hawaii. Six days later, they lost 45-13 to Colorado of the Pac 12.

Arkansas first-year coach Chad Morris knows that Bobo, recovered from an illness that hospitalized him during the August preseason, is too good a coach to stand for the Rams' performances without demanding and exacting improvement.

Bobo and Morris twice have coached on opposite staffs when Morris coordinated Dabo Swinney's offense at Clemson and Bobo coordinated the offense for former Georgia coach Mark Richt.

Defense, or the lack thereof, has been CSU's major problem.

"I've known Coach Bobo for a while," Morris said. "He'll have his team ready to go. He's an outstanding football coach. They're going to go back to basics."

The Rams offensively produced a major comeback against Hawaii (537 passing yards) and passed for 181 against Colorado.

"Coach Bobo has coached some phenomenal quarterbacks and receivers in his time," Morris said.

That time includes now. CSU QB K.J. Carta-Samuels has completed 52-of-83 passes for 713 yards and and six touchdowns with two interceptions for two games. Preston Williams and Olabisi Johnson have caught 15 passes for 237 yards and two TDs and 12 balls for 239 yards and three TDs.

"We've got our work cut out for us," Morris said. "Carta-Samuels is very talented.  He's a really good player. He's accurate, especially in the Hawaii game where he broke a school record with right at 540 yards passing — this guy is a winner. He's doing his part and wants to get this team back. He's got some very talented receivers in Preston Williams, and the Johnson kid he can get the ball to."

Although forcing six fumbles and recovering a phenomenal five in last week's 55-20 victory over lower division (FCS) Eastern Illinois, the Razorbacks were burned on two deep touchdown passes and proved vulnerable to EIU screen passes.

Morris anticipates more screens Saturday.

"The screen game's going to continue to show up until we stop it," Morris said. "We know we're going to get plenty of that this week, again, especially in some third-and-long situations."

Arkansas prevailed when passing. QBs Ty Storey (12 of 17 for 261 yards) and Cole Kelley (nine of 12 for 92 yards) combined to be 21 of 29 for 353 yards four TDs and zero turnovers.

However, the Hogs ran into trouble. Against EIU, the Razorbacks mustered but 80 net rushing yards on 37 carries. Given CSU's inability to stop the run (457 rushing yards allowed for two games), somebody will be on the run for the better tonight.

Better be his Hogs, Morris asserts. They felt their lack of a running game even while celebrating a 35-point victory a week ago.

"If we want to get this program to the point we want to," Morris said, "we have to be able to run the football effectively. That's the challenge to the guys up front to set the tone."

It appears that sophomore Ty Clary or Star City junior Austin Capps at left guard, and either redshirt freshman Dalton Wagner or true freshman Noah Gatlin of Jonesboro at left talc will get their first starts at making a difference from the outset.

True freshman Bumper Pool, in place of injured senior Dre Greenlaw at weakside linebacker, likely draws his first Razorbacks start.

Morris said the Hogs have been hydrating with an emphasis since the beginning of the week due to Fort Collins' nearly mile high air. The Hogs do hope the Fort Collins thin air benefits Arkansas punter Blake Johnson, two good punts and two poor ones against EIU, and Reid Bauer, a 25-yard punt for his lone kick.

"I was very disappointed in our punt game," Morris said. "That's an area we have to hit head-on and figure out what's up."