Hogs vs. #23 Frogs: a much-to-prove matchup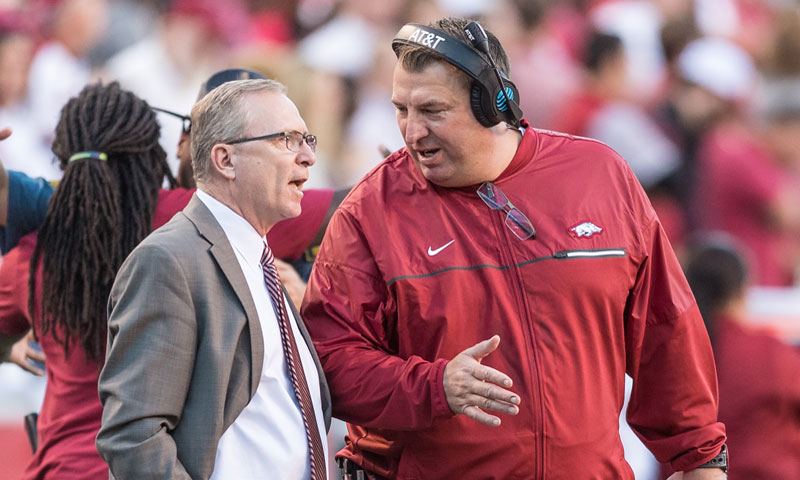 FAYETTEVILLE - Off Arkansas' 49-7 season-opening suffocation of Florida A&M and TCU's 63-0 shutout of Jackson State, both defensive staffs should have rested well this week.
They have not.
Arkansas plays host to No. 23 TCU at 2:30 p.m. Saturday at Reynolds Razorback Stadium in a much-to-prove matchup for both teams. CBS will televise the game nationally.

Non-conference losses (Rutgers, Toledo and Texas Tech) have plagued Arkansas during the Bret Bielema (26-26 record at UA) era, although the Razorbacks pulled out narrow wins early last year over Louisiana Tech (21-20) and TCU (41-38 in two overtimes). Arkansas ended 2016 with second-half collapses in inexplicable losses to Missouri (4-8 last year) and Virginia Tech (10-4 in 2016).
TCU is also highly motivated. The Horned Frogs posted a 23-3 record from 2014-2015 but lost five of their last seven games in 2016.  

Bielema and his defensive staff and TCU coach Gary Patterson and his staff enter Saturday's SEC vs. Big 12 clash at bleary-eyed from watching video.
Arkansas senior quarterback Austin Allen of Fayetteville and TCU senior QB Kenny Hill would alone create week-long insomnia for the defensive staffs.
Last season against Arkansas, Hill amassed  93 yards with two touchdowns by running 18 times for 377 yards and a TD, while completing 36 of 56 passes in a losing cause.
In his second career start, Allen (17 of 29 for 233 yards and three TDs) ran for a 5-yard double-overtime TD to top TCU 41-38.
The Horned Frogs respect Allen.
The  Hogs, beaten by Hill in 2014 when he was Texas A&M's sophomore starting QB, are losing sleep over Hill for a third year.
John Scott, Arkansas' first-year defensive line coach, was in the NFL last season but implied he has lost two years sleep sending an inexperienced defensive front in Arkansas' new 3-4 against Hill. A huge, veteran offensive line with four seniors protects the TCU QB.
"It will be a challenge because those guys (on TCU's line) have played a long time together," Scott said. "And you've got to find a way to try to contain Hill.  He can run the football, and he can throw on the dime, too. So it was one of these weeks where you don't get a lot of sleep if you are a defensive line coach."
Arkansas starts senior Bijhon Jackson of El Dorado at noseguard, but Jackson had never started for the Razorbacks game until last week; same for third-year sophomore end T.J. Smith.
Sophomore end McTelvin "Sosa" Agim of Hope is Arkansas' most experienced as a starting D-lineman. Agim started the second half of 2016.
Scott says his starters and seven reserves against Florida A&M played well, but TCU presents a far greater challenge. Scott competed against TCU in the Big 12 when he coached Texas Tech's defensive line.
"I remember when I was at Tech the challenges they present to your perimeter defense," Scott said. "They show a lot of flash that can distract your eyes from what's really happening. So we've got to do a great job of being locked into our keys and playing fundamental football."
While previously the head coach at Iowa State, Arkansas defensive coordinator Paul Rhoads battled Patterson and TCU. Rhoads said he's relying on Arkansas' ball-control offense to help his defense.
That will be difficult, Rhoads and offensive coordinator Dan Enos said, because while not overly big, the TCU defenders are as quick and fast as the Horned Frogs receivers and scatbacks.
"I don't know if I've ever sen a football team put the sheer number of guys on the football field who can just flat out fly like I saw with them Saturday night," Rhoads said.
The Razorbacks know TCU will send receivers flying at Kamren Curl, their true freshman from Muskogee, Okla., starting at cornerback with junior starter Ryan Pulley (shoulder injury) out for the season.
Bielema says TCU scatback/return man KaVontae Turpin is as good as it gets returning punts and kickoffs.
Of course Patterson and his staff see Allen in their nightmares augmented by Arkansas freshman running back Chase Hayden netting 120 yards on 14 carries against FAMU, while Arkansas' defense came a fake punt away from pitching a shutout.
ARKANSAS OFFENSE
QB: Austin Allen, Cole Kelley
RB: Devwah Whaley, David Williams Chase Hayden
FB: Kendrick Jackson, Hayden Johnson
WR: Deon Stewart,JordanJones  
WR: Jared Cornelius, La'Michael Pettway 
TE: Austin Cantrell, Cheyenne O'Grady Jeremy Patton
LT: Colton Jackson, Paul Ramirez
LG: Hjalte Froholdt, Jake Raulerson
C: Frank Ragnow, Zach Rogers
RG: Ty Clary, Jalen Merrick
RT: Johnny Gibson, Brian Wallace

ARKANSAS DEFENSE
DE: McTelvin Agim, Jonathan Marshall
NT: Bijhon Jackson, Austin Capps/Dylan Hays
DE: T.J. Smith,  Jake Hall
RAZOR: Randy Ramsey, Hayden Henry
MLB: De'Jon Harris, Grant Morgan
WLB: Dre Greenlaw, Dee Walker
CB: Kamren Curl, Chevin Calloway
SS: Santos Ramirez, Josh Liddell
FS: Josh Liddell, De'Andre Coley/Kevin Richardson
CB: Henre Toliver, Britto Tutt
NICKEL: Kevin Richardson, Josh Liddell
SPECIAL TEAMS
PK: Cole Hedlund, Blake Mazza
P: Blake Johnson, Cole Kelley
KO: Connor Limpert, Blake Mazza
SNAPPER: Robert Decker, Jordan Silver
HOLDER: Reid Miller Grant Morgan
KOR: Deon Stewart, Jonathan Nance
PR: Henre Toliver, Jared Cornelius