Hogs: QB Allen defends tackle Jackson, entire line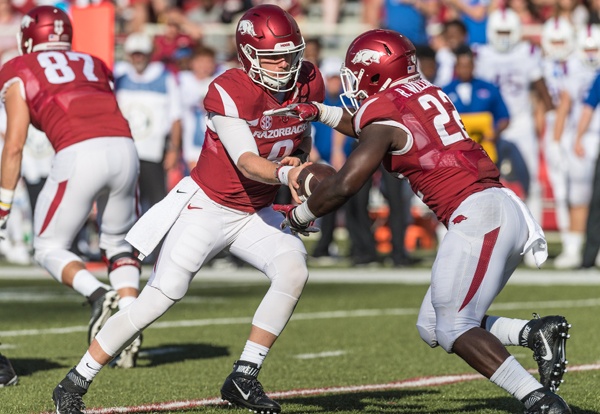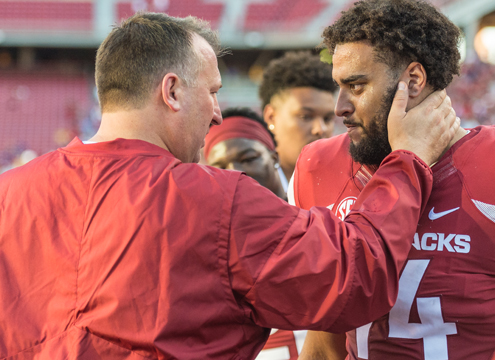 FR RT COLTON JACKSON
FAYETTEVILLE - Offensive linemen are coached to protect their quarterback, but Arkansas' QB needs no coaching to protect his linemen.

Austin Allen (in top photo) leaps to their defense  without regard to himself.
He learned that watching his older brother Brandon, Arkansas' starting quarterback from 2013-2015, who stoically took the heat for anything and everything as a Razorback.
Despite completing 20 of 29 passes Saturday, which easily could have been 24 of 29 with four passes dropped, and completing the Razorbacks' winning fourth-quarter drive with a fourth-and-goal touchdown pass, Austin has taken plenty of talk radio/social media heat this week for throwing two interceptions in a 21-20 win over 26-point underdog Louisiana Tech in the season opener.
Goes with the territory, Allen knows. But Allen, who was sacked four times Saturday, bristles when that criticism encroaches on his offensive line. It seems directed toward Colton Jackson of Conway, the redshirt freshman at right tackle, and Denmark's Hjalte Froholdt, the sophomore starting at left guard not only playing catch-up in American football but moved last spring from the defensive line.
Both played better than critics realize, Allen said, adding that both (with the entire line) are busting it to improve in Saturday's  6 p.m. ESPN televised visit to 15th-ranked TCU in Fort Worth.
"Yeah, I see some of the stuff on Twitter and stuff like that," Allen said. "Those are the guys' first games ever in the SEC playing. They are going to have some mistakes, but the way they came back this week with the attitude of wanting to get better, they are going to be really good football players for us."
They also, Allen said, came together to pave Arkansas' 13-play, 77-yard drive that overcame Louisiana Tech's 20-14 lead with 6:37 left. The offense then played keep away the final 3:35 after Arkansas' defense forced Tech to punt.
"I saw a lot of guys playing hard the entire 60 minutes," Allen said. "We have a lot of guys up there who love football and love to compete and we will win a lot of games with the intensity we have."
Some fans are in no mood to see beauty from winning ugly, even against the Skip Holtz coached Bulldogs coming off consecutive 9-win seasons.
For whatever reason, Colton Jackson seems the particular scapegoat after he recorded perhaps the effort play of the game. At 6-6, 300, Jackson somehow prevented a pick-six TD by running down 205-pound La. Tech cornerback Prince Sam.
"Colton Jackson  flew out of there as fast as any man has run out of Conway to make that tackle," Bielema said.
Allen still marvels at Jackson's effort.
"I didn't know he could move like that," Allen said while unsuccessfully trying to stifle a laugh. "Glad we have an athletic guy out there. That could have been pick-six right there.  It was big."
Jackson's tackle ultimately did not prevent the TD. The Bulldogs scored seven plays later. But it's timing to keep the Reynolds Razorback Stadium crowd buzzing rather than despairing was invaluable, Arkansas offensive line coach Kurt Anderson, said.
"Colton took the proper angle, and he was shot out of a cannon," Anderson said. "That was special. Whether they go and score on that drive or not, you talk about the momentum of a pick-six as opposed to making them drive the field and getting a touchdown or a field goal and how that affects the psyche and how it changes the crowd."
Jackson learns it changes him in a no-good-deed-goes-unpunished way.
"I told him that he's outed," Anderson said of chasing down speedy interceptors. "So any time he's on the backside and doesn't get the backside  linebacker cut on the outside zone, that's  b.s. on him. Because I have seen what he can do. Every weakside should be cut off on the backside out of the outside zone by Colton Jackson because I have seen him run a 4.24."
Anderson exaggerated to the swift side, but some tweeting armchair linemen exaggerate how poorly Jackson played.
"He graded in the low 80's which for your first time out there is pretty good," Anderson said, noting only one of the four sacks could be pinned on his right tackle.

"The second play of the second half was on Colton, or partly on Colton," Anderson said.  "I am sure the casual fan looking at the game is thinking Colton Jackson gave up sacks, but those were assignments elsewhere."