HOGS: Morris takes CSU seriously; notes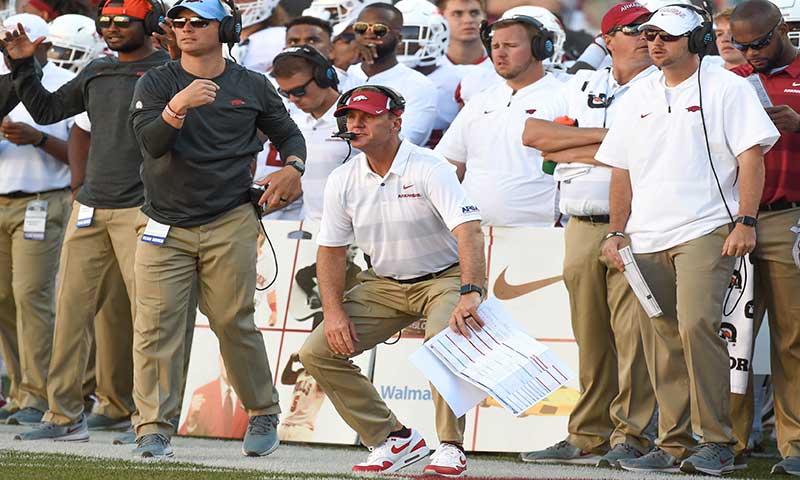 FAYETTEVILLE - A Colorado-based media man had seen enough of the Colorado State defense to ask Chad Morris if he would show very little video of it to his Razorbacks.
For their 43-34 and 45-13 losses to Hawaii and Colorado, Coach Mike Bobo's Rams allowed an average of 44 points and 606.5 total yards.
The 0-2 Rams of the Mountain West Conference play host to SEC member Arkansas (1-0) at 6:30 p.m. CDT on the CBS Sports Network at Canvas Stadium in Fort Collins, Colo.
So, the media man implied Morris might not show much of the CSU defense lest the Razorback offense become laughingly overconfident.
"No," Morris replied. "We're going to prepare as we would prepare for every opponent."
After netting 80 yards rushing on 37 carries of its 55-20 victory FCS division Eastern Illinois, Morris said overconfidence seems the least of Arkansas' worries.
"We're going to first take a look at ourselves and see the deficiencies," Morris said. "I think when you look at our inability to run the football last week, you have to start with yourself."
Morris explained what the Hogs must do and what they've worked on during this week.
"We've got to play with better pad level," Morris said. "We've got to come off the football and strike people. We've got to be able to move double-teams."
His Hogs had better take into account the prowess of the Hawaii Rainbow Warriors and Colorado Buffaloes, Morris said.
"Knowing that they have played against two really good opponents, that's the message you carry to your team," Morris said. "Colorado, with all the guys they have coming back and the speed they have and the way Hawaii did some things and then beat a sound Navy team. Two really good football teams that Colorado State's played this year."
CSU PASSES TEST
Offensively, the Rams average 378 passing yards for their two games.
Starting quarterback K.J. Carta-Samuels has thrown 52 of CSU's 53 completions for 713 yards and six touchdowns with two interceptions.
Receivers Preston Williams and Olabisi Johnson average more than 100 receiving yards per game, 15 for 237 and two TDs and 12 for 239 yards and three TDs.
JORDAN JONES
While the Razorback pass defense must monitor Williams and Johnson, Arkansas sophomore receiver Jordan Jones of Smackover can expect a Rams entourage. He burned Eastern Illinois for five catches for 132 yards, including a 57-yard TD from QB Ty Storey and a 46-yard reception from Storey to set up the first TD of Arkansas' 28 points second quarter.
"Yeah, I feel like I'll definitely be a set guy by Colorado State," Jones said.
Nine UA receivers caught passes from QBs Storey and Cole Kelley last week, but two standouts did not. Senior Jonathan Nance, last year's leading receiver, caught a long pass from Kelley but it was negated by a holding penalty. Senior Jared Cornelius, last year's leading returning receiver from 2016 until hardshipped last season because of a torn Achilles tendon, wasn't thrown to last week.
"The ball just finds one position more than the others sometimes," Jones said. "It just happened to be me and La'Michael showing speed. Anybody in this (receivers) room can make those type of plays."
La' Michael Pettway hauled in five passes for 93 yards and two TDs. 
JONES ON STOREY
Storey came off the bench last week vs. EIU to complete 12 of 17 passes for 261 yards and two TDs, and he ran for another TD.
"Ty surprised a lot of people, but he didn't surprise me at all," Jones said. "Ty is one of the hardest workers on this team. I played in the state championship game against Ty, so I know a lot about Ty and I know he's a hard worker."
Storey's Charleston team beat Jones' Smackover squad for the 2014 Class 3A state title, though Jones was photographed running for a TD with Storey (at safety) pursuing in vain.
"He was playing defense and the ball got tipped," Jones said. "I caught it on the sideline and just took off running and I scored. So yeah."
Of course, the W gave Storey the last laugh.
"Yeah, we always joke about it," Jones said. "I always tell him I want my state ring back. That was the first time Smackover had been in the state championship game in a long time. It was a good game, though. I still have memories about that all the time."