Hogs: Freshmen ready for TCU? Injury update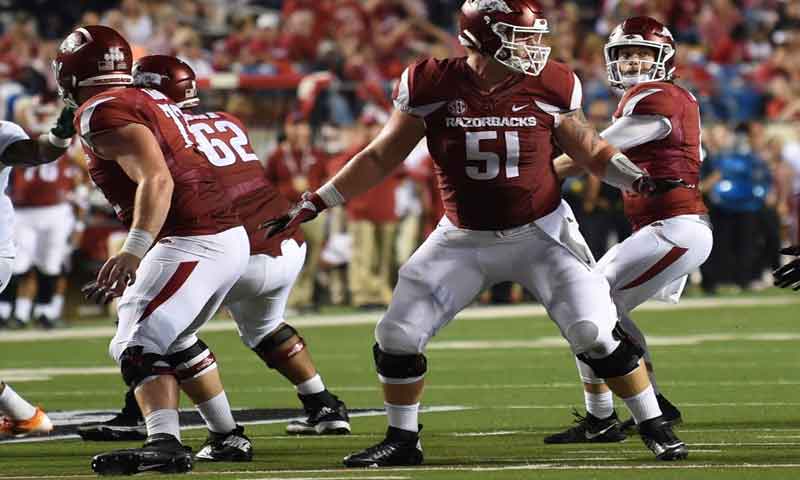 FAYETTEVILLE - Freshman wide receiver Koilan Jackson of Joe T. Robinson injured his knee Tuesday and will likely redshirt this season, Arkansas head coach Bret Bielema said during Wednesday morning's SEC teleconference.
"Unfortunately yesterday afternoon in one-on-one drills he tweaked his knee," Bielema said. "He has got an ACL repair job to go through this week or next week when the swelling goes down. He is a guy who was probably gonna redshirt for us."
Koilan Jackson is the son of former Oklahoma Sooners All-America and NFL Pro Bowl tight end Keith Jackson and the younger brother of former All-SEC Razorback defensive tackle Keith Jackson Jr.
"This is a negative moment for anyone to go through, but he's a very strong young man with a great family," Bielema said. "He will get that thing repaired and he will be a 100 percent in the spring. Unfortunately those things come up, but he has a redshirt year and plenty of time to get it right."
Jackson did not play during the season-opening 49-7 rout of Florida A&M.
The Razorbacks should be deeper at receiver for Saturday's 2:30 p.m. CBS televised game against No. 23 TCU at Reynolds Razorback Stadium.
Senior receiver Jared Cornelius and sophomore receiver/running back T.J. Hammonds played last week, coming off injuries that sidelined them during the August preseason. Both are full go for TCU, Bielema said, and junior college transfer Brandon Martin, with a bad back in the preseason, is ready to play more.
True freshman receiver Jarrod Barnes of Cabot debuted well against FAMU by catching two passes, one a 26-yarder from quarterback Austin Allen.
"He just makes plays," Arkansas offensive coordinator Dan Enos said of Barnes. "You saw him the other night make two catches. He's extremely athletic. He's very explosive. He has a great change of direction. He has great ball skills. The sky is the limit for Jarrod Barnes."
Enos said he's been especially impressed with Barnes' athleticism since watching him play basketball for Cabot High.
"He's above the rim and explosive," Enos said. "He's a very fluid athlete and he has never been a wide receiver full-time. Once he gets comfortable as a wide receiver and learns the nuances of the position, he can be special."
True freshman right guard Ty Clary of Fayetteville will start the second game of his career in his hometown after being the surprise night starter against Florida A&M.
"We protected him (Clary) a little bit last week by not listing him as a starter," Bielema said. "He played very well and belongs on that stage. I called his parents last week and told them 'this isn't something that just happened' and 'he belongs there.' I have started true freshmen in the past, and he belongs in that group."
Bielema explained why.
"He has great feet, great instincts and he's very intelligent," Bielema said. "It will be an opportunity on the big stage against a ranked opponent. But he has two things going for him. He has been there and done that. He already has one start under his belt. He's also playing next to Frank Ragnow (the senior preseason first-team All-SEC center) who I think is one of the most intelligent players I have ever coached. Frank is telling him on every call and every snap. All he (Clary) has to do is pay attention and block the right guy and good things will happen."