Hogs: D line braces for TCU hurry-up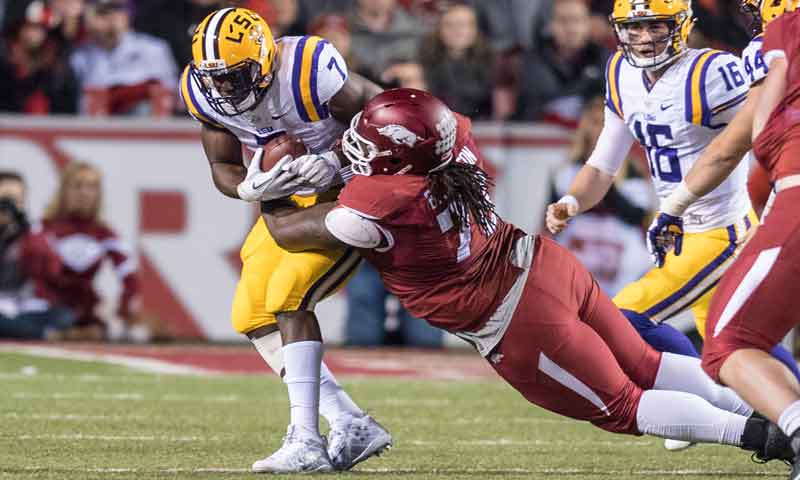 FAYETTEVILLE - Last Thursday night in Little Rock, defensive line coach John Scott played lots of Razorback defensive linemen because he could.
Against the AP 23rd-ranked TCU Horned Frogs Saturday in Fayetteville, Scott says he'll play lots of linemen because he must.
Subbing top to bottom was an easy luxury for Coach Bret Bielema, defensive coordinator Paul Rhoads and Scott in last week's 49-7 rout of lower-division Florida A&M.
Against Coach Gary Patterson's Big 12-contending Horned Frogs, Scott says it's a necessity to sub D-linemen trying to chase TCU run-pass quarterback Kenny Hill in TCU's hurry-up, no huddle Spread.
TCU's offense features five linemen, four of them seniors, weighing from 300 to 340 pounds, including 338 and 340 at right guard and right tackle.
"Sometimes in these games, a defense plays 90 to 100 snaps," Scott said Tuesday night after practice. "If your noseguard is playing 65 or 70 snaps, that's too many. So you've got to find a way to limit those guys' snaps. The fresher they are in the fourth quarter is going to count because their guys get tired, too. It really comes down a lot to who can stay fresher."
THREE NOSEGUARDS AS ONE
So senior noseguard Bijhon Jackson (IN PHOTO ABOVE) of El Dorado will split time with sophomore Austin Capps of Star City and Dylan Hays of Little Rock Christian.
Each owns different assets, Scott said.
"Bijhon is a really powerful, skilled, big guy who can do a little bit of everything," Bielema said. "He can play the run. He's got quick feet so you can move him. Capps comes in there and he's like the old man wrestling the grizzly bear. He's a tough dude and has got great hands and is very physical. And then you've got Dylan Hays in the game who is really, really athletic, and you like to do different stuff with him. The combination of all three is nice to have as a coach."
YOUTH VS. EXPERIENCE
Only Jackson and junior one-year letterman defensive end Jake Hall are beyond sophomores going up against TCU's senior-laden line.
"You don't have any more young freshmen after you play that first game," Scott said. "That's the way I feel. It will be a challenge because those (TCU) guys have played together for awhile and have run that system very well and are very well coached. But you've still got to do your assignment and do your job."
At least with three D-linemen, Scott isn't trying to rotate four positions like the Razorbacks used to do in their 4-3 defense last year when TCU amassed 572 yards, though Arkansas won 41-38 in double overtime.
AGIM DOUBLE-TEAMED
One drawback to the 3-4, it's easier for offenses to double-team your best D-lineman, which FAMU often did last week against Arkansas sophomore end McTelvin "Sosa" Agim of Hope.
"People like to key in on him," Scott said. "He's a good player. I feel like he handled it well, and he was able to make some nice plays. He disrupted things for us."
Agim still made four tackles, including a sack, against FAMU. And if he consistently occupies two Horned Frogs on the line, the better the chance for Arkansas linebackers to make the tackle.
"I've just got to be stout in my gap," Agim said.
It isn't being double-teamed, but Agim remembers last year's second half when TCU's no-huddle offense roared back on the fatigued Hogs.
"We were tired," Agim recalled. "We weren't ready at the line most of the game. We had a system where we had to trade ends, and trade noses and tackles last year, so we had to get calls from the sideline, and they'd tempo us. So if you weren't prepared for that they could burn you, and that's what they did to us.
"This year we're trying to simplify our defense, simplify our system and be ready at the line when it's coming."
And rely on his backups, Jonathan Marshall and Armon Watts, to give him some breathers.
SECONDARY STRAIGHT ON CURL
Senior defensive captain and nickel back Kevin Richardson of Jacksonville said he and starting safeties Santos Ramirez, also a team captain, and Josh Liddell and starting corner Henre Toliver are rallying the secondary that will start true freshman Kamren Curl at cornerback.
Chevin Calloway, also a true freshman, and Britto Tutt, a second-year junior college transfer coming off a knee injury surgery in 2016, are in reserve.
All moved up a notch because starting corner Ryan Pulley's season ended last week with torn pectoral muscles, the same first-game injury that cost Richardson the rest of his 2016 season.
"We've been saying it all along that Kam has the ability to play right now," Richardson said. "Kam came in physically ready to play. He and Chevin both. Britto was coming off an injury, but he can play right away. It's just a matter of preparing them with the game plan and getting them to be mentally ready to play their game."
SEC HONORS HAYDEN
For his 120 yards and a TD on 14 carries against FAMU, Arkansas freshman running back Chase Hayden was named the SEC Freshman of the Week by the SEC Office in Birmingham, Ala.