Hogs: Cornelius full-go for TCU's speedy D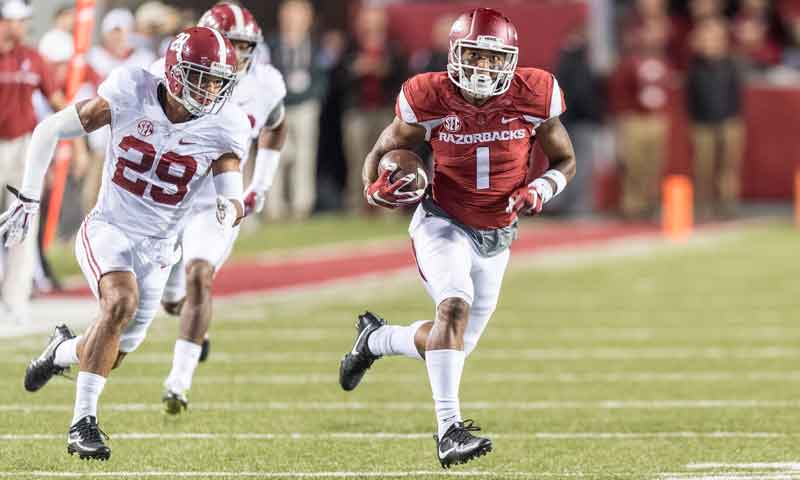 FAYETTEVILLE -  Jared Cornelius' cameo against Florida A&M last week in Little Rock may expand into a major role Saturday against TCU in Fayetteville.
Arkansas' leading returning receiver with 32 catches from 2016, Cornelius spent much of the spring sidelined by a pulled hamstring and nearly all the August preseason sidelined by a bad back.
He didn't return to practice until two weeks ago and didn't work much full contact before his one catch for 6 yards in the 49-7 rout of the Rattlers in Little Rock.
"We were just trying to get my feet wet, trying to get back in the game groove," Cornelius said Wednesday evening after practice. "I think I was scripted for six or eight plays, and I think I got seven, so perfect. I felt good. We didn't want to rush it because I wasn't getting hit at practice. I was still in a green jersey. It felt great to be back out there and get moving around."
Cornelius said he was "100 percent" ready for Saturday's game.

LONELY CAMP
The little cameo sure beat sitting out preseason camp.
"Camp sucked," Cornelius said. "I kind of lived in the training room for those weeks. Not being on the 105 (-man roster), you can't really be in the meetings and things like that, so I kind of felt like a loner. It's great to be back and a part of the team."
FIRST REAL TEST
Cornelius could play a major role Saturday in a big game when Arkansas plays host to No. 23 TCU on CBS TV at Reynolds Razorback Stadium.
TCU of the Big 12 ripped Jackson State 63-0 last week.
"TCU is going to be a real test," Cornelius said. "We're looking forward to it. They have a lot of good, talented guys on offense and defense, some speedy, smaller guys. They have a lot of speed and talent, so the receivers, we're kind of chomping at the bit to get at these guys this week. We're looking forward to playing them because they are a really well-coached team with a whole bunch of good players."

Arkansas outlasted the Horned Frogs 41-38 in double overtime last season on quarterback Austin Allen's touchdown run at TCU's Amon Carter Stadium in Fort Worth.
"We won - barely," Cornelius said. "Austin punched that thing in and pretty much everything else is a blur. That just goes to show we have to bring our A-game because they're really well coached and really good."
Though Arkansas scored 41 points, last year's TCU defense was quick and fast, Cornelius said. It's a game he takes personally as the Horned Frog coaches paid recruiting calls to his high school, Evangel in Shreveport.
"Their head coach (Gary Patterson) recruited me as well as some of their coaches," Cornelius said. "I was high school teammates with some of their players (TCU noseguard Chris Bradley is one, Cornelius said), so this is a big game. They're ranked. So whenever a ranked football team comes into our house, it's a big game regardless of who it is."
PLAY BUT STAY HEALTHY
It's a big game but it's important to keep Cornelius healthy, receivers coach Michael Smith cautioned.
"Last week we only practiced him one day," Smith said. "This week he's been at practice every day and has gone through every period. He's starting to loosen up. So I'm expecting him to come out and have a big game. My big thing is to keep him healthy. Everybody knows what he's coming back from."
Smith lost a receiver, freshman Koilan Jackson of Joe T. Robinson now destined to redshirt, to a season-ending knee injury during Tuesday's practice.
SMITH KNOWS PATTERSON
Nobody on Coach Bret Bielema's Arkansas staff has faced TCU more often than Smith from his Big 12 days as a Kansas State assistant.
Patterson's defenses use speed to produce more than their lack of size would seem to allow.
"Small, fast, whatever you want to call them, they're good," Smith said. "They're coached well and do a great job of getting to the ball. In the secondary, they're very technique-sound, communicate a lot and they're all on the same page. It's going to be a tremendous challenge for us."