Hogs: SEC honoree Wise ready to prove himself back home; notes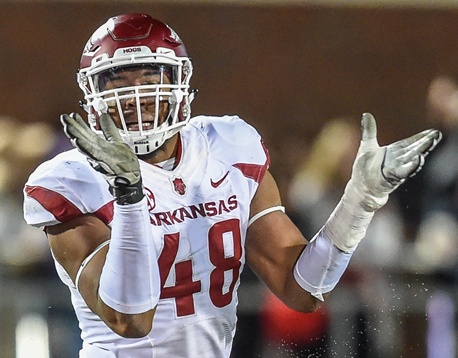 FAYETTEVILLE - For his performance in Arkansas' 21-20 victory last week over Louisiana Tech, senior defensive end Deatrich Wise was named the SEC Defensive Lineman of the Week

Wise, from Carrolton, Texas, near the Dallas-Fort Worth Metroplex, virtually comes home Saturday as the Razorbacks visit 15th-ranked TCU (1-0) at 6 p.m. on ESPN at TCU's Amon Carter Stadium in Fort Worth.
"It's pretty cool," Wise said Tuesday of the SEC award. "I am excited about it. I need to keep doing more, though. I am a big critic of myself so I know I can always do better. But I am glad that we won and glad that I won the award. So that was cool."
And really cool to be coming home against an old rival from Southwest Conference days?
"It's good," Wise said. "I always like to prove myself against teams in Texas.  I always like playing Southwest Conference teams. I like the history going against the Texas teams. I am looking forward to it."

NEW JERSEY, SAME QB
Though TCU and Arkansas meet for the first time since 1991 (UA's last SWC season), Wise and the Razorbacks have a history with TCU starting quarterback Kenny Hill. Hill was Texas A&M's QB in 2014 when the Aggies edged Arkansas, 35-28 in an SEC overtime game at the Dallas Cowboys AT&T Stadium.

Weird to see the Aggie as a Frog?
"It's not weird," Wise said. "He just changed jerseys. He's still the same guy. He throws the ball and likes to scramble. He's a dual-threat quarterback. You can't just rush him you have got to keep him in the pocket because he can run."

STARING DOWN HILL
Arkansas junior defensive back Henre Toliver hopes to see Hill eye to eye. 

"He stares down his receivers," Toliver said after Tuesday practice. "I played against him my freshman year. We're just watching film on him. He kinda pushes the ball, but he's got really good velocity on the ball."
Toliver moved from starting cornerback to starting nickel back against TCU's hurry-up Spread with starting nickel Kevin Richardson lost for the season after surgery to repair torn pectoral muscles injured vs. Louisiana Tech.
Toliver finished Saturday's game at nickel against Louisiana Tech's Spread, while sophomore Ryan Pulley replaced him at corner.

"Henre' rolls right into that (nickel)  position," Arkansas defensive backfield coach Paul Rhoads said Tuesday. "He's played it in the past as a starter. He's a starter in that unit when we go to our dime package and he's had multiple, multiple reps at it. You saw him go in there on Saturday and we played without a hiccup. Ryan Pulley moves right into the boundary corner position and we fully anticipate DJ Dean (a two-year starting cornerback sidelined during in August by a pulled hamstring)  being back with us this Saturday."

HORNED FROGS HOPPING TO PLAY
Coach Skip Holtz's Louisiana Tech team often played at a fast No-Huddle pace, but apparently Coach Gary Patterson's Horned Frogs really hop to the line between plays. An average of 11 seconds from the ending of one play and beginning another, Wise said.
"We are running two offenses at our guys right now," defensive line coach Rory Segrest said of prepping for TCU. "As soon as the first group leaves the huddle and snaps the ball, the next one is running up and our defense is trying to get back to the line and get ready for snap. The biggest challenge we've got is everyone is getting the call and getting lined up and adjusting to all of their different formations. We have to make sure that we are set when the ball is snapped."