Hogs: Hayden earns SEC Freshman of the Week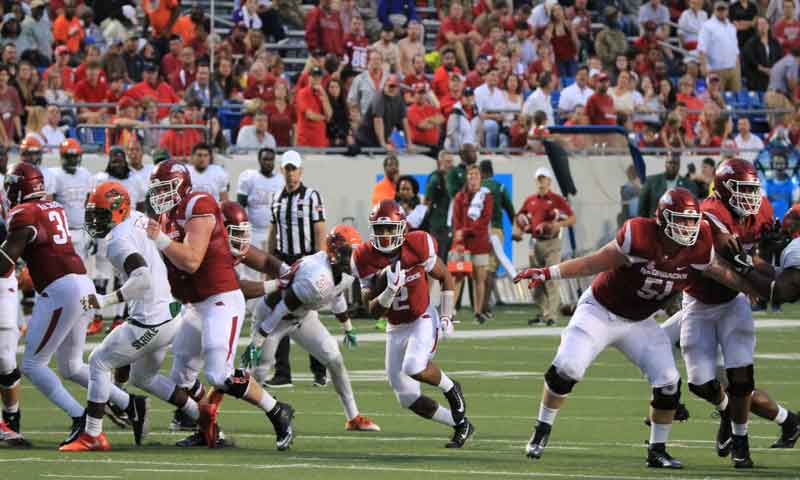 FAYETTEVILLE - Arkansas running back Chase Hayden's debut game earned him SEC Freshman of the Week, the SEC Office announced Tuesday in Birmingham, Ala.
Hayden (running through a gaping hole in photo above) netted 120 yards and a touchdown on 14 carries as the game's leading rusher in Arkansas' 49-7 victory over Florida A&M at War Memorial Stadium in Little Rock.
Regarding Hayden, from a small St. George's Independent High School in Memphis, Arkansas coach Bret Bielema implied you ain't seen nothing yet, while blending him with sophomore starter Devwah Whaley who carried 12 times for 60 yards and a TD. Senior David Williams, the graduate student transfer from the University of South Carolina, netted 23 yards and two TDs on seven carries and caught two passes for 48 yards.
"Chase Hayden, as much as you may not believe it, I don't think he was even close to what he has shown us at times," Bielema said. "I think even he admitted he was taken aback in that first half for sure, and then kind of settled down. That's why I kept playing him a little bit more. I just thought he needed more and more reps to get used to game speed."
Hayden joins former Razorbacks Darren McFadden, Felix Jones, Dennis Johnson and Alex Collins as running backs honored as SEC Freshman of the Week. Only Jones, Collins and Hayden broke 100 yards rushing in their freshman debut as Razorbacks.