HOGS: Morris shuffles O line left side; notes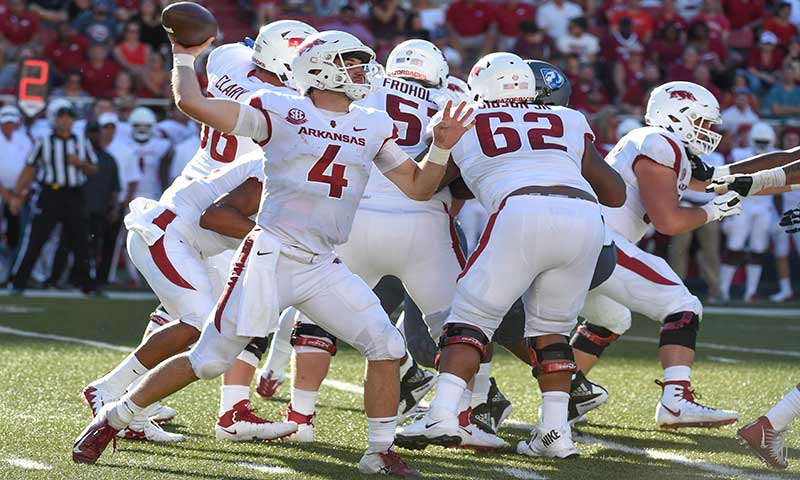 FAYETTEVILLE - Arkansas head coach Chad Morris said he'd be shuttling left guards at Tuesday's practice in preparation for Saturday night's game at Colorado State.
Turns out he had to change at left tackle, too.
Redshirt freshman Kirby Adcock of Nashville and redshirt freshman Shane Clenin started Saturday at left tackle in the 55-20 season-opening victory over Eastern Illinois at Reynolds Razorback Stadium.
Junior Austin Capps of Star City, moved during the August preseason from the defensive line, opened at left guard during the first 20 minutes of practice Tuesday, while true freshman Noah Gatlin of Jonesboro opened at left tackle.
Sophomore Ty Clary of Fayetteville replaced Adcock of Nashville at left guard during the second half against Eastern Illinois.
Adcock took his left guard turns Tuesday, too, and Clenin likely would have been first-team, if healthy.
"I think Shane dinged his ankle a little bit in the game, so today Noah started off at left tackle," Arkansas senior right guard Johnny Gibson of Dumas said. "And Capps and Ty and Kirby all rotated at the guard spots."

COLTON JACKSON MENDING
Clenin could be a guard, too, once two-year starting left tackle Colton Jackson of Conway gets healthy. Jackson underwent back surgery in July.
Morris projects Jackson may be healthy enough to return to active duty next week. Jackson did practice in a limited practice colored jersey Tuesday, his first workout in football gear since the surgery.
"Everyone was excited to see Colton back out there because we know he did a lot of hard work in the offseason," Gibson said after Tuesday's practice. "To see him out there ahead of schedule,everybody has a different energy today."
OLD ON RIGHT, YOUNG ON LEFT
The line is senior laden from center through right tackle with center Hjalte Froholdt, Gibson and returning starting right tackle Brian Wallace, but it is young on the left side.
Despite the youth, the left side pass protected well. Only third-string redshirt freshman quarterback Daulton Hyatt was sacked while top QBs Ty Storey and Cole Kelley combined to complete 21 of 29 passes for 353 yards and four touchdowns without an interception.
GROUNDED HOGS
However, the Razorbacks netted just 80 yards rushing on 37 carries.
Morris and play-calling offensive coordinator Joe Craddock said the breakdowns weren't all on the line. The running backs didn't always run the right velocity or to the right holes, and the quarterbacks didn't always make the right reads.
"From the run game, there's times where we got these guys hatted up, but couldn't get anything to break through," Morris said.
But the line certainly could have blocked better on the run, each coach asserted.
"We didn't get much push on double-teams from up front," Morris said. "I thought we played too high. And I thought at times we played too soft. So we've got to be better at that. We've got to be better from a coaching standpoint. We've got to be better from a playing standpoint. when we get on double-teams, we've got to be able to move double-teams and get off to those linebackers. That's an area we'll focus on this week. Everybody takes accountability on that."
Hoping to get Jackson back next week at tackle, Morris especially mentioned left guards Clary and Capps.
"We're going to continue to try to bring Ty along and hopefully be able to get him into some of the rotation," Morris said. "We'd like to see Austin Capps get in a little more this week or get in this week. So we're really going to try to press those guys this week to see what we can do there."
Craddock noted some plays had 10 players doing their jobs, but were stuffed because one players (different ones) did not.
"We've all got to be as one in the run game," Craddock said. "I  know that's something that Coach (Morris) challenges his guys about blocking in the run game. I think the offensive line did a nice job in pass protection and has to get a bit better in the run game."
GIBSON'S ASSESSMENT
Gibson was asked his assessment Tuesday.
"We knew we did some good things, and we did some bad things," Gibson said. "A lot of things that we did bad was technique. Young guys and old guys had some technique issues. That's going to be a big emphasis this week."
BUMPER POOL PREPARES
With senior defensive end Randy Ramsey, withheld from the Eastern Illinois game because of hamstring problems, and weakside linebacker Dre Greenlaw (sprained ankle) not practicing and listed  "day to day," junior Gabe Richardson and true freshman Bumper Pool again worked at first-team end and weakside linebacker Tuesday.
Pool, until heat cramps sidelined him the fourth quarter, debuted spectacularly in Greenlaw's place Saturday. For the second and third quarters he made six tackles, broke up a pass, recovered and returned a fumble 60 yards to the EIU 5-yard line and was credited with blocking a PAT.
"I got through but I don't know if I blocked it completely," Pool said. "I felt the wind blow, but I don't know if I can take full credit for that one."
No doubt on the fumble recovery and return, though.
"It was a dream come true," Pool said of his debut. "I would say it was one of my biggest dreams to play for Arkansas and being the first game was just amazing. I didn't expect it. But I was excited and prepared to be in there whenever I could."