Hogs: Staff likes young DB's, O linemen vs. TCU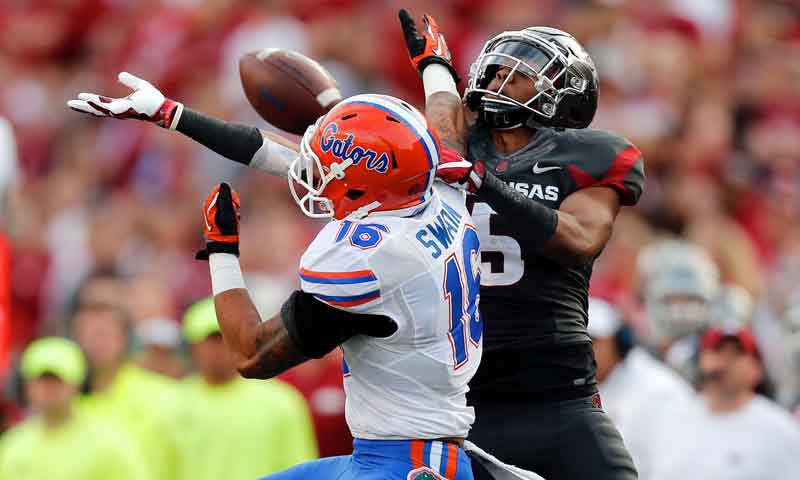 FAYETTEVILLE - Arkansas true freshman Kamren Curl stepped in last week when starting left cornerback Ryan Pulley went out during the Razorbacks' 49-7 season-opening rout over Florida A&M.
With Pulley's pectoral injury putting him out for the season, Curl starts at cornerback at 2:30 p.m. Saturday against TCU in a CBS televised non-conference game at Reynolds Razorback Stadium.
"Kamren Curl moves into the job just as he did Thursday night and moves into it right away," Arkansas defensive coordinator Paul Rhoads said Monday.
Curl of Muskogee, Okla., made three tackles and broke up a pass against FAMU while rotating with fellow true freshman Chevin Calloway (one tackle) and junior college transfer Britto Tutt.
Senior starting right cornerback Henre Toliver (in photo above) starred with an 18-yard touchdown scoop and score off a fumble dislodged by junior college transfer outside linebacker Gabe Richardson. Toliver also downed a punt at the FAMU 1-yard line and made two tackles.
"There will be ongoing competition in a rotation among the remaining four corners that played," Rhoads said.
CURL SEEMS OLDER
What prompted Rhoads, also the defensive backfield coach, to bring Curl first off the bench?
"He's a very mature young man," Rhoads said. "And along with that maturity comes a seriousness. He's picked up very quickly on what what we're doing and how to accomplish it. He recognizes his strengths and weaknesses and plays to them. He's an intelligent football player, a physical player, and he's a good tackler because of that combination. Those things allow him to rise to the top. Not that there is a significant separation, but enough to give him the nod."
Still, it's a challenge to start a true freshman in the season's second game against a sophisticated, hurry-up offense like TCU and senior quarterback Kenny Hill. TCU destroyed Jackson State 63-0 last week in Fort Worth.
"It's a huge challenge no matter who you are playing," Rhoads said.   "But TCU certainly compounds that with him."
At least, Rhoads said, the rookie isn't starting Game 2 as a linebacker or especially a defensive lineman.
"The further away you are from the football, the easier it is to play at a younger age," Rhoads said. "The reason I believe that is the closer you are the faster things happen, and the harder you are getting hit in the mouth every single play. And when you are out in space and you can utilize your athleticism, I think you have a better chance."
ROOKIE LINEMAN
The Razorbacks started a true freshman in their offensive line against FAMU and will again against TCU, considering how Bielema and offensive coordinator Dan Enos assessed Ty Clary.
Clary, a Fayetteville High grad, started at right guard while junior incumbent right guard Johnny Gibson of Dumas moved to starting right tackle.
"We ran a little isolation play right behind Ty (on the first play), and a guy tried to come across his face, and Ty just buried him," Bielema said. "Walled him off, a pretty routine play but it's not always routine for a newcomer, especially on the first snap of the game. Handled everything very, very well. Had minimal, only maybe two  mental errors the entire day. I don't think he ever got lost in the moment. I don't think the game ever got to big for him. That's going to be huge, obviously this week in our preparation."
Clary is a walk-on, a blueshirt expected to go on scholarship next semester. Gibson also arrived as a walk-on and was put on scholarship last January.
"As is the case a lot of times, you get them on campus and they're just more athletic than you thought they were during the recruiting process," Bielema said. "Very, very intelligent and diligent guys, and it means a lot to them to play for Arkansas. Johnny played really well at right tackle. He had been doing OK at guard but seems a little bit more at home at tackle."

Enos concurred.
"Excellent," Enos said. "Obviously, who they are playing against will change this week. But I thought especially Ty, for his first game,  looked comfortable. I thought he played with good pad level, good bend and was physical."
CORNELIUS & HAMMONDS
Coming off preseason injuries, senior receiver Jared Cornelius (back) and sophomore receiver/running back T.J. Hammonds (knee) showed well enough in limited work against FAMU to play more against TCU.
Cornelius, 32 catches last season, caught a 6-yard pass against FAMU while Hammonds logged three carries for 22 yards.
"Jared looked good yesterday," Enos said Monday of Cornelius' Sunday practice. "So I would say his role will increase significantly. He's a veteran player who has a lot of experience that can help us. T.J.'s role will continue to get going as he gets more comfortable. He got some reps the other night, and we will continue to get him some this week."