Harding Academy QB named Scholar Athlete of the Week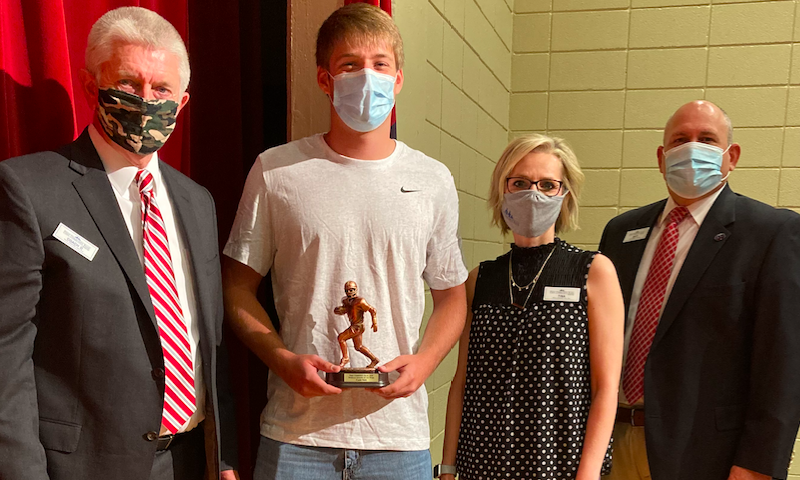 First Community Bank representatives David Daniel, Tina Novak and Matt House present Harding Academy QB Caden Sipe the FCB Scholar Athlete of the Week award
LITTLE ROCK - Harding Academy all-state quarterback Caden Sipe earned the First Community Bank Scholar Athlete of the Week award, maintaining a 4.2 GPA and scoring 30 on the ACT.


Sipe guided Harding Academy last year to its third state title in eight seasons, completing 71 percent of his passes for 3,868 yards and 59 touchdowns with just six interceptions. 

"Caden doesn't compartmentalize his life to say I'm going to give effort here and not here," Coach Neil Evans says. "He is the guy who sits with someone who doesn't have anyone to sit with in the lunch room. He always looks you in the eye, has his shoulders back, is upright, and it's always 'yes sir' with him."

More than 6,000 high school boys play football in Arkansas. Hootens.com selects just 13 for the First Community Bank award. 

Sipe enjoys science, "loves kids" and plans to become a pediatrician.

"My parents have always pushed me, and that's something I've been blessed with in my life," Sipe says. "They want me to pursue my dreams athletically but also do the best I'm capable of in school."

The Wildcats, again ranked No. 1 in Class 3A by hootens.com, recently voted Sipe team captain for a second straight season.

First Community Bank is a locally owned and operated bank with 27 locations in Arkansas and Missouri.