HOGS: QB Storey stars as POG; notes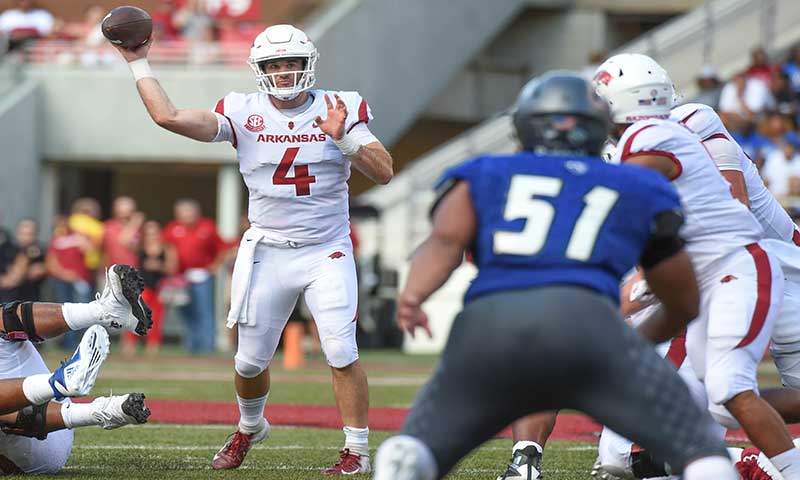 FAYETTEVILLE - Arkansas quarterbacks Cole Kelley and Ty Storey are slated again to play this week as they did last Saturday, though likely not in the same order.
Kelley, a third-year sophomore, started the season-opening 55-20 victory over Eastern Illinois at Reynolds Razorback Stadium.
Storey (in Craven Whitlow photo above), off the bench as scripted on the game's fourth series, starred. The fourth-year junior from Charleston connected on 12 of 17 passes for 261 yards without a turnover. Storey quarterbacked four touchdown drives in the Razorbacks' 28-point second quarter, and he rushed for another TD in the third quarter.
During his Monday press conference Arkansas coach Chad Morris called Storey "our player of the game" against EIU. He said Storey starts the week taking the first-team snaps as the Razorbacks ready for Saturday's 6:30 p.m. CDT game at 0-2 Colorado State in Fort Collins, Colo. CBS Sports Network will televise the game.
"Ty came in and gave us a spark," Morris said Monday, noting that he'll evaluate who starts by the week's practice, but Storey will take more first-team reps as Kelley did last week.
Morris and offensive coordinator/QBs coach Joe Craddock praised Kelley for "being a great teammate," staying mentally into the game and "supporting Ty" during Storey's time though the third quarter.
Kelley, nine of 12 for 92 yards, came back in the fourth quarter and completed a 42-yard YD pass to tight end Austin Cantrell.
FANTASTIC FOUR
Morris cited linebackers Dre Greenlaw (10 tackles, 2 for minus 2 yards), De'Jon "Scoota" Harris (nine tackles with a forced fumble), senior free safety Santos Ramirez (six tackles) and senior tackle T.J. Smith (three tackles). Smith tied up blockers to free linebackers to make tackles and shared on a tackle for loss.
Greenlaw only played the first quarter because of an ankle injury. Morris said it's "day to day" whether Greenlaw and senior defensive end Randy Ramsey, withheld from the Eastern Illinois game because of an injured hamstring, will play against Colorado State.
POOL REPORT
True freshman Bumper Pool filling in for Greenlaw earned Morris' praise. Pool made six tackles, broke up a pass, recovered a fumble he returned 60 yards to the EIU 5-yard line and blocked a PAT against EIU. 
Pool also made some "freshman mistakes" misaligned on some of EIU's longer runs that he will learn from, Morris said.
"My challenge to this football team is let's don't come back in here next Sunday and have to correct the same mistakes we just made this past Saturday," Morris said. "If we can do that, we can keep getting better. That's all we can ask."
Veteran Arkansas defensive coordinator John Chavis praised Pool and noted defensive ends Michael Taylor and Gabe Richardson had played little last season but started and excelled against EIU. Taylor made a tackle and forced one of EIU's six fumbles. Richardson made four tackles. one behind the line, and registered a QB hurry.
Chavis said improving Arkansas rushing defense is a priority. EIU outrushed Arkansas, 127-80 net yards.
OFFENSE NEEDS ALL 11
Just netting 80 yards on 37 carries prompts Morris and Craddock to stress that  all 11 on offense must do their job aspect.
"A lot of times we were playing with 10 guys doing their job, and one guy wasn't, and that's what was causing the issues," Craddock said. "It was the first game, and we've got to iron out those issues. We'll get all 11 playing on the same page, and we'll be a much better offense."
FORGIVEN AND RESTORED
Freshman receiver Michael Woods, senior special-teamer Ryder Lucas, both charged with driving under the influence earlier in the summer, and junior tight end C.J. O'Grady (undisclosed reasons) were suspended by Morris for last week's game but are restored to active roster, Morris said Monday.
MERRICK ON MEDICAL
Junior offensive lineman Jalen Merrick, not practicing since the August preseason's outset because of reoccurring headaches, is ending his football career on medical hardship, Morris said Monday.
JACKSON MENDING
Junior 2017 starting left tackle Colton Jackson of Conway might return to drills next week, Morris said Monday. In recovering from back surgery in July, Jackson is "ahead of schedule," Morris said.
LEFT SIDE EVALUATIONS
Redshirt freshman Shane Clenin started at left tackle against Eastern Illinois and is listed to start again Saturday. Redshirt freshman Kirby Adcock, last Saturday's starter, sophomore Ty Clary, who played in the second half, and junior Austin Capps from Star City will get evaluated at left guard this week, Morris said.  
WHY RAMS ARE 0-2
Colorado State's Rams of the Mountain West opened the season Aug. 25 in Fort Collins, losing 43-34 to conference rival Hawaii. The Rams lost Friday 45-13 to instate rival Colorado of the Pac 12.