Hogs start slowly, blow out Florida A&M 49-7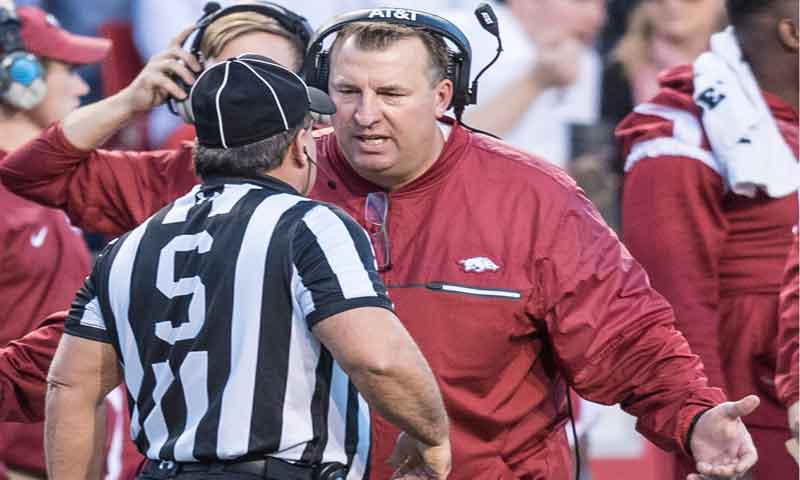 LITTLE ROCK - Arkansas' beleaguered defense of 2016 debuted in 2017 by pitching a shutout for 51 minutes Thursday night before Florida A&M scored in a 49-7 season-opening victory witnessed by 36,055 at War Memorial Stadium.

The underdog Rattlers of the lower (FCS) division and coached by former Arkansas assistant coach Alex Wood  fall to 1-1 after trouncing a Texas Southern team on their own level last week.

Wood's Rattlers encountered difficulties early, including charged a timeout each quarter for illegal uniforms with their white numbers not easily visible on their white road jerseys.

Coach Bret Bielema's Razorbacks of the SEC start 1-0 and face the more-formidable TCU Horned Frogs of the Big 12 on Sept. 9 at Reynolds Razorback Stadium in Fayetteville.

Paul Rhoads, promoted to defensive coordinator in 2017, saw his defense stuff the Rattlers until a 26-yard run off a fake punt launched a 15-play, 76-yard scoring drive capped by quarterback Vince Jefferies' 7-yard TD pass to Brandon Norwood with 8:23 left in the game.

Aided by his own defense, including an 18-yard scoop and score TD by cornerback Henre Toliver off a FAMU fumble caused by junior college transfer reserve linebacker Gabe Richardson, Arkansas senior starting quarterback Austin Allen built a 42-0 lead before
FAMU scored.

Allen completed 14 of 19 passes for 135 yards with one touchdown, 16 yards, to receiver Deon Stewart, vs. one interception.

Redshirt freshman backup quarterback Cole Kelley accounted for Arkansas' last touchdown a 7-yard pass to tight end Cheyenne O'Grady, after FAMU scored.

The Razorbacks endured an offensive start hauntingly familiar with what often vexed them during their 7-6 season last year, eventually rolled with a rushing attack featuring a TD from running backs Chase Hayden, (14 carries for 120 yards in the freshman's debut), sophomore Devwah Whaley (60 yards on 12 carries) and two touchdowns by David Williams, the graduate transfer from the University of South Carolina.

Arkansas senior receiver Jared Cornelius and sophomore receiver/running back T.J Hammonds, both iffy entering the game because of preseason injuries, played, but starting cornerback Ryan Pulley watched the second half in a sling after injuring pectoral muscle.

Bielema and offensive line coach Kurt Anderson sprang one surprise by starting true freshman Ty Clary at right guard and moving starting right guard Johnny Gibson to right tackle in place of junior Brian Wallace, the incumbent starter for last season's last 10 games.

Wallace did play on the PAT team with Cole Hedlund kicking 7 for 7.

Arkansas flunked its first short-yardage test on its first possession. Whaley, running 12 yards on Arkansas' first play from scrimmage, got stuffed by a penetrating Rattler on third-and-1 forcing Arkansas to punt from its 40.

On their next possession the Hogs failed to protect Allen on third and 10. Allen got hit as he threw an interception to FAMU cornerback Jules Dornevil at the FAMU 29.

Thanks to Allen avoiding a sack and extending a play,  to complete an 11-yard third-and-3 pass to tight end Austin Cantrell at the FAMU 33, Arkansas scored on its next possession.

Hayden dashed 9 and 13 yards before Whaley scored from the 5 with 1:15 left in the first quarter.

A holding penalty and unsportsmanlike conduct penalty charged on the same play to FAMU lineman Elijah Casey on the kickoff dug the Rattlers a hole  setting up a short punt and Arkansas possession on the 50.

FAMU forced a Blake Johnson punt, but with a heads-up bat back by Kevin Richardson to Arkansas teammate Henre Toliver, it was downed at the FAMU 1.

Arkansas finally seized field possession off another short FAMU punt and another FAMU penalty, this time pass interference.

Whaley picked up a FAMU blitz protecting Allen for his 16-yard TD pass to Deon Stewart with 7:54 left in the half.

Williams, Arkansas' graduate transfer running back from the University of South Carolina, capped Arkansas' final first-half scoring with a 4-yard TD run finishing a nine-play, 63-yard drive with 1:21 left before intermission.

Arkansas' defense not only skunked the Rattlers from the first-half points column but limited the Rattlers to first-half first downs and just 49 total yards, 32 rushing on 16 tries and 17 yards as QB Vince Jefferies replaced ailing starter Ryan Stanley on the first series.

Arkansas' defense outscored the Rattlers three plays into the second half.

After linebacker Dwayne Eugene sacked Jefferies back to the FAMU 15, Arkansas junior college transfer Gabe Richardson debuted with a fumble jarring hit of receiver Hans Supre upon Supre catching at Jefferies pass at the FAMU 18.

Toliver scooped and scored for an 18-yard TD. Even Arkansas kicking off from its 20 because of a sideline celebrating penalty of Toliver's touchdown couldn't help FAMU.

Connor Limpert boomed the kickoff and FAMU's retreating return man was tackled at his 17.

Another short FAMU punt and five Hayden rums ended with Hayden's 5-yard touchdown with 8:46 in third quarter.
After Hayden's touchdown Jeffries  hit his longest pass a 23-yard strike to Brandon Norwood for the Rattlers' first foray into Arkansas territory.

The drive, hindered by a FAMU holding penalty, died on Jefferies' fourth and 12 incomplete pass from the 29.

Including two catches by Cabot true freshman receiver Jarrod Barnes, Allen took the Razorbacks 71 yards in 10 plays.

Chris Faddoul, FAMU's overused and mostly ineffective punter, did exact one measure of revenge with a fourth-quarter 26-yard off a fake punt to the Arkansas 42. Jeffries completed a fourth down 11-yard pass to Norwood at the Arkansas 21 before the TD to Norwood snapped the shutout.