Healthy Hogs know their identity, respect La. Tech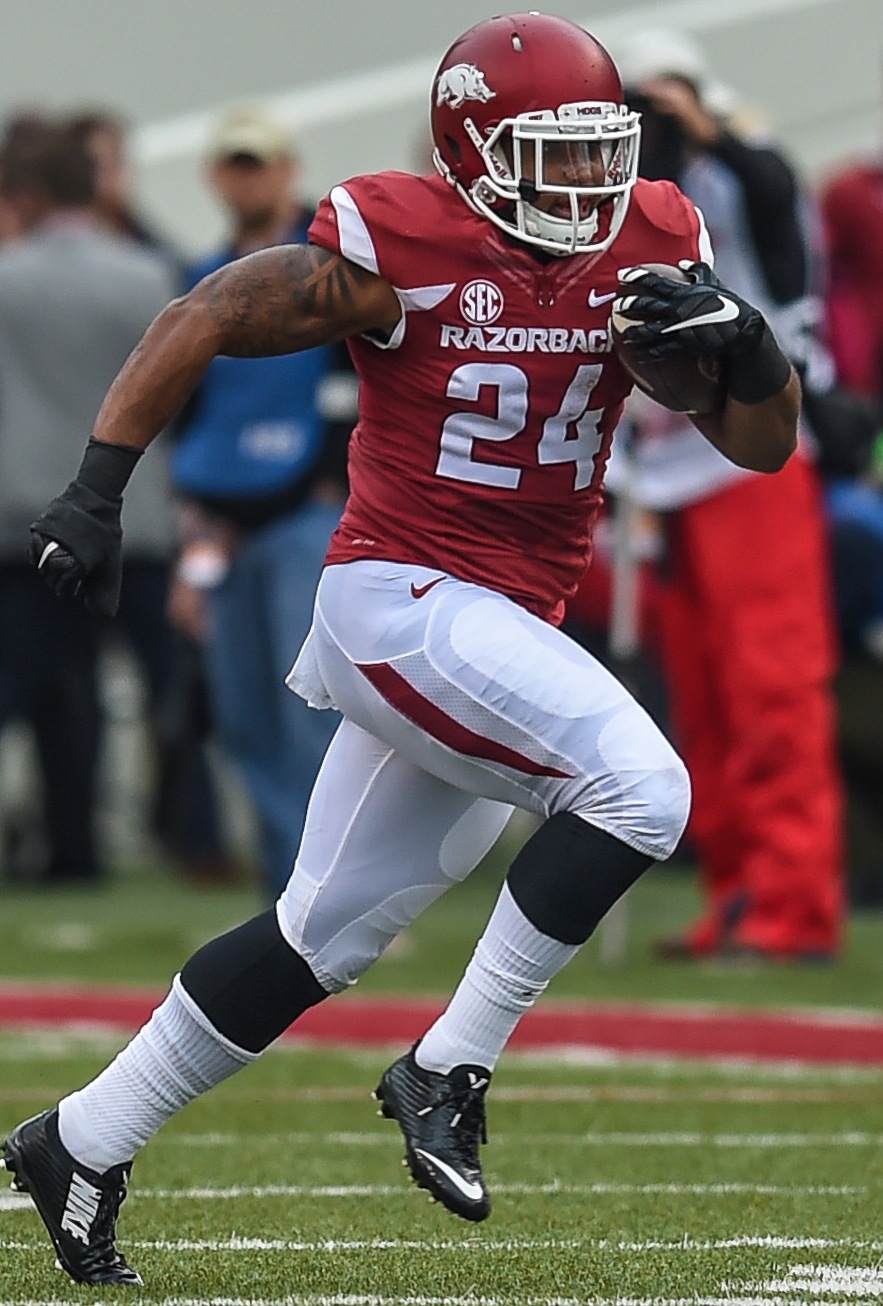 FAYETTEVILLE -  Arkansas coach Bret Bielema expressed confidence Wednesday that senior running back Kody Walker would play in Saturday's season opener but offered less assurance about senior cornerback DJ Dean.
The Razorbacks and Louisiana Tech Bulldogs of Conference USA kick off at 3 p.m. Saturday at Reynolds Razorback Stadium on the SEC Network.
Walker (soreness in the foot he broke during the summer) and Dean (preseason pulled hamstring) seem the only Razorbacks doubtful  on their game day availability.
"Kody went yesterday (Tuesday) and looked really, really good," Bielema said Wednesday. "DJ went about half the practice.  Dominique Reed (the senior receiver from Camden coming off an ankle sprain) was 100 percent.  Really the only one I have any type of concern probably would be DJ and he has come a long way in a short amount of time. Otherwise we should be sitting on ready."
Bielema said sophomore  junior college transfer defensive end Michael Taylor has been cleared to practice though his active eligibility for 2016 still must pass paperwork muster.
Bielema praised the Skip Holtz-coached Bulldogs, who were 9-4 last season.
"We have a tough task in front of us," Bielema said. "La. Tech has had back-to-back nine-win seasons. Very well-coached football team. Coach Skip Holtz has done a tremendous job there. Got our work cut out. We're pretty healthy. Getting everybody in the right positions at the right time and put the shining polish here the rest of the week."
Louisiana Tech  was supposed to be quarterbacked this season by senior Ryan Higgins.
However, Higgins, though likely to play at some point against Arkansas, isn't starting because he was charged with a  DWI.

Holtz has designated redshirt freshman J'Mar Smith to start after Smith competed with third-year sophomore Price Wilson following disciplinary action on Higgins.
"I have researched him thoroughly going back to his high school days," Bielema said Wednesday.  "He was offered by I believe at least a couple of our SEC schools. He was a two-sport athlete with baseball involved.  So there were some things that  went into that process that made it a little bit unique otherwise he might have be at one of our SEC schools. Very talented, very gifted. He's a bigger athlete 6-1, 220 plus that can run. I know he's got a very live arm and can throw the ball a country mile.  A guy that appears to be a very difficult task."

Holtz has indicated all three QBs could play against Arkansas.
"Don't know who we are going to see or what we are going to see but whenever somebody lines up I am sure  there will be a quarterback there and we will try and defend it," Bielema said.
SEC ANALYSIS
SEC Network analyst Booger McFarland, a former All-SEC defensive lineman for LSU and retired nine-year NFL player, addressed Wednesday's Northwest Arkansas Touchdown Club at Mermaid's restaurant.
No surprise that McFarland has Alabama, Ole Miss and LSU as the favorites in the SEC West and Tennessee, Florida and Georgia favored in the SEC but he took a shot at LSU Coach Les Miles, offensive coordinator Cam Cameron and quarterback Brandon Harris,  while praising Arkansas and Bielema.

"LSU is really simple," McFarland said. "The quarterback, Les Miles and Cam Cameron, are they going to remember what the forward pass looks like? At some point they have to do that and try to get a balanced offense."
Regarding the Razorbacks and Bielema as Arkansas' fourth-year coach , McFarland said, "My dark horse in the West is Arkansas.  One of the reasons I like Arkansas is part of life: it's understanding who you are not, or better yet, understanding who you are.
Coach Bielema understands who he is, and I quote Bret that 'I know my team.'  Arkansas is a very tough, physical football team and headed the right way because they know who they are."