Class 6A Week 1 Rankings, Notes & Picks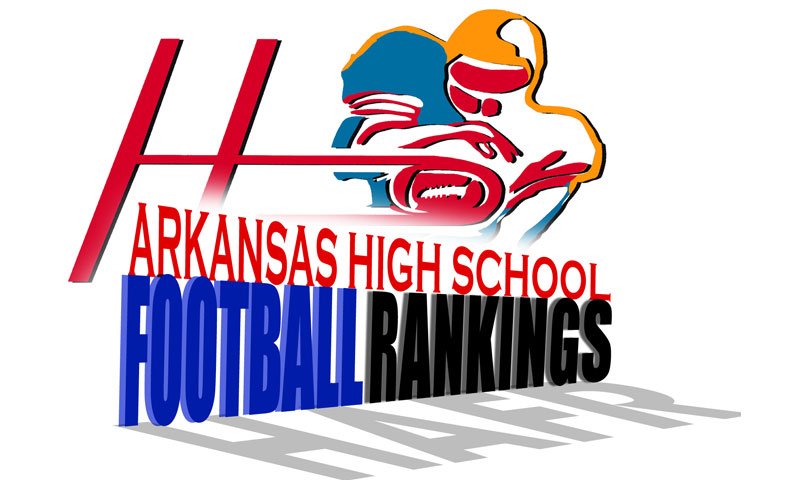 Hootens.com Class 6A Rankings
Week 1, 2022
Copyright Seventy Seven's Publishing
1. Pulaski Academy (1-0)
2. Greenwood (0-1)
3. Benton (0-1)
4. Lake Hamilton (1-0)
5. LR Christian (1-0)
6. El Dorado (0-0)
7. LR Catholic (1-0)
8. Sylvan Hills (0-1)
9. Marion (0-1)
10. West Memphis (1-0)
11. Searcy (0-1)
12. Mountain Home (0-1)
13. Van Buren (0-1)
14. Siloam Springs (1-0)
15. Greenbrier (0-1)
16. Russellville (0-1)
17. Greene Co. Tech (1-0)
18. Sheridan (0-1)
19. Jacksonville (0-1)
LAST WEEK
Hootens.com correctly predicted 10 of 18 games (56 percent) involving Class 6A teams. 
HOOTENS.COM GAME OF THE WEEK
Class 7A FS Northside at GREENWOOD (6)
FS Northside beat crosstown rival Southside 42-24 for the seventh consecutive season. Grizzlies QB Daemarion Savoy passed for 220 yards in the victory.
Greenwood, a traditional Class 6A power, fell to Stillwater, Okla., 41-27. Greenwood QB Hunter Houston threw for 374 yards and 4 TDs but had 3 interceptions. If Greenwood takes care of business, it has a chance to be 5-1 heading into a matchup with Lake Hamilton on Oct. 14. 
WEEK 1 PREDICTIONS (favored teams in CAPS followed by point spread)
6A East
Camden Fairview at El DORADO (3): El Dorado has won 14 of the past 21 in the series. This is the opener for defending Class 6A champion El Dorado. Camden Fairview sophomore RB/WR Trent Haygood and junior DT Khaleb Smith played well in last week's 41-21 setback to Arkadelphia, Coach Nick Vaughn says. El Dorado is led by senior RB Shadarious Plummer, who rushed for 1,290 yards and 23 TDs a year ago. 
OPEN Benton, Marion, Searcy, Sylvan Hills, West Memphis, LR Catholic, Sheridan and Greene Co. Tech
6A West
PULASKI ACADEMY (8) at Madison-Ridgeland Academy (Miss): Pulaski Academy took care of business in its season opener against Joe T. Robinson. Quarterback Kel Busby passed for 327 yards and 3 touchdowns. The win was the Bruins' 54th consecutive at home. Madison-Ridgeland (2-1) enters off a 56-33  loss to Oakland High School of Murfreesboro, Tenn. 
FS Northside at GREENWOOD (6): See Hootens.com Game of the Week, above
LR CHRISTIAN (2) at Shiloh Christian: Shiloh Christian holds a 3-1 advantage in the series, but LR Christian has a game under its belt this fall (beating LR Central 41-6 last week). Shiloh senior QB Gus Wisdom, junior running back Bo Williams and a host of linemen enjoyed a good summer, Coach Jeff Conaway says.
Jonesboro at LAKE HAMILTON (21): Jonesboro lost 21-20 to former 6A-East foe West Memphis last week.  Frederick Giles led the Jonesboro defense with 10 tackles. Lake Hamilton got four scores from RB Kendrick Martin in a 41-20 win over HS Lakeside. 
HS Lakeside at RUSSELLVILLE (12): This is the first meeting between these teams. HS Lakeside junior WR Kyler Wolf (12-146 receiving) shined in his team's 27-point loss to Lake Hamilton. Russellville fell to Class 5A Morrilton, 13-7.
Van Buren at Class 7A FS SOUTHSIDE (7): Van Buren lost to Alma for the first time in five seasons last week. The Airedales were playing without standout WR/CB Malachi Henry, who was injured. Southside QB George Harrell completed 22 of 47 passes for 346 yards in the loss.  
GREENBRIER (1) at Class 5A Vilonia: These former conference foes play a nonconference game this fall after Greenbrier moved up to Class 6A. Greenbrier has won 13 of the past 21 in the series. Vilonia senior QB Wesley McKissack completed 26 of 39 passes for 373 yards and 3 TDs in last week's loss at Hot Springs. Greenbrier passed for 258 yards, but ran for only 8, in last week's loss to Farmington.
ALMA (3) at Siloam Springs: Alma has won 11 of the past 13 over Siloam Springs. Airedales senior QB Joe Trusty ran for 2 TDs in last week's 20-point win over Van Buren, while junior LB Carlos Gonzales blocked 2 punts. Siloam Springs trailed Heritage 16-0 in the first half last week, before a rally fell two points short. Panthers QB Jackson Still passed for 145 yards and ran for 109 yards.
Mountain Home at HARRISON (3): Harrison senior Talon Stephens caught a 58-yard TD pass, blocked a field goal and intercepted 3 passes. "He had an unreal game," Coach Chris Keylon says. Mountain Home lost to Nettleton last week by 10 points. Sophomore RB Jacob Chenoweth rushed 29 times for 145 yards and 5 TDs.