HOGS: Bring on the Air Raid; notes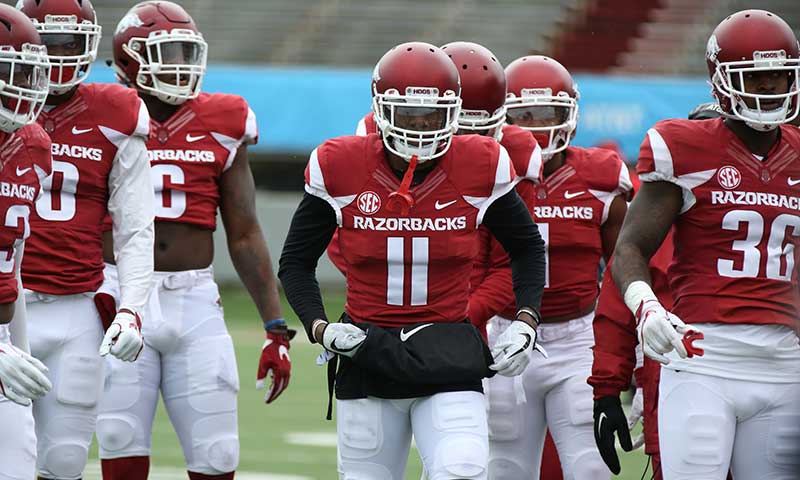 FAYETTEVILLE - The 2018 Arkansas defenders have never felt more prepared for an Air Raid in their careers.
Arkansas opens its season at 3 p.m. Saturday in a SEC Network-televised game against the Eastern Illinois Panthers of the Ohio Valley Conference.
The Panthers, head coached by former Razorback cornerback/receiver Kim Dameron (lettering 1979-82), deploy a hurry-up Spread that new EIU offensive coordinator and former Navarro Junior College coach Scott Parr calls an "Air Raid."
These Razorbacks were air-raided and bulldozed by Spread offenses during the 2016 and 2017 conclusions of the Bret Bielema regime. Back then, the lesser-talented scout team tried to impersonate the hurry-up Spread of opponents. During first-team offense vs. first-team defense portions of practice, Bielema's offenses stressed huddling and a slower, ball-control pace.
Under new Arkansas coach Chad Morris, the huddles are gone, the pace accelerated and the offense spread.
"I feel we we will be way more prepared than we were this time last year," Arkansas fifth-year senior starting free safety Santo Ramirez said. "Just because we have gone against them not just in the fall but the spring as well. Being able to adjust to that type of game speed, Coach Morris is doing a great job of getting us in shape.  And with us  running the No-Huddle offense, I feel like this team will be prepared for teams to come."
Junior cornerback Ryan Pulley (#11 in R. Sharp photo) said the practice pace keeps pace with what EIU and other hurry-up offenses throw at the Hogs.
"It helps us a lot," Pulley said. "Half the teams in the SEC probably go hurry-up now. That helps us a lot going against it in practice."
Pulley calls this preseason's practice pace "way faster," leaving the Hogs gasping during spring drills in March and April.
"We just had to get used to it," Pulley said. "It's easy for us now. We just have to go to our spots and get ready. We just have gotten used to it and go through."
Last year Pulley played only in the season-opener upon suffering a season-ending torn pectoral muscles injury during the game. However he did practice the entire 2017 preseason. So he (and Ramirez) have a base of comparison to say the Hogs are more ready to play in the 4-3 scheme of new defensive coordinator John Chavis than last year's 3-4 under former DC Paul Rhoads (now UCLA's secondary coach).
"People can play faster because the game is simpler," Ramirez said of the Chavis scheme. "You hear your call and make it happen and don't hear too much about it. I feel like I'm in good position."
Pulley said the improved conditioning over summer makes a better, quicker-thinking overall defense.
"I think we're more ready," Pulley said. "Our bodies are more ready.  More focused. More equipped. We've got a coaching staff who has the players ready to play the scheme."
They will have to be ready for two quarterbacks Saturday as will EIU's defense.
Morris announced Cole Kelley, the third-year sophomore and last year's backup, will start and that fourth-year junior Ty Storey of Charleston will play.
Dameron said he won't announce a starting QB. But he said both Harry Woodberry, the QB Parr brought with him from Navarro, and Jonathan Brantley, a transfer from Tulane, will play.
By their assessments of the EIU QBs, it seems Ramirez and Pulley believe Woodberry is the likely starter.
"The starting quarterback, off JUCO tape and everything, I feel like he has a great arm on him," Ramirez said. "He knows how to run the offense. I feel like he cuts off the field pretty fast so it's going to be a great opportunity to make plays. The second quarterback is a great runner. When he gets in, we have to be alert for the speed option. So one is more gunslinger, and one is more of a running quarterback."
Pulley noted that junior QB Brantley had big-game experience during his two years at Tulane with a 2016 start against Oklahoma. Brantley also started for Tulane in 2016 against Navy and Louisiana-Lafayette.