Favored Hogs wary of FAMU & its savvy QB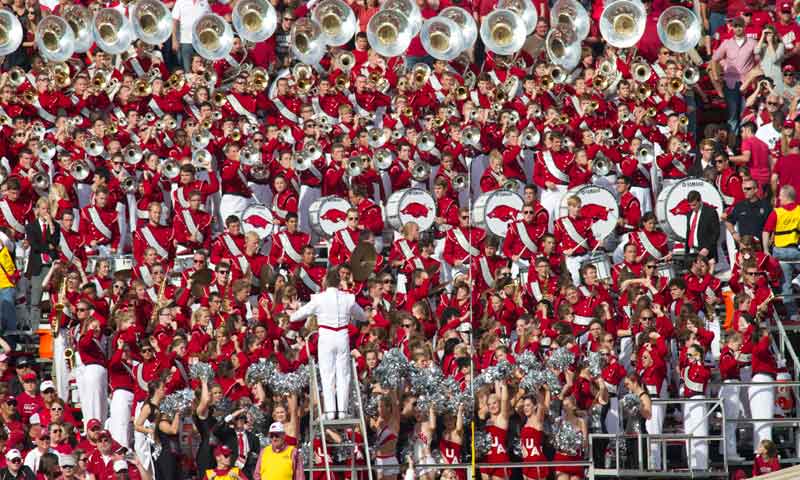 FAYETTEVILLE - Arkansas, of the mighty SEC, presumably will start cleansing its 2016 season-closing stench Thursday by cruising to a season-opening win over Florida A&M of the lower level Mid-Eastern Athletic Conference.
Presumably is the operative word considering most Las Vegas betting boards don't even display odds for this 7 p.m. game at War Memorial Stadium.
Presumably remains the presumption even after the Rattlers wrecked SWAC member Texas Southern 29-7 last week in Tallahassee, Fla.
A victory presumably occurs to Arkansas' satisfaction, unless Coach Bret Bielema's Razorbacks automatically presume that to be so.
Overconfidence doesn't seem likely for the Razorbacks, who claim to have worked hard trying to erase their season-closing stigma of losing 24-7 and 24-0 halftime leads in a 28-24 loss at Missouri and a 35-24 loss to Virginia Tech in the Belk Bowl.
However, the 2012 Razorbacks of interim coach John L. Smith weren't supposed to lose to 30-point underdog Louisiana-Monroe in Little Rock. But they did.
And Bielema's eventual 8-5 Liberty Bowl-winning 2015 Razorbacks weren't supposed to lose to Toledo in Little Rock. But they did.
FAMU's coach, former NFL offensive coordinator Alex Wood, knows much about doing business in Arkansas. He coached Razorbacks quarterbacks and receivers for former Arkansas coach Houston Nutt in 2006 and 2007.
Wood is nationally respected as a capable coach and owns the ingredients at Florida A&M that vexed Arkansas last year. His quarterback, Ryan Stanley, completed 19 of 32 for 217 yards and a TD against Texas Southern and averaged 7.0 yards on his three carries including a 9-yard TD.
Run-pass mobile quarterbacks so troubled the 2016 Razorbacks that Bielema promoted defensive backfield coach Paul Rhoads, the former Iowa State head coach, to defensive coordinator and switched from a 4-3 to 3-4 base defense.
Rhoads was impressed even before last Saturday, noting how Stanley figured in the wins of the Rattlers' 4-7 2016 campaign.
"He is a winner," Rhoads said. "All four games they won, he led them to victory. He was 4-3 as a starter. He is a very gifted athlete and dangerous with his feet and his arm. He has great velocity, throws an accurate ball, but quarterback run game as well as quarterback scramble. He strikes fear in what he does."
Wood was impressed with what Stanley did last Saturday and even more impressed "he didn't turn the ball over. That's a key for the quarterback and all of your offensive players."
It's especially key for a heavy underdog like the Rattlers Thursday night.
Like Bielema, Wood wants the Rattlers to achieve run-pass balance against an Arkansas defense resolved to rehabilitate its run defense reputation sullied last year while guarding against the big-play pass.
Stanley has at least one big play receiver in Brandon Norwood, 51 catches for 458 yards and four TDs last year and a 35-yard TD from Stanley against Texas Southern.
"Coach Rhoads said we're going to have to play him like we play any SEC receiver," Arkansas senior defensive back Kevin Richardson of Jacksonville said.  "He's got the talent. He's got the skill. He can play."
In 2016, the Razorbacks too often couldn't run for the crucial red zone and third-and-short situations even while quarterback Austin Allen led the SEC in passing and former running back Rawleigh Williams led the SEC in regular-season rushing,

FAMU held Texas Southern to 62 yards rushing last week while it seemed Rattler defensive ends Calvin Darville and Elijah Price lived in the Texas Southern backfield.
Allen is familiar with defensive ends like Darville and Price and counts on his line growing up from last year's inexperience to keep him upright tonight.
"They look like SEC defensive ends," Allen said.  "They played really hard and got after Texas Southern. We are ready for the challenge."
Last year's offensive line in the season opener started three who had never started a Razorback game and two returning starters in new spots.
Arkansas opens Thursday night with a line returning six, who have started, and a starting five that have run first-team since spring ball.
Their experience shows, Allen said.
"Really, you can see it in their eyes when you get in the huddle how confident they are," Allen said.
The Hogs claim to be confident on both sides of the ball. They need to be, as they don't overdo it.