Hogs healthy for La. Tech; D line more athletic and deeper; notes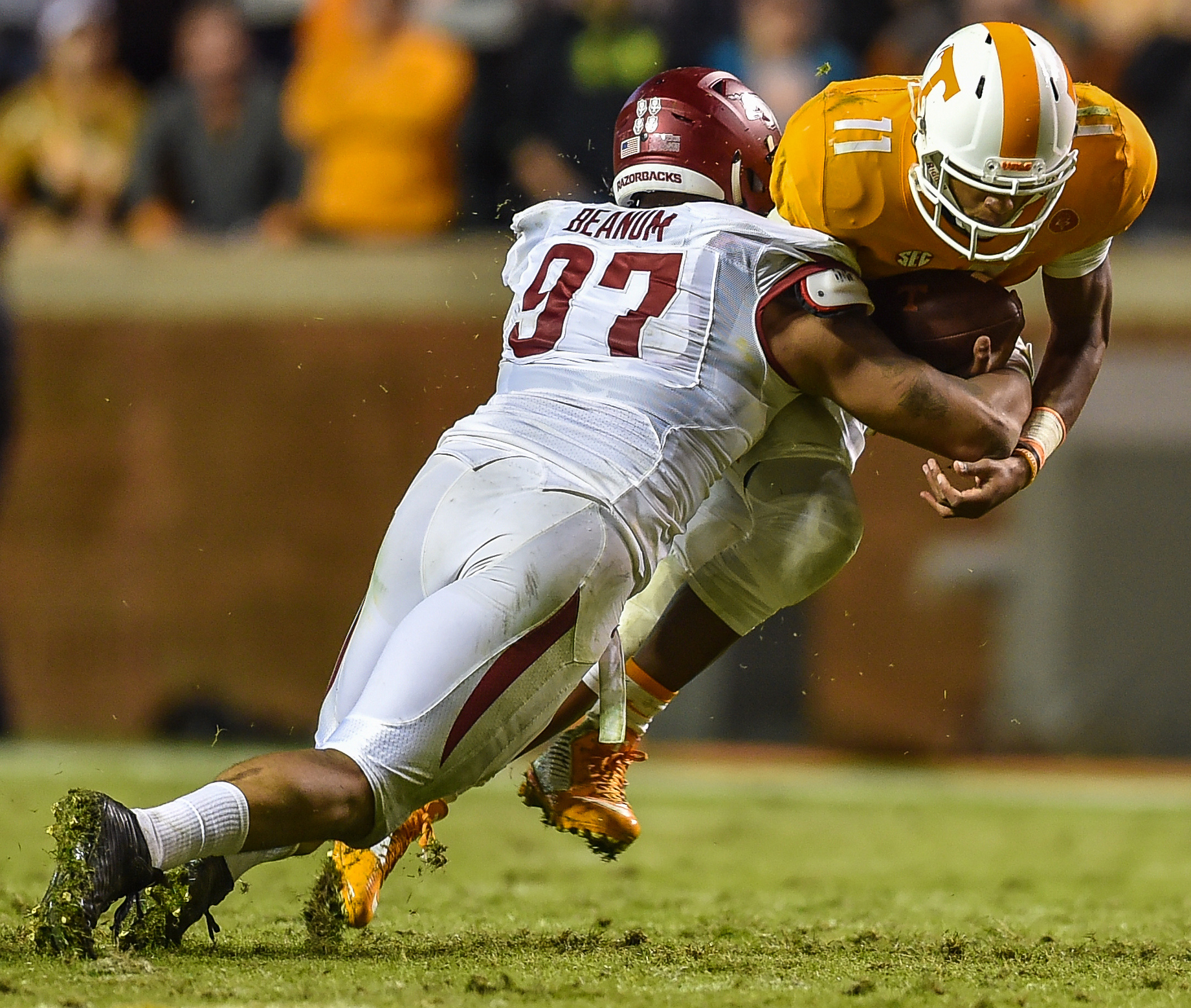 FAYETTEVILLE -  Arkansas' 2-deep depth chart for its 3 p.m. Saturday SEC Network televised season-opener at Reynolds Razorback Stadium against Louisiana Tech disclosed a position switch for freshman defensive lineman McTelvin "Sosa" Agim of Hope.

It also disclosed that junior defensive end Tevin Beanum (in photo) of Forrest City made up considerable ground in a week.

Agim, who has practiced some at defensive tackle in certain packages but mainly has practiced at defensive end, is listed as the backup defensive tackle behind senior Jeremiah Ledbetter. Like Ledbetter (6-3, 280)  Agim (6-3, 289) brings defensive end speed and quickness inside against guards and centers customarily
not as athletic as offensive tackles but still with some heft.

" We are going to see a lot of four-wide receiver sets (including from Louisiana Tech) and we are trying to get our best pass-rushers out on the field," Arkansas defensive coordinator Robb Smith said Monday.  "We feel really confident with him in there. A Ledbetter type athlete on the inside. One of the things we are trying to do to help generate more pass rush."

Arkansas head coach Bret Bielema remarked, " Led played defensive end in the past and we were looking for a guy who can move and make some things happen. I would say Sosa fits that category in a big way."

CAPPS UP, BUT BIJHON NOT OUT
Another true freshman, Austin Capps of Star City, also has surged to second-team.  Capps is listed listed top backup to senior defensive noseuard Taiwan Johnson.

However, don't expect just two to share time at each position on the defensive line. Junior noseguard Bijhon Jackson of El Dorado, redshirt freshman tackle T.J. Smith, sophomore end Randy Ramsey and senior end Brandon Lewis, are not listed in the 2-deep, but they will be in the rotation Saturday, Bielema and Robb Smith said.

BEANUM ON THE BEAM
Excused for two weeks into the August preseason practices to tend to personal issues, junior Beanum didn't have his first practice in pads until Aug. 23 but already is listed second-team behind junior Karl Roesler at the the defensive end opposite starting senior All-America candidate Deatrich Wise.

Beanum backed up All-SEC end Trey Flowers in 2014 and played every game, including 13 starts, last season.

"He really snapped in there quick," Bielema said.  "Looks fresh, looked quick. His recall is awesome. We never had any problems or issues with Tevin and his football IQ. I think he feels really good and  it really was nice having him out there that last week of practice last week. I have no problems or reservations with hopping him in there."

Robb Smith calls Beanum good to go. "I like where Tevin is at this point in time," Smith said. "He certainly will play valuable football for us this Saturday."

ANTWINE, MILLER REWARDED
Bielema announced that walk-ons Anthony Antwine, a junior two-year letterman tight end/special teamer from Plano, Texas; and Reid Miller, a sophomore safety from Hollidaysburg, Pa., whom Bielema  saw play as a teammate of Arkansas sophomore left offensive guard Hjalte Froholdt at IMG Academy in Bradenton, Fla., have been awarded scholarships.

"Anthony Antwine has really been an asset for us," Bielema said. "He's played both wide receiver and tight end. has moved back and forth between the two. To put him in a position there to give him a scholarship was truly kind of a fun thing to do. Really seen that kid grow over the last few years has been awesome."
Miller is listed second-team free safety behind junior Josh Liddell.

"I went to watch Hjalte Froholdt play a game at IMG and he (Miller) kind of caught my eye," Bielema said. "He was getting a few sniffs from some programs but none of it worked out from a scholarship standpoint. So I talked him into walking on here. He played last year for us as a true freshman and for him to be in our two deep now, it was an awesome experience to give him one  (a scholarship) as well."

MOST HAVE MENDED
Other than senior cornerback D.J. Dean (hamstring) and senior running back Kody Walker (soreness in reinjured foot) various ailing  Razorbacks practiced full go Sunday.

Walker is still first on the running back depth chart also listing sophomore Rawleigh Williams, freshman Devwah Whaley and junior Damon "Duwop" Mitchell and could include freshman T.J. Hammonds of Joe T. Robinson, Bielema said.