HOGS: QB Kelley takes starting role in stride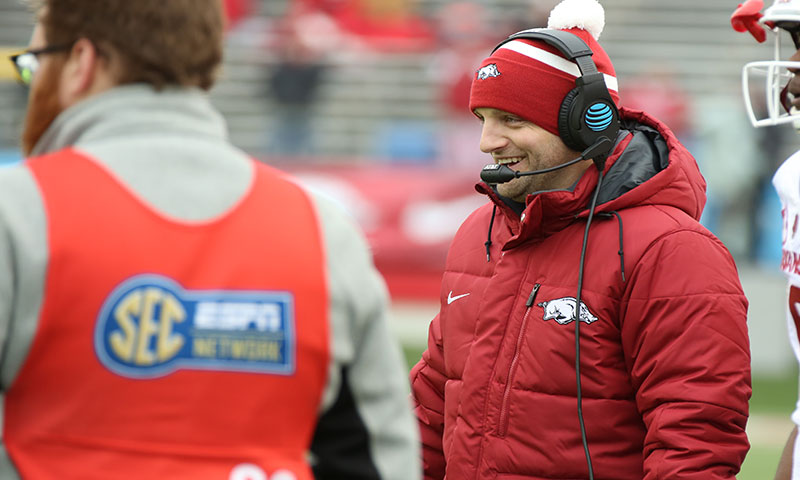 FAYETTEVILLE - Since Arkansas coach Chad Morris and offensive coordinator Joe Craddock told media Monday about telling Cole Kelley he would start at quarterback Saturday,  Kelley said Tuesday he had little to add.

Since last winter's off-season through spring drills, summer workouts and the August preseason, Kelley of Lafayette, La., and fourth-year junior Ty Storey of Charleston have competed to start at QB for Saturday's 3 p.m. season-opener against the Eastern Illinois University Panthers at Reynolds Razorback Stadium.

"Sunday night him (Morris) and Coach Craddock brought me in and just told me that, what he told y'all on Monday," Kelley said after Tuesday's practice. "He gave y'all exactly what he told me."

Morris and Craddock said the sophomore separated himself the past two weeks.

"What I focused on on a daily basis was just trying to be consistent and do what I can to help our team just to score points and get first downs and make each play that was called in to me successful," Kelley said. "That's all you can really do as a quarterback."

Kelley started four games last season, but as the backup promoted because 2017 senior starter Austin Allen was injured.

"It means a lot to me (to start), but it's really just the beginning," Kelley said. "I mean, that was fall camp. We haven't even started the season. We've just started practicing for the first game so this is really just the beginning.

"I thought we came out really good today offensive-wise. I thought the defense did, too. We had a lot of energy today, and I'm really excited. Just taking it one day at a time and doing my job."

Morris said Kelley won't do all the quarterbacking Saturday because Storey will play, too.

RAMIREZ CONTRASTS QBs
Misunderstanding a question about Eastern Illinois' two QBs, Arkansas senior free safety Santos Ramirez provided an interesting perspective on Kelley and Storey and their styles.

"I feel Ty is more patient," Ramirez said. "He manages the game very well back there. Cole takes more chances, and I like his aggressive style of play. He's bigger so we can use more run downs well. I love how they both complement each other. I think both can be effective for the team."

The EIU quarterbacks are Harry Woodberry, a transfer from Navarro Junior College, and Jonathan Bradley, a transfer from Tulane.

"Well as far as the quarterbacks go for Eastern Illinois, the starting quarterback watching his film going off juco tape and everything, I feel like he has a great arm on him," Ramirez said. "He knows how to run the offense they run over there. I feel like he cuts off the field pretty fast, so it's going to be a great opportunity to make plays. The second quarterback is a great runner. When he gets in, we have to be alert for the speed option. So one is more gunslinger, and one is more of a running quarterback."

NEW QUARTERS
Ramirez, a fifth-year senior, said he's never experienced a game day locker room like the spanking new quarters in the North End Zone project completed in time to debut Saturday. They also include a new Broyles Athletic Center, luxury seating and suites.

"I'm very excited, man," Ramirez said. "They did a great job over there in the new  part of the end zone. And the locker room over there … it's beautiful!  We are very grateful and want to make sure we give it all back. Everything they've done for us we want to give back. We are really excited."