Fouke, Smackover win at Arkansas Blue Cross and Blue Shield Kickoff Classic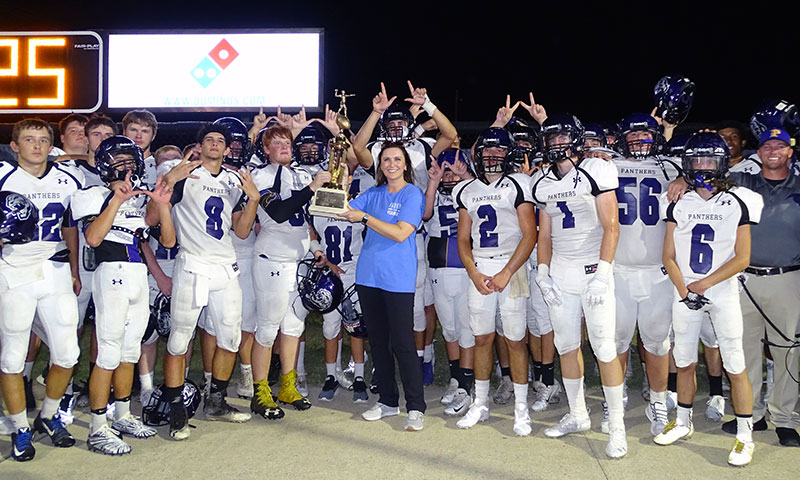 MAGNOLIA - Senior running back Greg Turner rushed for 201 yards and scored five touchdowns Monday night to lead Class 3A Smackover past Class 2A Foreman 45-24 in Day 2 of the Arkansas Blue Cross and Blue Shield Kickoff Class at SAU's Rip Powell Field.

Foreman senior quarterback Kyren Batey carried for 140 yards, but the defending state champion Gators committed five turnovers.
FOUKE 26, PARKERS CHAPEL 21
Class 3A Fouke took down Class 2A Parkers Chapel in Monday night's opener by scoring two TDs off three Parker's Chapel turnovers, including a pick-6 interception. Fouke's Chance and Trenton Crabtree combined for 155 rushing yards.|
Arkansas Blue Cross and Blue Shield regional executive Rebecca Pitillo presents the trophy to Fouke on Monday night at SAU. (Rhonda Sharp photo)

BAUXITE 49, CONWAY CHRISTIAN 12
Class 4A Bauxite's ground attack wore down Class 2A Conway Christian at North Little Rock..
Bauxite senior quarterback Seth McDowell and halfback Dawson Dabbs combined for 138 yards, while junior fullback Hayden Edwards ran five times for 57 yards in the 49-12 victory.
Dabbs' 8-yard run with 20 seconds left in the first quarter gave the Miner's a 14-0 advantage, and McDowell's 37-yard sprint with just over three minutes left before intermission increased the advantage to 28-6.
Bauxite's defense limited Conway Christian to 50 rushing yards on 24 carries. Conway Christian senior QB Jacob Wood completed 16 of 30 passes for 137 yards. He ran 10 times for 17 yards.
WARREN 42, SOUTHSIDE 26
Southside Batesville's defense shut down Warren highly touted receiver Treylon Burks (one catch for minus-11 yards), but the Southerners couldn't slow the Lumberjack rushing attack.
Junior Vincent Steppes sprinted 90 yards for a touchdown to tie the game 7-7 with 4:19 left in the first quarter, and he kept punishing Southside Batesville as Warren rambled to a 42-26 triumph. Steppes ran 14 times for 185 yards and three TDs, and senior QB J'malachi Kinnard added 77 yards on five carries, highlighted by a 48-yard zig-zag TD with 3:26 left in the third quarter to increase Warren's advantage to 28-13. Warren increased its advantage to 35-13 two minutes later when Kinnard hooked up with senior Cade Reep on a 74-yard TD pass.
Southside Batesville kept it close (trailed 21-10 at halftime and 21-13) with less than four minutes in the third quarter. Senior Koby Rich completed seven of 11 passes for 96 yards, while senior Will Sitkowski hauled in four passes for 72 yards. The duo hooked up on a 40-yard TD with 6:01 left in the first quarter to give the Southerners a 7-0 advantage, their only lead of the day. 
Warren's defense held Southside to 76 yards rushing in the opening three quarters, before the Southerners found success with a pair of fourth quarter TD runs, the final one a 10-yard jaunt by senior Logan Johnston to set the final margin.