Hogs release official 2-deep roster; notes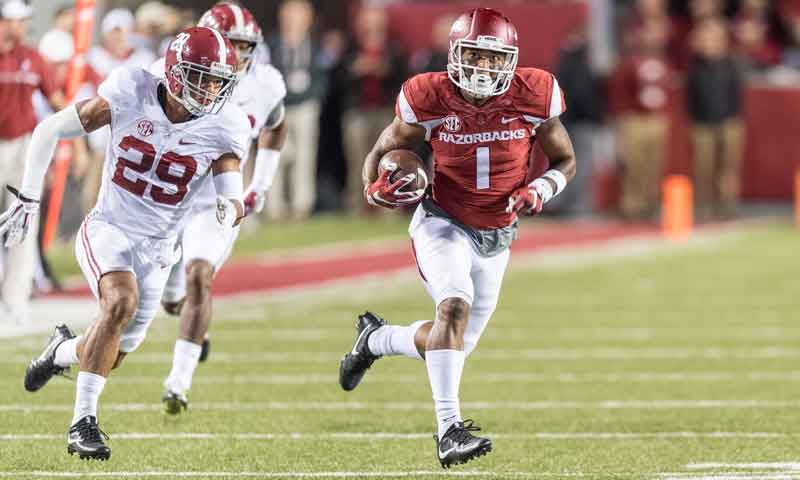 FAYETTEVILLE - Though limited by an ailing back this month, senior receiver Jared Cornelius (in photo) is on the depth chart as an either-or starter and in the game plan for Arkansas' season opener Thursday night against the Florida A&M Rattlers.
Sophomore La'Michael Pettway of Nashville is the "either-or starter" with Cornelius. Florida A&M, which opens Saturday against Texas Southern, and Arkansas kick off a 7 p.m. Thursday on the SEC Network at War Memorial Stadium In Little Rock.
Sophomore receiver/running back T.J. Hammonds (arthroscopic knee surgery) was deleted from the preseason 105-man roster but also restored to practice Monday and in the game plan against Florida A&M.
"We're going to plan right now J-Red and T.J. Hammonds are incorporated in the game plan," Arkansas coach Bret Bielema said Friday, addressing media as did offensive coordinator Dan Enos and defensive coordinator Paul Rhoads. "We'll let them practice this week and make a decision probably next Tuesday, whether or not they'll play or not, depending on reps by then."
Hammonds, a reserve tailback as a true freshman last season and then moved to receiver last spring, has practiced at both spots since his return.
"Wednesday he repped at tailback the whole time," Bielema said.  "Today the first half of our practice he'll rep only at tailback and then he'll pop into wide receiver for a couple of skelly (pass skeleton) sessions."
BACKS ARE DICEY
It sounds as if Hammonds' recovery Thursday might be ahead of Cornelius' pace.
Bielema explained injured knees and ankles swell when ailing and go back to normal size with healing, but "with a back you really rely" on the injured player (Cornelius) describing his fitness.
"The conversation I had with him going back to when we pulled him out of fall camp, is he's got to feel great about how he feels," Bielema said. "He literally was just in my office a half-hour ago. Very excited. The program he did this morning with (trainer) Matt Summers, he said was the best he's ever felt. So we'll piece him in (practice) a little bit next week and make a decision on game day."
Since Cornelius was responsible for 32 of the 35 passes caught last season by returning wide receivers last season, Enos was asked if he had game plans with and without Cornelius.
"I don't know if there are two different game plans, but there's certainly things we would like Jared to do," Enos said. "I think we have guys in position to do those things, if he can't play, but there are things we will do if we have him available though."
Is he counting on Cornelius to play?
"Yeah, absolutely," Enos replied. "The prognosis sounds really good. Jared is really, really smart. He knows exactly what we're doing. Once he gets back full-go physically he will know where to line up, how to run the routes and where to be. I am gonna remain very optimistic about it and hopefully we will have him."
OFFENSE LISTS 12 STARTERS
The starting offense, listing 12 positions with a fullback and two tight ends, starts Austin Allen at quarterback, Devwah Whaley at running back with David Williams as slash right behind him; Kendrick Jackson at fullback; Austin Cantrell and Cheyenne O'Grady as the tight ends, Cornelius and Deon Stewart as receivers with Pettway and Jordan Jones in slashes right behind them and a line of center Frank Ragnow, right and left guards Johnny Gibson and Hjalte Froholdt, and right and left tackles Brian Wallace and Colton Jackson.
With junior college transfer Jeremy Patton, and returnees Will Gragg and Jack Kraus listed second-team tight ends and expected to contribute, Bielema said sophomore Grayson Gunter, lettering as a true freshman last season but coming off shoulder surgery will redshirt.
"He (Patton) missed all the development in the spring," Bielema said. "And to kind of space out that group of TEs who are all in that class together, when he played a year ago. Sat him down about two weeks ago and commonly, mutually came to that decision. Put him in a pretty developmental lift phase to get back on track and complete his career obviously."
DEFENSE  SET
Defensively, minus any co-starring slashes, the first unit starts McTelvin "Sosa" Agim and T.J. Smith at the ends with Bijhon Jackson at noseguard with Dre Greenlaw and De'Jon "Scoota" Harris as the inside linebackers, and Randy Ramsey and Dwayne Eugene as the outside linebackers in the new 3-4 scheme.
The secondary starts Ryan Pulley and Henre Toliver at the corners and Josh Liddell and Santos Ramirez at the safeties with Kevin Richardson the nickel against certain Spread formations.
In addition to being listed first, with sophomore Ty Storey listed in a slash right behind him, redshirt freshman Cole Kelley not only is the backup QB behind Allen but the No. 2 punter behind Blake Johnson.
At the inside linebackers, redshirt freshman Grant Morgan of Greenwood so impressed Rhoads and linebackers coach Vernon Hargreaves filling first-team roles when both Greenlaw and Scoota Harris were injured, that Morgan is the first sub, Bielema said, for Harris at middle linebacker and Greenlaw at weakside 'backer.
Bielema said the Razorbacks, off last Thursday, will have closed workouts over the weekend and together watch Saturday's 11 a.m. Florida A&M vs. Texas Southern game on ESPNU.
TWO-DEEP DEPTH CHART
OFFENSE
QB Austin Allen, Cole Kelley
RB Devwah Whaley, David Williams
FB Kendrick Jackson, Hayden Johnson
WR Deon Stewart, JordanJones
WR Jared Cornelius, La'Michael Pettway
TE Austin Cantrell, Jeremy Patton
LT Colton Jackson, Paul Ramirez
LG Hjalte Froholdt, Jake Raulerson
C Frank Ragnow, Zach Rogers
RG Johnny Gibson, Ty Clary
RT Brian Wallace, Jalen Merrick
DEFENSE
DE McTelvin Agim, Jonathan Marshall
NT Bijhon Jackson, Austin Capps
DE T.J. Smith, Jake Hall
OLB Randy Ramsey, Hayden Henry
MLB De'Jon Harris, Grant Morgan
WLB Dre Greenlaw, Dee Walker
HOG Dwayne Eugene, Karl Roesler
CB Ryan Pulley, Kamren Curl
SS Santos Ramirez, Josh Liddell
FS Josh Liddell, De'Andre Coley
CB Henre Toliver, Britto Tutt
SPECIAL TEAMS
PK Cole Hedlund, Blake Mazza
P Blake Johnson, Cole Kelley
KO Connor Limpert, Blake Mazza
SNAPPER Robert Decker, Jordan Silver
HOLDER Reid Miller Grant Morgan
KOR Deon Stewart, Jonathan Nance
PR Henre Toliver, Jared Cornelius