Hogs: NG Capps keeps coming; Bielema names captains; more notes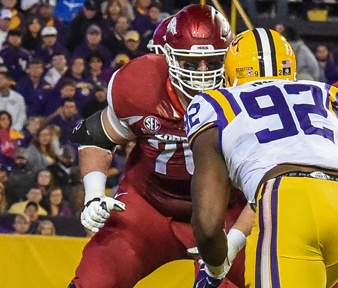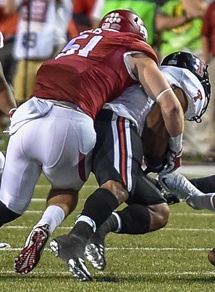 Sr LB BROOKS ELLIS
FAYETTEVILLE - Following Thursday's practice, Arkansas coach Bret Bielema announced his four captains for the 2016 season, which opens at 3 p.m. Sept. 3 against Louisiana Tech on the SEC Network.


The all-senior quartet includes running back Kody Walker, granted a sixth-year by the NCAA after injury shortened his first two seasons, left tackle Dan Skipper (top photo vs. LSU) on offense and middle linebacker Brooks Ellis (in photo) and defensive end Deatrich Wise on defense.


Ellis, the lone Arkansan of the four as a graduate of Fayetteville High, was a captain as a junior last season.
JUCU D-END COMING
Junior college transfer defensive end Michael Taylor

, who is not NCAA cleared, is "en route" to Fayetteville, Bielema said.

Taylor, a sophomore transfer from Riverside (Calif.) Community College, intends to enroll Friday for fall semester classes while his athletic eligibility paperwork continues to be evaluated.

"He still has some things to go through, some paperwork and he will be with us this fall," Bielema said. "In what capacity will be determined in the next 48 hours or so."

Taylor cannot redshirt in his "three-year window," Bielema said, so would lose his sophomore eligibility and start his Arkansas clock as a junior in 2017, if the NCAA doesn't clear him for this fall semester.

In this final preseason week, the Razorbacks held a light practice Thursday afternoon and will hold "a mock game," Friday.

Bielema said the scripted 60-play "mock game" starts with the pregame routine at the Broyles Center where the Razorbacks headquarter only on game days in Fayetteville and cover a variety of game situations.

Bielema said all the game-roster Razorbacks, other than those with injuries that could benefit from another day off, will participate in the mock game.
After taking Saturday off, the Razorbacks launch game week with a Sunday practice, use Monday as their mandated NCAA off day, and practice Tuesday through Thursday.

"Sunday we will get a little bit of a jump on La Tech's game week." Bielema said. "Even though it's a team that we have been preparing for we will get work on Sunday, which we normally don't do in a normal game-week setting. Just to have game week get here is a big, big deal."
Bielema was asked about senior Dan Skipper, the only Razorback voted first-team preseason All-SEC by the 14 SEC head coaches.

Coaches can't vote for their own players for that preseason All-SEC team released Thursday in Birmingham, Ala.

"To get the coaches' vote, that means a lot," Bielema said. "Dan can do some things on film that make you mad as an opposing coach. That shows the true symbol of what he is."

Recruited as  a tackle out of Arvada, Colo., the 6-10 Skipper is the tallest lineman in college football and among the most versatile.

By necessity, Skipper became a starting guard his true freshman year of 2013, started 13 games at left tackle in 2013, 14 games at right tackle in 2014 and was still at right tackle through spring ball and the start of the August preseason until swapped to left tackle with redshirt freshman Colton Jackson of Conway moved from left to right tackle.

Bielema said Skipper "feels better," on the left side. That makes Bielema feel better, too, putting his most experienced tackle on the left side and protecting the blind side of junior right-handed quarterback Austin Allen.

"Dan's playing at a level I've never seen before," Bielema said Thursday. "He's just really, really playing well." 
Without the spring practice head start that fellow freshman lineman McTelvin "Sosa" Agim of Hope had as an early enrollee at the UA, it's a tribute to true freshman defensive noseguard Austin Capps of Star City, that he joins defensive end  Agim off the bench in the depth chart game plan against Louisiana Tech.

"Austin Capps and the ability he brings us inside at the nose position is very, very good," Bielema said. "It's what we thought but we didn't know it would come as soon as it's come."