Hogs: Storey jumps to backup QB; TE Gunter wows; more notes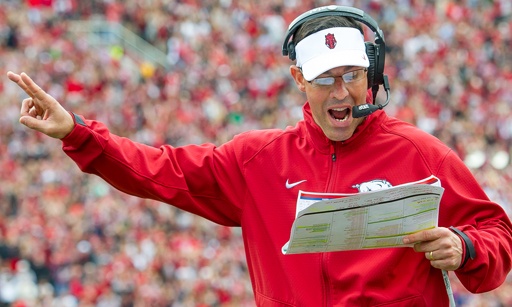 FAYETTEVILLE - Following Arkansas coach Bret Bielema's lunchtime declaration Wednesday to the Northwest Arkansas Touchdown Club that redshirt freshman Ty Storey is his backup quarterback and that surging freshman tight end Grayson Gunter will not redshirt, questions for offensive coordinator Dan Enos (in photo) and several Razorbacks abounded after practice Wednesday night.

Storey's ascension and the rosy projections on true freshman QB Cole Kelley obviously figured in formerly patient third-year sophomore QB Rafe Peavey's transfer to SMU.

Bielema, Enos and several players paid homage to Peavey's persistence but now turn to Storey's progress as the backup to fourth-year junior starter Austin Allen.

Bielema said of Storey: "In fall camp you just saw Ty continue to excel. He's been doing all the things we ask. Not just handing the ball off and completing passes, but understanding the huddle, understanding when we have to move guys from side to side. Motions, shifts, adjustments. He really had a very productive and efficient fall camp."


Enos after practice said, "
He's been a guy that's been competing since he got here. I've always been impressed with his work ethic every day, his mindset, his preparation. He's done a good job, gotten better every day, works very hard at it, so nothing's really changed for him. He's had the same business-like attitude since I got here."


Arkansas senior receiver Drew Morgan said Storey "has improved greatly reading his progressions, knowing who to throw to and stepping up in the pocket. Just playing the game and getting in the role of running with the ones and twos, that builds confidence."
LITTLE HUNTER


Three-star recruit Grayson Gunter out of Madison, Miss., has stunned those who value recruiting stars by passing more heralded redshirt freshmen tight ends Will Gragg of Dumas and Cheyenne "C.J." O'Grady of Fayetteville on the depth chart behind senior starter Jeremy Sprinkle, redshirt freshman Austin Cantrell and backups Anthony Antwine and Jack Kraus.

"He has been a surprise because we thought he was going to be a developmental redshirt guy from the get-go," Enos said. "He has come in and he has learned and taken advantage of his opportunity and he has been tough and he has been physical and showed us good ball skills and a guy that can run."

Morgan surprised media comparing Gunter's early stages to turned-pro 2015 junior Hunter Henry, last year's Mackey Award winner as the best tight end in the country.

"We call him "Little Hunter." Morgan said. "He's got a lot of potential.  The kid plays really fast. He's got some wheels on him. I wouldn't say he's faster than Hunter, but I don't know …"

Junior center Frank Ragnow mentioned  them in the same breath, too.
"His frame looks like Hunter Henry," Ragnow said. "That's a lot to fill in but he definitely looks like a kid who does the right thing and that will take you a long way alone."

Sixth-year senior running back Kody Walker said, "He has really, really caught fire. He's a young guy who just comes out here and works quietly that I think is going to be very special in this program." 
Granted a sixth year by the NCAA and SEC because injuries curtailed his first three seasons, Walker was heard much about young running backs Rawleigh Williams, the sophomore recovered from breaking his neck last year, and true freshman Devwah Whaley.

"I get that every year," Walker said without rancor. "It's always somebody else. I am cool with that, but it does feed into what I do on the field and off the field."

Freshman running back T.J. Hammonds, practicing again this week after tearing the meniscus in his knee last week, impressed Enos.


"
He looked good," Enos said. "He looked quick, explosive. I thought he had a little bit yesterday too. He looked good. We need to get him out there and get going. losing him for that week slowed him down a little bit, his development to be ready. But we need him and it may not be week 1, but by week 4 or 3 or whatever it is, TJ's going to have to get out on the field and do things for us. He's talented enough to help us win."



MICHIGAN NOW A VERB


Wednesday's Touchdown Club crowd expecting Bielema quips weren't disappointed.

Regarding TCU, Arkansas' second game opponent Sept. 10 in Fort Worth, Bielema noted TCU is supposed to come to Arkansas to complete a non-conference home and home "unless they Michigan us."

Michigan pulled out of a contracted 2018 and 2019 home-and-home series with Arkansas to play Notre Dame instead.