Hogs: Ragnow receives honors, praises QB Kelley; notes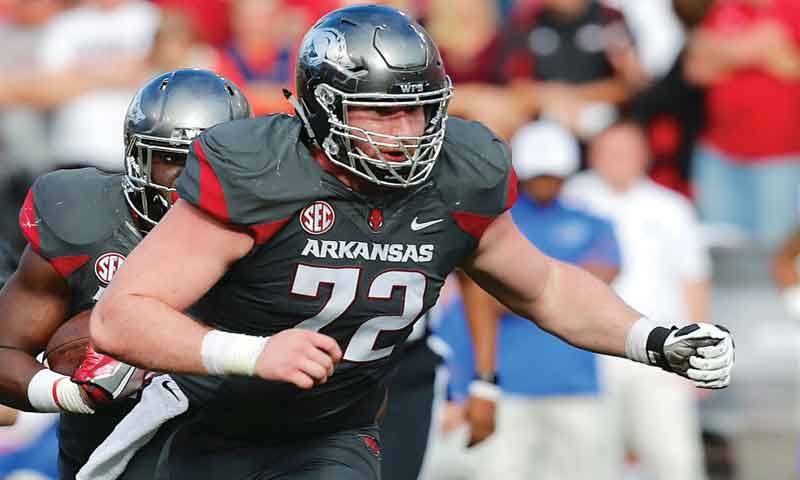 FAYETTEVILLE - Arkansas senior center Frank Ragnow (above photo) met with media Wednesday night after landing on the first-team All-SEC Preseason Coaches team and the Associated Press All-America second team.
"It's cool," Ragnow said. "I mean, I can't like and say, 'Oh, I don't even recognize that at all.' It's cool and it's cool to see how excited my family and my friends get about it. But then again, nobody remembers somebody for preseason awards. I think it gets you good hype and everything, but I want to be remembered after the season for what I did."
Especially significant to be named to the Coaches' first-team All-SEC team?
"Definitely," Ragnow said. "Especially the coaches in our conference. There's a lot of legendary coaches in the conference recognizing your game."
Arkansas coach Bret Bielema implied Ragnow is the top lineman he has coached, including other All-America offensive linemen at Wisconsin and Arkansas,
"I've had a couple first-rounders and a second-rounder, and he's by far the best one I've had," Bielema said to the Northwest Arkansas Touchdown Club.
"Everything he went through (death of his father) a year ago, he's a great person. Just a shooting star. He's never redshirted either, so his best football is in front of him."
RAGNOW ON QBs
Arkansas senior starting quarterback Austin Allen of Fayetteville, last year's SEC passing leader, was named third-team All-SEC Wednesday by the SEC coaches.

Bielema named redshirt freshman Cole Kelley as the No. 2 QB, for now at least, behind Allen. Kelley and third-year sophomore Ty Storey of Charleston have been competing in a dead-heat this preseason for the backup job.
"I think he's (Kelley) comfortable out there," Ragnow said.  "He's a guy who isn't shy. He's very outgoing, and I think that helps him a lot. He's confident out there. And you've seen that on the field. He definitely has the ability to make the big-time throws. I think with he and Ty, it's just the confidence and the comfortability."
Bielema said Storey also has preformed well and posted one of his better practices Tuesday. Storey and Kelley will be listed as co-backups Friday when the Razorbacks issue their depth chart for their Aug. 31 opener against Florida A&M

Arkansas plays host to the Rattlers at 7 p.m. Thursday at War Memorial Stadium in Little Rock.
Bielema marveled at the Northwest Arkansas Touchdown Club about Allen's preseason camp, and Ragnow concurred Wednesday night.
"You can tell Austin has been playing a while, and he understands everything," Ragnow said.
HAMMONDS HEALING
While senior receiver Jared Cornelius is limited by a back injury, sophomore receiver/running back T.J. Hammonds appears closer to playing against Florida A&M.
Removed from the preseason roster three weeks ago after undergoing arthroscopic knee surgery for a torn meniscus, Hammonds has practiced some this week and drilled during 12 of Wednesday's 19 practice periods.
"He was catching deep balls and everything," third-year sophomore receiver Deon Stewart said of Hammonds. "He's looking good."
KICKOFF RETURNERS
Redshirt freshman receiver Jordan Jones of Smackover and Stewart are the leading kickoff returners with junior college transfer receiver Gary Cross of Fordyce, true freshman cornerback Chevin Calloway and true freshman running back Chase Hayden also working as kickoff returners.