HOGS: Morris explains new culture; notes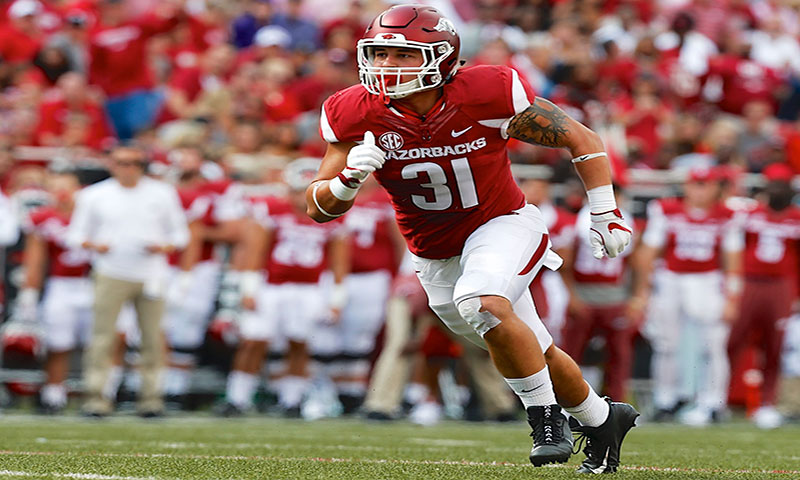 FAYETTEVILLE - Having addressed the annual Arkansas Kickoff luncheon in Springdale, the Little Rock Touchdown Club Monday, Arkansas coach Chad Morris tried not to repeat himself Wednesday while addressing the Northwest Arkansas Kickoff Club's noon luncheon in Fayetteville.

So, after attributing the state's hunger for winning football resulting in record attendance at the three luncheons, the Razorbacks' new head football coach pumped the brakes on his customary "hammer down/left lane" refrain.

Morris instead talked of those who most influenced him to coach when he was a 21-year-old math teacher and coach, pondering becoming an accountant, applying for the FBI or following his father's footsteps as a fireman.

"Relationships," he was told, are key to any profession. Certainly true in coaching, Morris said from  experience.
Relationships establish a culture, Morris said.

He defined a team's culture as "nothing more than a belief that drives a behavior that produces a result."

Calling a team that floundered to 4-8 last season and easily could have ended up 2-10 "unacceptable at the University of Arkansas no matter who is coaching," Morris demanded a culture change.

"We talked about the reverse engineering effect that a change in behavior will bring a change in result," Morris said.

Morris recalled an incident changing his own behavior.

With firemen customarily working 24-hour shifts and then being off the next 48, Morris said his father also had a business painting houses. His father so painstakingly prepared a house to be painted that the prep took far longer than the painting,  Morris recalled.

Morris said he and his brother silently cussed the caulking and painstaking prep.

So when his father was called to another job and left his sons in charge, Morris said he and his brother took prep shortcuts toward start the painting faster.

But not quick enough to pull a fast one on dad.

"We halfway did it," Morris recalled. "We just did enough caulk for show. He came back and threw a fit and said, 'Get out of here! I'll do this! These people are expecting your best work. What you put into it is what you and they get out of it.' My father said, 'If it's worthy of your time, it's worthy of your best time."

Morris said that goes back to "culture, belief, and accountability."

Morris did promise to "talk some football" and eventually did.

He was still not ready Wednesday to name a starting quarterback in the battle between fourth-year junior Ty Storey of Charleston and third-year sophomore Cole Kelley of Lafayette, La., but said, "I'm excited about the battle."

He expressed the most offensive unit excitement about "the great stable of running backs" that include juniors Devwah Whaley and T.J. Hammonds, junior college transfer Rakeem Boyd, sophomore Chase Hayden and redshirt freshman Maleek Williams.

"I feel running back is the deepest position that we have," Morris said.

Starting with junior left tackle Colton Jackson requiring back surgery in July, while redshirt freshman replacement Dustin Wagner last week required an appendectomy, Morris said "there have been setbacks in the offensive line. But that's why we have 85 scholarships. It's next man up. And I believe we'll have Colton Jackson back in the next few weeks."

Jackson's return initially was forecast at midseason at the earliest, but Morris has said the the 6-6, 300-pounder is "healing ahead of schedule."

Morris lauded Austin Capps, the junior from Star City moved from defensive tackle to left guard. "Austin Capps is coming along," Morris said. "I'm very proud of him and where he's at."

Morris said hiring veteran SEC defensive coordinator John Chavis has proven "a huge, huge plus."

"You'll see a very different defense than what you've seen in the past," Morris said. "He brings pressure from everywhere. You have to look around on water break because you think he's bringing pressure then, too. He's really excited about changing the culture of our defense."

Morris especially cited weakside and middle linebackers Dre Greenlaw and Scoota Harris, cornerback Ryan Pulley, safety Santos Ramirez, Kamren Curl, switched last spring from corner to strong safety, cornerback Chevin Calloway, backup corner Montaric "Buster" Brown and defensive ends Randy Ramsey and Gabe Richardson.

In a brief Q and A with attending fans, Morris cited safeties Joe Foucha and Myles Mason as the true freshmen most counted upon to play right away.

Responding to a question about standout walk-ons, Morris immediately cited third-year sophomore middle linebacker Grant Morgan of Greenwood. "I'm excited about Grant," Morris said.  "Grant's been a part of this program for several years and he's made a huge impact."

BETTER WEDNESDAY
Predictably, Arkansas defensive coordinator John "Chief" Chavis, offensive coordinator Joe Craddock and those players made media available said the Razorbacks responded much better in Wednesday's practice than Tuesday's workout that drew public criticism from Morris.

"Yeah it was better today," Chavis said. "Yesterday was not bad but it was better today. They've had a chance to see the tape and some things we needed to work on. I mentioned that on Saturday when we finished. The tackling and the tracking and the simulating tackling was much better, much better today."

The Razorbacks have a light walk-through practice set for Thursday. Craddock claimed Wednesday's workout had nowhere to go but up from Tuesday.

"Yesterday (Tuesday) wasn't very good," Craddock said. "We had probably one of our worst days since we've been here. I had to grab a couple of guys' attention. We had to reel them back in real quick and get them re-focused on football. And I was very proud of the way our guys responded today. one of our better days of camp and to this point since school started."

TAYLOR ON FIRST-TEAM
Senior reserve Michael Taylor operated at first-team defensive end during Wednesday's first 20 minutes of practice that media were allowed to view.

Taylor filled in for senior Randy Ramsey who has drawn high praise but missed the past several practices with a hamstring injury that Morris and Chavis say is healing well.

"We're hoping we're going to get him back in a day or two," Chavis said. "He's getting close."

Gabe Richardson continues running first-team at the opposite defensive end.

WOODS, PETTWAY CATCH ON
Freshman receiver Mike Woods ran first-team during the first 20 minutes and made some catches, and La' Michael Pettway caught a deep ball from sophomore QB Kelley.

QB SHUFFLE
Kelley opened Wednesday on the second team Wednesday while fourth-year junior Ty Storey quarterbacked the first-team,  reversing Tuesday's pecking order.

"The same, the exact same," Craddock said of the QB battle. "We're still trying to find that guy, and there's been good days and some bad and just looking for some consistency and hopefully we'll name a guy here pretty soon."

Craddock did say it's not for lack of effort that neither Storey nor Kelley nor redshirt freshman Dalton Hyatt and true freshman Connor Noland of Greenwood and John Stephen Jones have seized the job.

Only walk-on QB Jack Lindsey, the holder for place-kicks which included 35-yarders by Connor Limpert and Preston Stafford during Wednesday's first 20 minutes, has a definitely assigned role for the Sept. 1 season opener against Eastern Illinois.

"We've got some really good candidates," Craddock said. "They're all really good players, and I fully anticipated this being a hard decision. Those guys have all worked their butts off, and they all really deserve an opportunity from their work ethic and their progress to this point in the offense. But in reality, only one guy can run out there for the first play. Doesn't mean he's going to be the only guy to play but only one can run out there for the first play of the season."

Practicing against the QBs daily makes it too close to call for Morgan, the middle linebacker from Greenwood.

"Man, whoever is choosing the starting quarterback has a tough job," Morgan said. "They are all playing really good. Every single one of them is competing. We are showing each just as much pressure as the next, and they are all playing really well right now."
 
STARTING ON EIU
Craddock and Chavis said a portion of Wednesday's practice included "good on good" of first units clashing but that a portion was devoted to the top units working against the scout teams operating Eastern Illinois' offense and defense.