Hogs anxious to get to LR, play a game; notes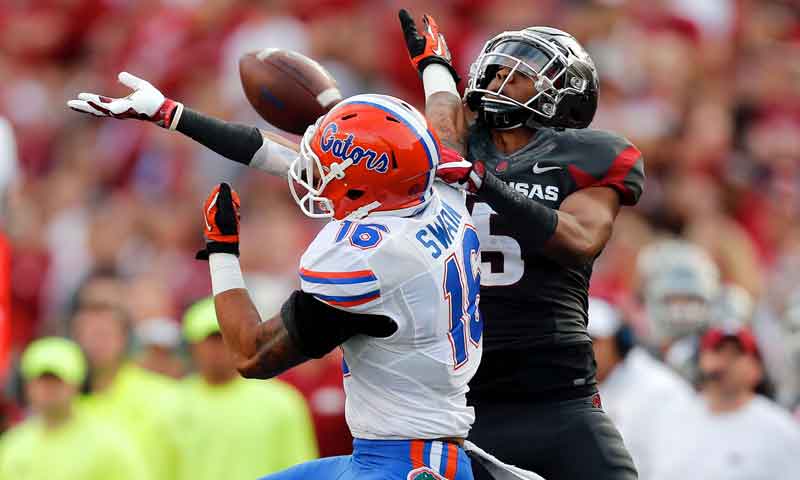 FAYETTEVILLE - For this week only, the Arkansas Razorbacks might secretly wish to be Texas Southern.
Lower division FCS member Florida A&M, Arkansas' opening opponent Aug. 31, kicks off its season Saturday against Texas Southern in Tallahassee, Fla.
The Razorbacks endure another week without a game since preseason practices started July 27. They open vs. Florida A&M on a Thursday night  at War Memorial Stadium in Little Rock.
"It's been a real, long grind," Arkansas junior outside linebacker Randy Ramsey said after Tuesday's practice. "We're ready for that first game.   I kind of wish the game was this Thursday to be honest with you."
Senior cornerback/punt returner Henre Toliver (in photo above) concurred.
"We're ready to play a different team," Toliver said. "We're tired of going against Arkansas. We've got a little scout work today, so we're seeing some Florida A&M stuff. It feels good to go against a different look."
Whatever envy the Hogs have of the Rattlers playing Saturday will vanish knowing that budget-conscious Florida A&M will bus its Rattlers from Tallahassee to Little Rock.
"I've seen that on Twitter," Toliver said. "That's crazy. That's a long bus ride. Good luck to them."
Though nothing like busing from Tallahassee to Little Rock, the Razorbacks will ride the bus to War Memorial Stadium in their only home game away from their home at Reynolds Razorback Stadium in Fayetteville.
As a native of Marrero, La., Toliver doesn't have the coming home to  Little Rock attachment that Razorbacks hailing from Central Arkansas do, though he did praise the fans at War Memorial.
"The fans are always good there, but I'm glad that we're going there first to get it over with," Toliver said. "There's nothing like playing in this (Reynolds Razorback) stadium. The fans here are just crazy. I like this stadium a lot. But the fans are crazy there (War Memorial) too. They don't really get to watch us a lot, so it'll be good."
RETURNING FOR FIRST TIME
Toliver has more tasks awaiting in Little Rock than any Razorbacks game he's played anywhere. With senior wide receiver/punt returner Jared Cornelius (ailing back) still not practicing Monday and Tuesday, Toliver likely will return punts against FAMU.
Toliver has been running No. 1 as punt returner in practice though he officially hasn't returned a punt since his Archbishop Rummel High School days in Louisiana.
"All four years in my high school career I've been back there since my freshman year catching punts," Toliver said. "I guess it's just my time now to do it in games."
How did he react when Arkansas coach Bret Bielema tried him at punt returner and put him at the top?
"I was excited," Toliver said. "I want to do what I can. I think I can  be elusive. I can catch the ball mainly and get to the wall."
Freshman blueshirt (a walk-on given cause to believe he eventually will be placed on scholarship) Hayden Henry of Little Rock returns home debuting as a second-team Razor outside linebacker behind Ramsey. Henry won three consecutive state championships at War Memorial while playing for Pulaski Academy.
HENRY COMES HOME
"I have played three times in War Memorial, and it is a fantastic atmosphere," Henry said. "It is going to be awesome. There will be a lot of fans and it will be a great Thursday night."
Henry has a great family history with the Razorbacks. His father, Mark, lettered in the offensive line for former coaches Ken Hatfield (1987-89) and Jack Crowe (1990) and his brother Hunter, about to start his second NFL season, lettered from 2013-2015 at Arkansas and finished an All-American winning the 2015 Mackey Award as the nation's best collegiate tight end.
ALL IN THE FAMILY
Randy Ramsey said Hayden Henry's all-in-the-family football knowledge manifested immediately.
"Yeah, it's in his blood," Ramsey said. "That guy is a talent, and we've seen it from the first day of fall camp. He's an intelligent guy. He's smarter than most freshmen."
Fourth-year junior defensive end Armon Watts, the backup to sophomore starter McTelvin "Sosa" Agim, gets a healthy start to this season he didn't have last year.
"I had a hyperactive thyroid and was on and off a bunch of medication," Watts said. "It was hard for me to have a steady heart rate. I've been on treatment for that and now I have it (heart rate) on a steady basis. I'm still on medication, and I feel pretty good."
After playing just one game last year because of his condition, this season must seem like an opportunity a long time coming.
"Definitely," Watts said. "Now I'm injury free and ready to show people."
MONTARIC BROWN PRACTICES
His academic eligibility certified, incoming freshman safety Montaric Brown of Ashdown began UA fall semester classes Monday and joins the Razorbacks for this final week of preseason practice.
Having missed all the summer workouts and preseason practices, Brown conceivably could redshirt and save his freshman playing eligibility for 2018.
CONDOLENCES TO OWENS FAMILY
Condolences to the family of Kerry Owens, a Razorbacks linebacker lettering as a linebacker from 1985-88 for former coach Ken Hatfield.
Owens has died at 51. Hatfield and former defensive coordinator Fred Goldsmith recruited Owens, rover Odis Loyd and linebacker Reggie Hall  as an unheralded trio out of Stuttgart.
All three exceeded recruiting services expectations by lettering from 1985-88 and eventually starting.