Motivated Hogs left out of Top 25 polls, eye La. Tech; more notes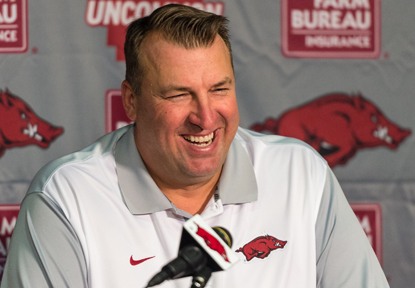 FAYETTEVILLE - The University of Arkansas' start of fall semester classes signals the end of Monday football practices until the season-ending game week with the  Nov. 25 day-after-Thanksgiving game at Missouri.
Otherwise, Arkansas coach Bret Bielema uses Monday as the Hogs'  mandatory one off day per week and has his players schedule classes accordingly.
FOCUSING ON LA. TECH
In this final week without a game prior to the Sept. 3 season-opener against Louisiana Tech, Bielema definitely will practice the Razorbacks Tuesday through Thursday and launch game week with a Sunday practice.
Louisiana Tech coach Skip Holtz's father, former Arkansas coach Lou Holtz, will be among eight inducted into the UA's Sports Hall of Honor at Sept. 2 dinner ceremony at the John Q. Hammons Center in Rogers. A week later, the Razorbacks visit TCU at Amon Carter Stadium in Fort Worth.
Ranked 13th in Monday's AP poll, the Horned Frogs of the Big 12 are among five AP ranked teams on Arkansas' schedule, including SEC West rivals Alabama, LSU, and Ole Miss, respectively ranked No. 1, No. 5 and No. 11, plus 25th-ranked Florida of the SEC East.
All but TCU of those ranked teams play Arkansas in Fayetteville.
Bielema, whose eventual 8-5 Liberty Bowl champion Razorbacks of 2015 began that season by stubbing their toes against Toledo in Little Rock and Texas Tech in Fayetteville, insists his Razorbacks won't look past the Louisiana Tech Bulldogs, 9-4, last season.
"Everybody wants to jump to TCU. Everybody wants to jump to Ole Miss and Alabama and LSU and Florida, the games here," Bielema said. "But we're concentrating on La Tech. Skip Holtz is a tremendous football coach I've known for a long time. They're going to come in here ready to rock and roll. They have a lot of very, very good players returning. They did lose some to the draft at key positions, but they'll come in here with a full head of steam."
AP POLL SNUBS HOGS
Though receiving votes, Arkansas was not ranked in the first  AP Top 25 poll released Monday. Nor were the Razorbacks included in the Coaches Top 25 released Aug. 4 that also ranked reigning national champion Alabama No. 1 while ranking LSU sixth, Ole Miss 12th, TCU 14th and Florida 25th.
Bielema said the coaches polls and national football magazines provide motivation.
"It's angry for me," Bielema said. "I showed our players something that came out in the spring last year that had the percentage of people winning the SEC West, I think 2 percent thought that the Arkansas Razorbacks could do that. As a little motivational tool we kind of had a little saying all spring, 'Two percent, two percent."
"I've said all along in my career, and I believe it with all my heart, it's not the polls at the beginning of the season, but the ones at the end that matter."


WISE TO RESUME DRILLS
Senior defensive end Deatrich Wise, excused from Saturday's scrimmage to attend his grandfather's funeral, should resume practice Tuesday.
Bielema said senior receiver Dominique Reed of Camden Fairview idled by a sprained ankle, and senior cornerback D.J. Dean (hamstring), are among the injured who might be ready to resume practice this week.
Bielema addressed Monday's meeting of the Little Rock Touchdown Club and on Wednesday will address the Northwest Arkansas Touchdown Club in Fayetteville.