HOGS: Morris bemoans another slow start; notes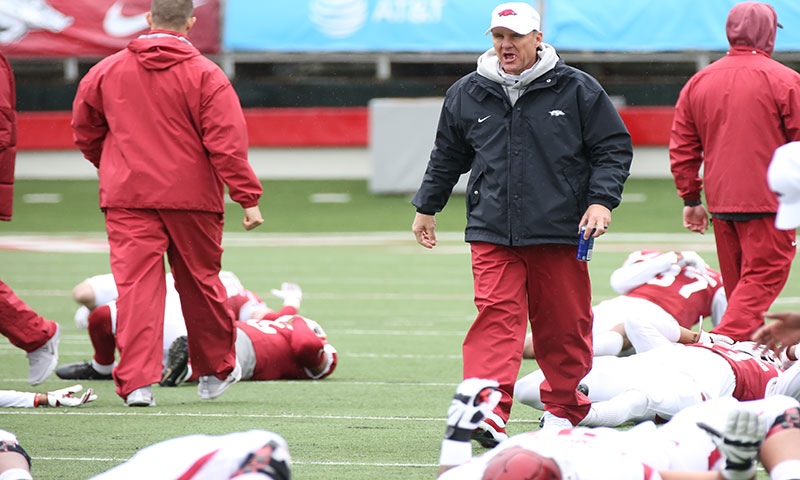 FAYETTEVILLE - The Razorbacks started slowly again Tuesday after not practicing Sunday and Monday's first day of the fall semester.

"I thought we came out today very lethargic," Arkansas head coach Chad Morris said after Tuesday's closed practice. "The energy level was not even close to where it needed to be. You can definitely tell their schedule has changed. With us being back on the field for the first time since Saturday, you could definitely tell the energy level wasn't near what it should be. It wasn't to our standards. It picked up a little bit toward the end of practice, but it was nothing like it needs to be."

Morris said the letdown's timing didn't surprise him. He said he had looked to one of the two quarterbacks battling for the starting job, third-year sophomore Cole Kelley, who opened with the first unit, and  or fourth-year junior Ty Storey of Charleston, to pick up the team's pace.

"I was really hoping that one of them would pick the energy level up and really kind of take over a little bit more," Morris said. "But that didn't happen like I wanted it to."

Regarding naming a No. 1 QB with the Sept. 1 opener against Eastern Illinois looming, Morris said, "Each one continues to bring things good and bad. Consistency is the key we're looking for right here, but we are really no further ahead than we were Saturday."

Regarding film review of Saturday's scrimmage, Morris reiterated defensive coordinator John Chavis' disappointment with the tackling but not that of first-team linebackers Dre Greenlaw and Scoota Harris and some in the first-team secondary.

Sophomore Ty Clary worked at backup center Tuesday behind senior starter Hjalte Froholdt. Backup center Dylan Hays and tight end Jeremy Patton (ankle) were among those not practicing Tuesday. Defensive end Randy Ramsey continues rehabbing a sore hamstring, but Morris expects he's getting close to returning. Tight end Grayson Gunter (sprained ankle during last week's scrimmage) and receiver Gary Cross of Fordyce also were withheld Tuesday.
 
Junior McTelvin "Sosa" Agim, recently practicing second team while adjusting from defensive end to tackle, practiced first-team alternating Tuesday with senior Armon Watts.

D'Vone McClure, the ex-Cleveland Indians minor league baseball prospect and two-way baseball/football star at Jacksonville High now playing nickel back for the Hogs, picked off a Cole Kelley pass during Tuesday's first 20 minutes.

Redshirt freshman offensive tackle Dalton Wagner has sufficiently recovered from last week's appendectomy to ride an exercise bike with others wearing the yellow jerseys denoting they are too injured to practice.

Connor Limpert and Preston Stafford, with George Madden snapping to holder Jack Lindsey, each kicked 25-yard field goals during Tuesday's first 20 minutes. Limpert, who kicked another later to close a two-minute drill, will be Arkansas' kickoff man, Morris said.

"Connor is coming on," Morris said.