D, special teams shine in 2nd A-State scrimmage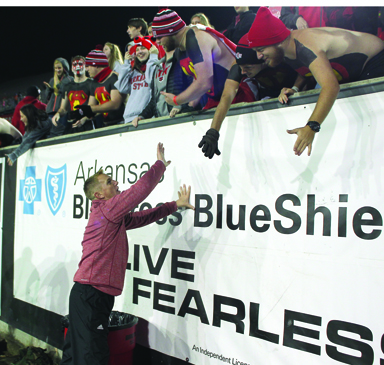 JONESBORO – Arkansas State held its second scrimmage of fall camp Saturday evening at Centennial Bank Stadium, while also taking part in an autograph session at the end of the night as part of the squad's annual "Fan Appreciation Day" on the A-State campus.
The Red Wolves ran plays for almost two hours and featured big plays from the special teams and defense, while the offense recorded a pair of touchdowns.
"I thought we looked a little sloppy offensively, to be honest," A-State head coach Blake Anderson said. "We had a quick whistle all night and its hard to tell if we would have gained any extra yards or not with that. Overall, I thought we had a pretty good fall camp – I'm just not sure tonight was a good indication of that."
A-State flashed speed from the opening kickoff as junior Blaise Taylor returned the opening kickoff 100 yards for a touchdown. It was one of two kicks returned for touchdowns on the night for Taylor, who also returned a punt 75 yards for a score.
The Red Wolves offense, led by first-year offensive coordinator Buster Faulkner, scored a pair of touchdowns on Chad Voytik-led drives. The senior from Cleveland, Tenn., led A-State on a 65-yard scoring drive, which included a 25-yard scramble from the quarterback and was capped by a 2-yard run from junior running back Johnston White.
Arkansas State scored again later in the scrimmage when Voytik connected with junior tight end Blake Mack on a 14-yard touchdown pass.
"We have still have tons of things to work on," Anderson said. "Monday is the first day of class, and we will have to get used to a new schedule.  Tuesday, we will get back at it and go from an install phase into more of a game-plan phase, which should help the offensive tremendously. Right now they've had everything at their disposal, and when we get back out here we will start to narrow it down some and start to focus on some key things."
Defensively, the Joe Cauthen-led unit collected eight sacks, including two from senior defensive lineman Jake Swalley. The defensive unit also produced a red zone stop from the two-yard line and had six pass break-ups on the night.
Arkansas State University will begin classes Monday, and the Red Wolves won't return to the field for practice until Tuesday afternoon.
Tickets may be purchased through the A-State Ticket Office, located at the Convocation Center's lower red entrance, in person, by phone at 870-972-2781 or online at AStateRedWolves.com/tickets.