Hogs: Saturday scrimmage review; injury report; more notes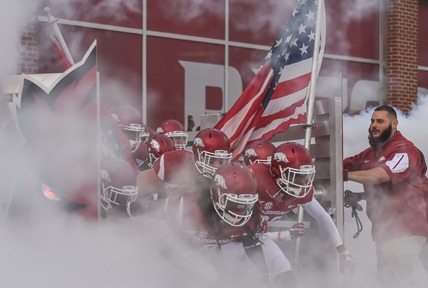 FAYETTEVILLE -  The second units would have been cheered Saturday and the first units jeered had Arkansas coach Bret Bielema opened the Razorbacks' scrimmage to the public.

The second-team offense and defense and third-teamers thereafter scrimmaged full go, while the first units didn't hit a lick.

And that was by design. Anyone injured in a first offense vs. first defense clash is a starter, and the Razorbacks' 3 p.m. season-opener Sept. 3 with Louisiana Tech is fast approaching.

"We didn't want to tackle with the ones partly because of how they played last week," Bielema said after Saturday's scrimmage.  "I thought our ones tackled so well and efficiently last week.  And because of the injury status of a couple of offensive players that's why we didn't go tackle football with those guys. But they have been really locked in.

So Bielema modified the first-teamers clash to fast whistles and no tackling to the ground in the rain Saturday afternoon at Reynolds Razorbacks Stadium and then inside at the Walker Pavilion once Bielema deemed the Hogs had done enough with the wet ball drills.

Other than one first-team snap miscue between center Frank Ragnow and quarterback Austin Allen that was recovered by defensive tackle Jeremiah Ledbetter, the Hogs handled the ball well in the rain.

"To get that wet ball work offensively was really critical," Bielema said. "I wanted to see them battle through the elements and overall I thought they handled it well. I thought the quarterbacks threw the ball pretty well and we caught the ball very well."



SCRIMMAGE NUMBERS


First-team stats are pretty skewed. Most plays, particularly rushes, ending in estimated yardage and included all the QBs, and running backs Rawleigh Williams (five carries for 42 alleged yards and proving himself in the previous Saturday scrimmage recovered from last season's broken neck)  and Devwah Whaley (nine for 27 alleged yards coming off a shoulder injury) and senior receiver Keon Hatcher (coming of a shoulder injury) in green jerseys specifying no contact. Hatcher caught two passes for 26 yards.

Typifying Saturday's first-team debate, Ledbetter celebrated what he thought was a sack, while tight end Jeremy Sprinkle celebrated in the end zone after catching Allen's 4-yard touchdown pass.

Allen (15 of 21 passes for 158 yard and two TDs) had a no-doubt TD for his second score on a 30-yard pass to receiver Jared Cornelius (four catches for 66 yards), who beating cornerback Henre Toliver deep.

Senior defensive end JaMichael Winston, subbing on the first-team while senior preseason All-America candidate Deatrich Wise attended his grandfather's funeral in Carrollton, Texas, was credited with four sacks among his five tackles Saturday.



QB CHALLENGE


Because Rafe Peavey is a third-year sophomore with an extra spring practice year behind him as a December high school graduate in Bolivar, Mo.  Bielema said he didn't scrimmage Peavey Saturday so he could get a better look at redshirt freshman Ty Storey and true freshman Cole Kelley in the backup QB battle behind Allen.

"Obviously Rafe is in there as well battling it out for that No. 2 spot," Bielema said. "Just really wanted to give those two  guys a lot of reps. I wanted to see what they did if they got a heavy workload today, and I was very pleased with Cole in particular.  I thought he continues to get better every day."

Everybody but Kelley and Storey were fair game to be tackled during the second offense vs. second defense sessions. Kelley completed eight of 15 for 127 yards with a 26-yard TD to LaMichael Pettway and also hit some big passes to freshman receiver Jordan Jones of Smackover (three catches for 44 yards) but threw the day's lone interception. Safety De'Andre Coley picked off a pass that walk-on redshirt freshman cornerback Byron Keaton deflected.

Keaton broke up three passes during the scrimmage, while Coley was all over the place with six tackles, second only to second-team freshman middle linebacker De'Jon "Scoota" Harris.



INJURY UPDATE


Sitting out Saturday's scrimmage with injuries were senior receiver Dominique Reed of Camden Fairview; cornerback D.J. Dean, running back Kody Walker, tight ends Austin Cantrell and C.J. O'Grady, junior college transfer offensive guard Paul Ramirez, and offensive tackle Jalen Merrick.

Last week, Bielema said Dean's hamstring injury may cause him to redshirt and a torn ACL will put junior college transfer cornerback Britto Tutt out for the season. Bielema said Saturday that Dean is healing so well he might practice Tuesday, the Hogs next practice with them taking off Sunday and Monday as UA fall semester classes begin.

Bielema also said Reed, his sprained ankle initially projected to keep him out until game week, also might practice Tuesday.

While wanting to evaluate more film and practice next week, Bielema said the previously unsettled offensive line appears close to settling with Conway's Colton Jackson, a redshirt freshman,  and University of Texas graduate transfer Jake Raulerson at right tackle and right guard, Ragnow at center, sophomore Hjalte Froholdt at left guard and senior three-year starter Dan Skipper at left tackle where he played in 2014 before playing right tackle last season.

Among young players, Bielema continues to tout freshman defensive tackle Austin Capps of Star City.


"
He's going to play," Bielema said. "He's going to play and my guess is he's going to be a very, very good player in short fashion. He's so locked in to what he's doing. He's so strong and powerful. He popped into that squat rack during the summer in that competitive lift thing and he did 600 pounds like it was nothing on his back.  A kid his age, that's just not normal."



FRIDAY NIGHT AT MOVIES


Bielema said the Razorbacks were awed with their Friday night viewing of "Greater" the movie about the late Razorback Brandon Burlsworth of Harrison, who arrived at the UA in 1994 as a walk-on and graduated with academic honors and football All-America honors in 1998. Burlsworth was drafted by the Indianapolis Colts before dying in an automobile accident between Fayetteville and driving home to Harrison.

"Our kids were just locked in, so respectful," Bielema said.  "I think it gave a greater appreciation to everybody in that room. It was pretty awesome. I would definitely say it's a must-see. I mean, in Arkansas everybody will love it. But if you're a college football player, a man or woman of faith, the values that kid had and shared, the environment he overcome and preserved was awesome."