Hogs: Backup QBs battle for No. 2 Saturday; more notes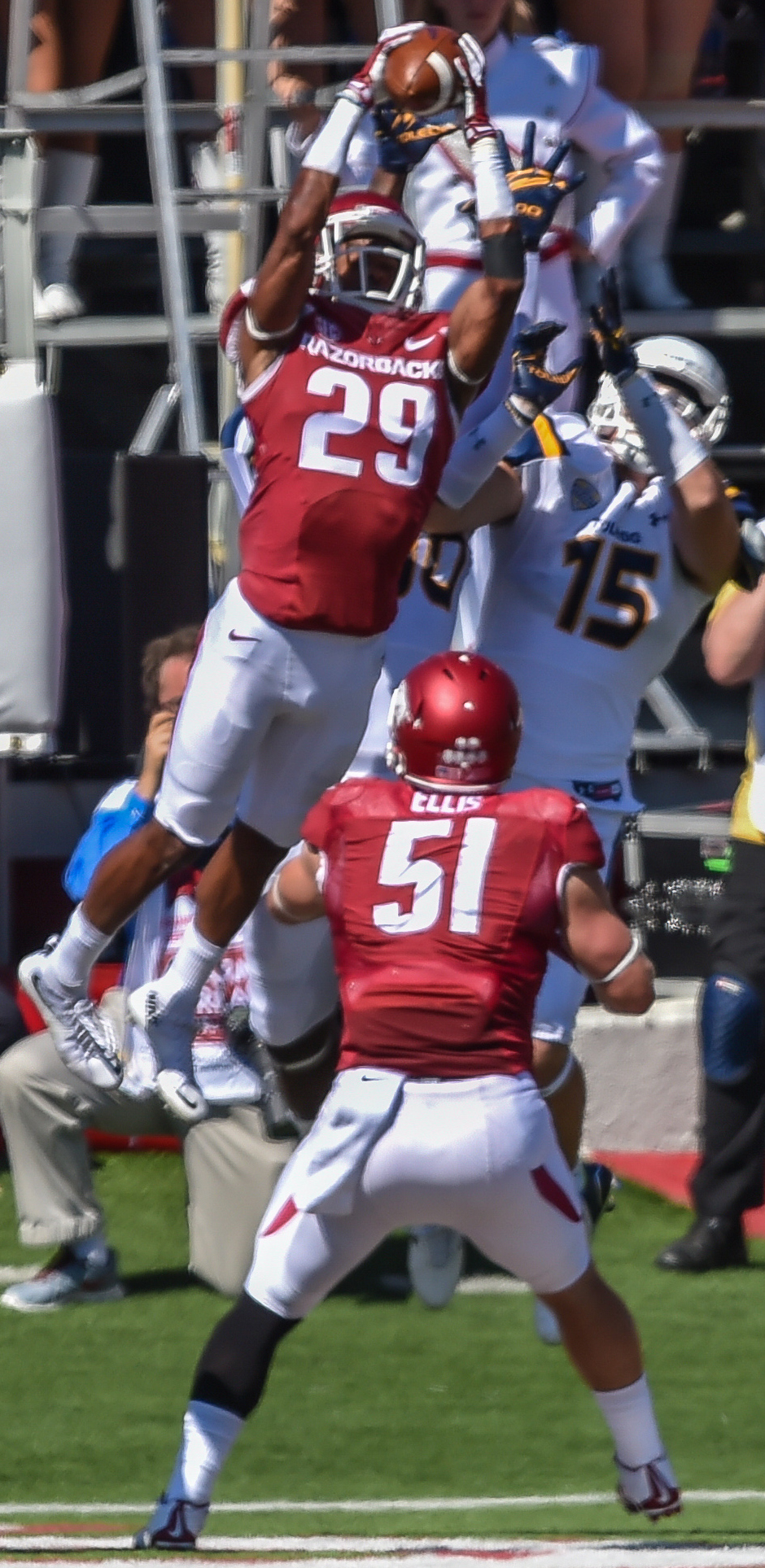 SPRINGDALE - Arkansas coach Bret Bielema revealed Friday that senior starting cornerback Jared Collins (in photo) has been practicing despite a broken bone in his right hand and that senior preseason All-America defensive end Deatrich Wise will miss Saturday's closed scrimmage to attend his grandmother's funeral.

"Jared Collins broke his hand the other day, missed two plays and came back in and continued practicing," Bielema said at the annual Razorback Kickoff Luncheon in Springdale.

Collins practices with a protective splint.

Wise likely wouldn't have scrimmaged much anyway. Bielema is expected to polish his obvious first-teamers in this final preseason scrimmage and limit their injury risk before the Sept. 3 opener against Louisiana Tech.

Collins might not scrimmage much today since the Razorbacks' once deep cornerback positions have thinned considerably.

On Wednesday, junior college transfer cornerback Britto Tutt tore an ACL, a season-ending injury requiring surgery. Tutt will redshirt to preserve his sophomore eligibility in 2017.

On Tuesday, Bielema announced that junior cornerback D.J. Dean, a two-year starter who missed spring drills with toe surgery, had pulled his hamstring. Bielema initially talked about Dean possibly redshirting, but if his health permits, that will be revised with Tutt out for the year.

Junior Henre Toliver and Collins are listed as the first-team corners with starting junior nickel back Kevin Richardson and sophomore Ryan Pulley the backup corners. Redshirt freshman Byron Keaton of Camden Fairview and junior Cornelius Floyd, who returned to the team after a spring semester's absence, are working as varsity reserve cornerbacks. 
Senior JaMichael Winston, one of last year's defensive captains, will fill Wise' first-team shoes in Saturday's scrimmage.

The Razorbacks practiced Friday morning before the luncheon, but Bielema eschewed using Friday night's final completion of two-a-day practices with the scrimmage Saturday and Sunday's off day preceding Monday's start to fall semester classes.

Instead, Bielema said the Razorbacks would watch film and dine together Friday night just like their game-week routine. They will have a Saturday morning pregame meal before the afternoon scrimmage much as they will before the 3 p.m. opener against Louisiana Tech.  
At the luncheon, Bielema had each player on his two-deep introduce a teammate.

Running back Kody Walker noted he's the most experienced with the Kickoff luncheon.

"It's crazy, but this is my sixth luncheon," Walker said.

Granted a rare sixth year of eligibility by the NCAA because injuries shortened three of his seasons, Walker is the only active Razorback from Bobby Petrino's 2011 team. The senior is the only Hog to play for three head coaches: John L Smith before injuries shelved him in 2012 and Bielema since 2013.
Regarding Saturday's scrimmage, Bielema said it will be especially important for those battling for second-unit spots, including the quarterback behind junior starer Austin Allen.


"
I think everybody else, for the most part, will get some type of look, just to get them rolling and moving around," Bielema said. "I don't know how long some of the (first-team) guys will play. I'd really like to get a lot of work with our twos and threes. Especially to find out - what you guys are so concerned about - who the No. 2 quarterback is. I'm going to do this just for you guys. You guys can sit there in the stands and tell me what you think afterwards."

Third-year sophomore Rafe Peavey, redshirt freshman Ty Storey of Charleston and true freshman Cole Kelley are in a three-way backup logjam ahead of second-year freshman transfer Ricky Town, Bielema said.
ENOS, SMITH EXCHANGE KUDOS


Defensive coordinator Robb Smith and offensive coordinator  Dan Enos shared a four-minute Q.&A. with emcee Chuck Barrett before Bielema's 20-minute address.

Each coordinator was asked about practicing against his counterpart's contingent.

"It's not fun," Enos said of practicing against Smith's defense. "I think we are very, very talented on defense. In my one year here, you see a big difference in the way they are playing and their depth."

Enos said practicing against a quality defense makes the offense better.
Ditto for the defense working against the offense, Smith said.