HOGS: Receivers shine in 2nd scrimmage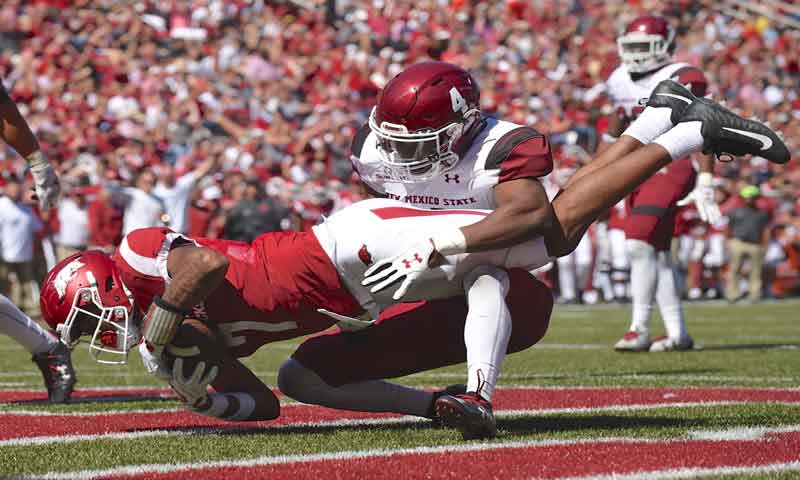 FAYETTEVILLE - Those Razorback alums and others Arkansas coach Chad Morris allows to watch scrimmages have seen two different quarterbacks open with the first-team offense.
Arkansas offensive coordinator/QB coach Joe Craddock explained after Saturday's scrimmage why third-year sophomore Cole Kelley quarterbacked the first-team offense after junior Ty Storey of Charleston had quarterbacked the first-team the previous Saturday.
"We started Cole today because Ty went last week," Craddock said. "I think before the scrimmage we really set it out where Cole would have an equal amount of reps with the ones as well as Ty. Each would have an equal number of reps with the twos. We'll go back and grade the film and see exactly where we were."
Morris said they'll look deeper on film for what he indicated he didn't detect as a separating factor off Saturday's scrimmage. That was the final August full-scale preseason scrimmage with UA fall semester classes beginning Monday and the season-opener looming Sept. 1 against Eastern Illinois University at Reynolds Razorback Stadium.
"I don't think coming straight out of the scrimmage you just say one guy stood out or didn't do as well as we thought," Morris said Saturday. "I mean there wasn't anything in there to say he  (either Storey or Kelley) had a great day or a bad day. I think they were pretty consistent today, and I was pleased to see that with all of them today."
Morris said Storey and Kelley could play against EIU, but he does want to name a starter with time to spare before Sept. 1.
"If it's not the end of the week, it'll be the first of next week," Morris said. "Obviously we want to be able to get in there and get things going for our game week preparation, so everybody can know."
Scrimmage statistics Saturday were not made media available. 
PRAISING 4 WIDEOUTS
However, Morris said senior receiver Jonathan Nance (in Craven Whitlow photo) caught a touchdown, (from Hyatt, Nance said) and cited sophomore receiver Jordan Jones of Smackover.
"Jordan Jones had a couple of really nice catches and a touchdown," Morris said.
Sophomore receiver Jarrod Barnes of Cabot caught Craddock's eye with a difficult catch.
"I think Jarrod Barnes made a heck of a play," Craddock said. "I think we hit him on the middle. He took it and broke a couple of tackles and took it down the sideline to the 30 OR 35 yard-line.  I know Jared Cornelius yesterday (Friday) made a good play to open up practice. And those are the guys just the past few days who have really made some good plays down the field."
Cornelius pronounced himself recovered from the torn Achilles that ended his 2017 season in the third game, enabling his 2018 return as a fifth-year senior.
"I feel great," Cornelius said. "I would say I'm 100 percent physically."
RBs CHIDED
Unlike a week ago, Saturday's scrimmage was pass-oriented, exposing some pass protection flaws among the running backs, the offensive position group Morris most praised in preseason.
"I think I bragged on them enough that they might have started feeling a little bit better about themselves than we probably should at this point in camp," Morris said, noting running backs coach Jeff Traylor popped their balloon. "I know Coach Traylor and the running backs had a little heart-to-heart on the sideline and get their focus back right."
Running backs did get some good news. Junior T.J. Hammonds, whose ankle injury earlier in the week initially appeared potentially serious, practiced Friday and scrimmaged Saturday, Morris said. 
GETTING THEIR PICKS
Defensively, Morris said senior starting safety Santos Ramirez, freshman flash backup safety Joe Foucha and D'Vone McClure, the nickel back and ex-Cleveland Indians minor league baseball prospect, all posted interceptions Saturday.
Veteran defensive coordinator John Chavis, not prone to praise those who haven't yet played, and Morris praised true freshmen safeties Foucha and Myles Mason and backup true freshman weakside linebacker Bumper Pool.
TACKLING TRASHED
Chavis mostly spared the praise and took tacklers to task.
"I'm not satisfied nearly with the way we tackled," Chavis said. "We tackled much better in the first scrimmage. Much better.  That's my responsibility to make sure we tackle well, and I will assure you we will, but we did not today. I'm glad we didn't have a real game today because we didn't tackle well enough to win."
Fatigue was a factor the Razorbacks must overcome, junior defensive end Gabe Richardson said.
"When guys get tired, the technique goes out the door," Richardson said. "We've got to do a better job at that. All the guys recruited here, there's a reason they are here, because they can tackle. You have to do it when you're tired, too."