Hogs: Staff stays high on frosh RB Hayden; notes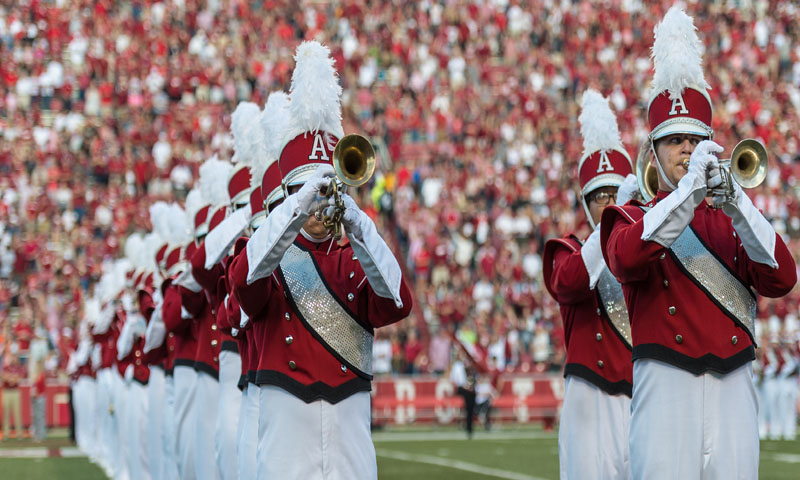 FAYETTEVILLE - The C of Arkansas' 1A, 1B, 1C running back trio gets the big-play A for elusiveness and breakaway speed.

At 5-11, 216 pounds and 6-1, 229, sophomore Devwah Whaley (602 yards as a freshman) and David Williams, the University of South Carolina graduate transfer, own superior size, power and experience.

But freshman Chase Hayden (5-10, 191) boasts the home run speed and the "biggest ability to make something out of nothing," Arkansas coach Bret Bielema, offensive coordinator Dan Enos and running backs coach Reggie Mitchell say.
They've seen Hayden's jets burn in practice and during the two major preseason scrimmages. The alum of Saint George's Independent School in Memphis has run by and around Arkansas' starting defense.
"He's able to make yards when it may not be blocked for six but  blocked for one," Enos said. "But he gets six because he makes the first guy miss. He has just got a different element and dimension the way he runs the football."
CAN HAYDEN PROTECT HIS QB?
Enos added a qualifier.
"He has a lot of things he needs to improve on continually obviously being a freshman," Enos said.

Pass protection is among the things requiring improvement. Offensive coordinators don't get their QB clobbered because young running back can't pass protect.

However, Arkansas' coaches express confidence they could mix Hayden into any situation among their three-back rotation for the Aug. 31 season-opener against the Florida A&M Rattlers. The game kicks off at 7 p.m at War Memorial Stadium in Little Rock.
"That's the plan right now," running back coach Mitchell said Thursday. "Once we get in the game we'll see how he reacts to a game-type situation, but so far in practice he's been able to handle what we've thrown at him."
There will be some apprehension.
"Pass pro is the hardest thing I think to gauge in practice vs. what it is going to be during the game," Bielema said.
The tension doesn't seem as high about playing Hayden early as compared to previous Razorback rookies.
"Good," Bielema said of Hayden's away-from-the-ball progress. "He's very, very smart and a very, very gifted learner. You can tell he's been around the game and loves the game."
Whaley opened last season behind former 'backs Rawleigh Williams and Kody Walker because Whaley lacked pass protection experience.
SHORTER PATH FOR CATCH-UP
Hayden ranks third among the 'backs on pass protection but apparently with less ground to make up.
"I think he may be a little bit further ahead (of Whaley as a freshman), Mitchell said. "I think Devwah was a primary ballcarrier in high school whereas Chase, their offense was a little bit more diverse than the offense Devwah came from. So far, we've been very pleased with Chase. Devwah has been very good, too, with the (pass protection) experience he has from last year."
Being the son of a former SEC and NFL running back, Aaron Hayden (University of Tennessee and played four years in NFL), likely has helped Chase's football mental edge.
METEORIC RISE
Hayden impresses as a true freshman. He was not among last December's contingent of mid-term high school graduates who enrolled at the UA as freshmen in January. So his rise is meteoric, even to Mitchell who recruited him.
"You don't know the carryover because he played at a small private school in Memphis," Mitchell said. "I've been really pleased with how he's developed and sort of shocked at how good he is."
CLARY A GUARD
Confusion reigned with Bielema's announcement Wednesday that true freshman Ty Clary of Fayetteville competes for a second-team offensive  line spot.
It was believed that Clary is being tried at tackle, but he's among those vying for backup right guard behind junior incumbent starter Johnny Gibson of Dumas.

"What's been really impressive has been (Clary's) ability to pick up the offense," line coach Kurt Anderson said. "He moves extremely well. He just plays with a tenacity and a toughness and a grit. It's not too big for him. He battles his butt off against some of the best D-linemen we have and has found success."
REMAINING WEEK SCHEDULE
The Razorbacks went through their heaviest contact practice of the week Thursday but without full-scale scrimmaging, which Bielema said has been completed for the preseason.

The annual Kickoff Luncheon, featuring Bielema and the Razorbacks is Friday at the Holiday Inn' Northwest Arkansas Convention Center in Springdale followed by a closed evening practice.
Rather than their customary preseason Sunday off, the Razorbacks are off Saturday when the entire athletic department will attend Saturday's 2 p.m. memorial service at Walton Arena for Frank Broyles, Arkansas' iconic football coach (1958-76) and athletic director (1973-2007) died Monday at age 92.