Hogs: Bielema good with O line; NG Capps latest frosh to surprise; more notes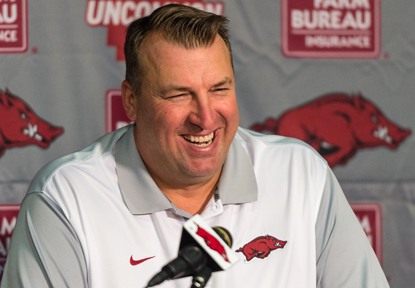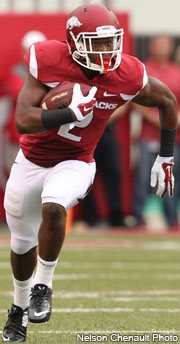 Sr. CB D.J. DEAN
FAYETTEVILLE - Arkansas senior cornerback D.J. Dean so severely pulled a hamstring Tuesday that he may redshirt this season, Arkansas coach Bret Bielema said between the Razorbacks' Wednesday's two-a-day practices.

Dean has been a regular starter since starting the final six games of his sophomore year in 2014 and started 12 games last season.

However, Dean missed all of last spring's practices coming off toe surgery. This August preseason, he has been running behind first-team cornerbacks Jared Collins and Henre Toliver, splitting time with backup corners Kevin Richardson (the starting nickel back in five defensive back alignments), Ryan Pulley and new junior college transfer Britto Tutt.

"Unfortunately, D.J. Dean kinda pulled his hammy pretty good," Bielema said. "I guess it was Tuesday. We always stress in our program you've got to practice to be where you need to be. I think that missing this spring really put him behind those guys. One of the options I explained to D.J. was a possible redshirt, if he wasn't in our 2-deep and right now it would be a stretch to get there."

Bielema said "the good news" is the progress of the cornerbacks working first and second team now. Defensive coordinator Robb Smith concurred.

"Guys like Jared Collins, Henri' Toliver, Kevin Richardson, Ryan Pulley and Britto Tutt are  really coming along," Smith said. "I think we've got some pieces there we can certainly move, and I like the guys we have. We've got to keep coaching them and keep getting better."

Bielema and Smith say they have an interchangeable trio: Josh Liddell, Santos Ramirez and De'Andre Coley, for the two safety spots with Reid Miller the next best backup to Coley.
Offensively, the rotating right side of the line continued Wednesday. Redshirt freshman Colton Jackson of Conway, the backup left tackle at this week's outset, worked first-team right tackle while Jake Raulerson, Tuesday's right tackle worked at right guard.

Redshirt freshman Jalen Merrick was Tuesday's right guard.

Bielema explained the rotating right line, while the left line is set from junior center Frank Ragnow to left guard Hjalte Froholdt and senior 3-starter Dan Skipper at left tackle.

Bielema and offensive coordinator Dan Enos say there is time to establish a starting line before the Sept. 3 season-opener at Reynolds Razorback Stadium against Louisiana Tech.


"
I just want to get to a point, probably by next Tuesday, maybe 10 days out from our game where we feel good about where we're at with the top five," Bielema said. "And let the other guys serve as the second unit or sub in in certain packages."

Enos, formerly the head coach at Central Michigan, was asked if he were concerned with all the swapping and position swapping this late in the preseason.


"
No, I think at the end of the day, this will make us better," Enos said. "I think as you go through every season, usually there's mixing and matching that goes on, so it's good for guys to know multiple positions and guys to be comfortable who haven't played or practiced on the right side or left side, in case they're called on at some point during the year."
QB's BACKUP BATTLE


Bielema and Enos said Saturday's scrimmage could be key in separating the backup quarterback role. Third-year sophomore Rafe Peavey, redshirt freshman Ty Storey and true freshman Cole Kelley are contending, Bielema and Enos say.

"They've just got to do something to really take the reins," Bielema said, citing their ups and downs.

Enos was asked if expected true freshman Kelley to be in the competition for No. 2.

"Yeah, I did," Enos said. "I thought he possessed special passing ability and I felt like there was a guy that was ahead of the game a little bit as far as his football intelligence. So it doesn't surprise me at all."
Kelley still could redshirt pending on how Peavey and Storey fare, but running back Devwah Whaley, fullback Hayden Johnson, middle linebacker De'Jon "Scoota" Harris, defensive end McTelvin "Sosa" Agim of Hope and  receiver Jordan Jones of Smackover are among the true freshmen Bielema had said would play this season.

Add noseguard Austin Capps of Star City to that list, too.

"Austin Capps is one of the surprises up front," Bielema said. "I knew he was a good player, but he's got extremely explosive hands. He's very, very strong.  For his age, for him to have as much power as he does, is pretty impressive."

Defensive coordinator Robb Smith also tipped his hat to Capps.

"Austin played very well in the scrimmage, and he's done some things consistently well since he's been here," Smith said. "We'll keep pushing him forward."

What Bielema calls "dinged" rather than serious shoulder ailments had Whaley, a standout in Saturday's scrimmage, and senior receiver Keon Hatcher watching Wednesday rather than practicing.