HOGS: Hammonds OK but injuries mount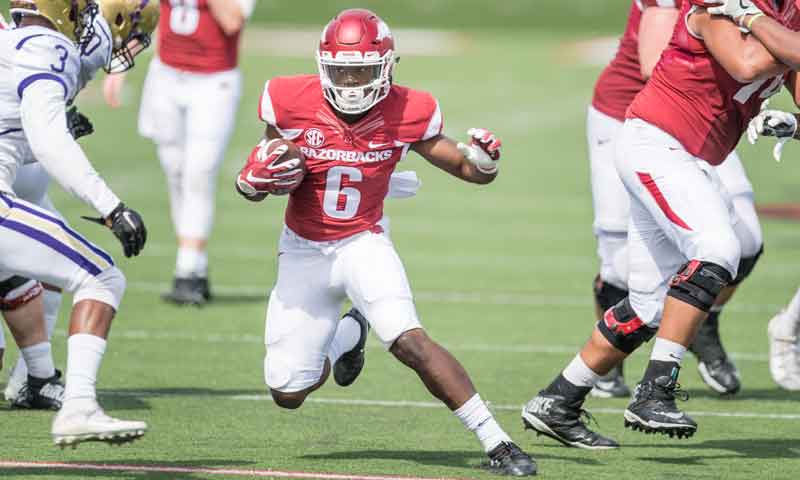 FAYETTEVILLE - Dalton Wagner's appendicitis is the latest malady thinning Arkansas' already thin offensive line.
The redshirt freshman tackle missed Wednesday's practice while undergoing surgery, Arkansas coach Chad Morris said after Thursday's practice.
"Dalton Wagner had his appendix removed yesterday morning,"  Morris said. "We expect to have him back in the next 10 to 14 days hopefully."
The recovery period would jeopardize Wagner's availability for Arkansas' 3 p.m. Sept. 1 season-opener against Eastern Illinois at Reynolds Razorback Stadium.
"I think if you go two weeks from today, you're looking at right at getting close to the opening kickoff," Morris said. "So we'll see. I don't think anybody can answer that just yet. We're fortunate we're going to be able to get him back and fortunate we've got other guys who are learning and picking up."
Wagner (6-9, 300) of Spring Grove, Ill., was presumed to be a backup tackle until junior incumbent left tackle Colton Jackson of Conway required back surgery in July.
Jackson appears to be recovering "ahead of schedule," Morris said recently but still isn't projected to return until midseason.
In the meantime, junior reserve offensive guard Jalen Merrick (recurring headaches) has not been cleared to practice. Reserve Deion Malone, who moved from the defensive line, was injured during a practice and required season-ending surgery.
Wagner practiced at first-team left tackle then at first-team tackle when since returned senior first-team right tackle Brian Wallace missed three practices with an injury.
ROOKIES SHUFFLING
Redshirt freshman Shane Clenin and true freshman Noah Gatlin have practiced as tackles, while junior Austin Capps of Star City, behind redshirt freshman Kirby Adcock, has worked at backup left guard since moved last week from the defensive line. True freshman Silas Robinson and sophomore Ty Clary are reserve guards. Junior Dylan Hays, moved from the defensive line last spring, works at center behind senior Hjalte Froholdt, previously the starting left guard.
Has Morris, the former SMU head coach who brought Dustin Fry with him to coach Arkansas' offensive line, ever faced more preseason challenges with an offensive line?
"I think in that offensive line room we've been dealt our fair share of challenges." Morris replied, "but so does the course of a season, and you've got to be ready for those. I have not had to deal with this much moving around, especially this early. But if it has to happen, I'd much rather it happen early than late in a season. Coach Fry's doing an excellent job of developing these guys."
NO MORE D-LINE TO O-LINE
The guys Fry has are the guys he'll have to develop. Morris says he cannot shift anybody else from the defensive line.
"I'm not gonna move anybody else," Morris said. "I think we've got a good rotation now D-line wise."
HAMMONDS INJURY NOT SEVERE
During Thursday's first four practice periods junior running back T.J. Hammonds had to be assisted off the field with a leg injury, reportedly not as severe as it initially appeared.
"T.J had an ankle sprain and taped it up and came back out and finished up (watching) practice," Morris said. "We held him from practice but he was out there and in his shoes. We'll reevaluate him but nothing severe."
QBs FACE TEST
As he reportedly did in Saturday's scrimmage, junior quarterback Ty Storey of Charleston operated the first-team  offense, and redshirt freshman Cole Kelley the second offense during the early team period that media viewed Thursday.
Kelley connected on a deep pass to redshirt freshman receiver Tyson Morris.
Morris still says there's no significant separation regarding naming a starting quarterback heading into Saturday's scrimmage. It will be more pass-oriented than last week's scrimmage, Morris said.
BEST PRACTICE
Coming off Wednesday's no-contact session after hard practices Monday and Tuesday, the refreshed Razorbacks responded even as Thursday's heat and humidity increased significantly.
"Since we've been in fall camp by far our best practice," Morris said. "All-round I was extremely impressed and excited about the energy level with these guys. When they walked out of the locker room you could tell they were ready to go. That was to be expected (coming off Wednesday's light day) and they did not disappoint."
WEEKEND ITINERARY
Tapering again for Saturday's scrimmage, the Razorbacks have a light practice early Friday morning before attending the annual Arkansas Kickoff Luncheon at noon at the Springdale Holiday Inn's Northwest Arkansas Convention Center followed by the players and coaches visiting patients at the Arkansas Northwest Children's Hospital.
OLD GRADS WELCOMED
All-SEC safety Ken Hamlin of the Houston Nutt era and former Arkansas defensive tackle Ryan Hale overlapping the Danny Ford and Nutt eras were among the former Razorbacks attending Thursday's practice.
Morris said some 300 former Razorbacks have responded to a barbecue schedule for this weekend. Hale said former Coach Bret Bielema opened practices to former players that former Coach Bobby Petrino had closed, but that Morris actively invites and encourages old Hogs to come home and watch practice.