Hogs: WR Cornelius ready; backup QB battle update; notes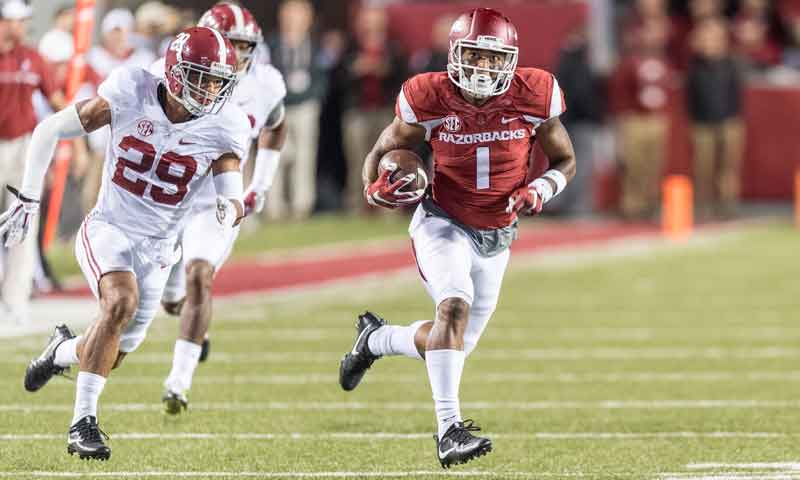 FAYETTEVILLE - Arkansas head coach Bret Bielema opened Wednesday's presser with thoughts about Frank Broyles, Arkansas' all-time winningest football coach during his 1958-76 Hall of Fame coaching tenure that included the 1964 national championship.
As a Hall of Fame Athletic Director from 1973-2007, Broyles' tenure included moving the UA from the Southwest Conference to the SEC.
Broyles died Monday at age 92 from Alzheimer Diseases complications.
Bielema had not had contact with Broyles, then athletic director emeritus, until Bielema came from Wisconsin to take the Razorback job in December 2012.
But Broyles had an indirect influence on Bielema because Broyles greatly impacted an assistant named Hayden Fry, who became a legendary coach at Iowa where Bielema played.
Bielema said he was honored the Broyles family invited him to come by Saturday night on the final weekend of Frank Broyles' life.
"I'm forever grateful for everything he did before I got here," Bielema said. "One of the only regrets I would say is getting here when it wasn't at the best part of his lifetime. One of the best memories was Sean Rochelle, when he was still the active director over at the Razorback Foundation, called me one morning. and said Coach was having a good day. I went over and had lunch and sat there for about an hour, and he shared some thoughts and some ideas with me at that time. And just the crossover I had with him and Coach Fry was pretty cool.
"Monday we got the news, and we had a moment of silence with our team. My staff and I will be at the celebration of his life on Saturday. Our thoughts and prayers continue with the family and everybody he affected."
The public is invited to a memorial for Frank Broyles at 2 p.m. Saturday at Walton Arena.
CORNELIUS MENDED
Because he was removed from the preseason 105-man roster when his back ailed, senior receiver Jared Cornelius can't practice until Monday, when the start of UA classes expands the roster.
However, if he were eligible to practice this week, Cornelius would be physically able to participate, Bielema said.
Cornelius still would have a week plus a couple of days of practice before the Aug. 31 season opener in Little Rock and would seem especially geared for the season's second game against TCU at 4 p.m. Sept. 9 in Fayetteville.
Cornelius's absence enabled receivers coach Michael Smith extensively to practice a young receiving corps.
REMAINING WEEK SCHEDULE
Though not a full scrimmage, Bielema says full-scrimmaging is done before the 7 p.m. season-opener Aug. 31 against Florida A&M in Little Rock. The Razorbacks were set to follow Wednesday's closed practice with their heaviest contact practice of the week in today's closed practice.
BACKUPS BATTLE
Bielema and offensive coordinator/quarterbacks coach Dan Enos continue to focus on the dead-heat battle for backup QB between third-year sophomore Ty Storey of Charleston and redshirt freshman Cole Kelley of Lafayette, La., behind senior starter Austin Allen of Fayetteville.

Allen, the 2016 SEC passing leader with 3,430 yards, is the unquestioned starter. The Manning Award just named Allen to its watch list. Allen already adorns watch lists for the  Maxwell, Davy O'Brien and  Johnny Unitas Golden Arm awards.
But the No. 2 spot has been as wide open as the starting job is sealed.
"I want to really stress Cole and Ty Storey," Bielema said.  "Just get them as much work as we possibly can because we've got to make a decision on who that number two guy is and get him reps moving forward. They've been battling it out, going back and forth."
FRESHMEN FLASHES
One of the rookies, true freshman Koilan Jackson of Joe T. Robinson, will travel with the varsity against Florida A&M, Bielema said.
True freshman running back Chase Hayden, the fastest of a three-man running back rotation, should play in the season opener. Bielema calls sophomore Devwah Whaley, senior University of South Carolina/graduate transfer David Williams and Hayden "1A, 1B and 1C."

Surprisingly, since he arrived as a blueshift (walk-on with a scholarship presumably available in the future), true freshman offensive tackle Ty Clary is in the varsity mix. True freshman outside linebacker Hayden Henry of Little Rock, a Pulaski Academy alum and younger brother of former Razorbacks All-American and Mackey Award winning tight end Hunter Henry, is another blueshirt.
Bielema said scholarship true freshman cornerbacks Chevin Calloway and Kamren Curl are in the backup mix behind starting corners Ryan Pulley and Henre Toliver.
JONES OUT OF DOGHOUSE
After third-year sophomore receiver La'Michael Pettway responded with superb practices following Bielema's public scolding, Bielema took the same tack with redshirt freshman receiver Jordan Jones of Smackover.
Jones was the sensation of the early preseason practices, but Bielema chided after Saturday's scrimmage that "Jordan Jones has got to decide to grow up. I got after him."

The coach sang a more favorable Wednesday tune.
"Jordan Jones has continued to make strides," Bielema said. "I think he just continues to grasp the offense better and better each day. We know physically he's had a play or two every day where you're just like, 'wow!' If you ask our secondary guys, they'd probably say they fear him the most."