Hogs: RB Williams says O line shuffle a luxury, not necessity; more notes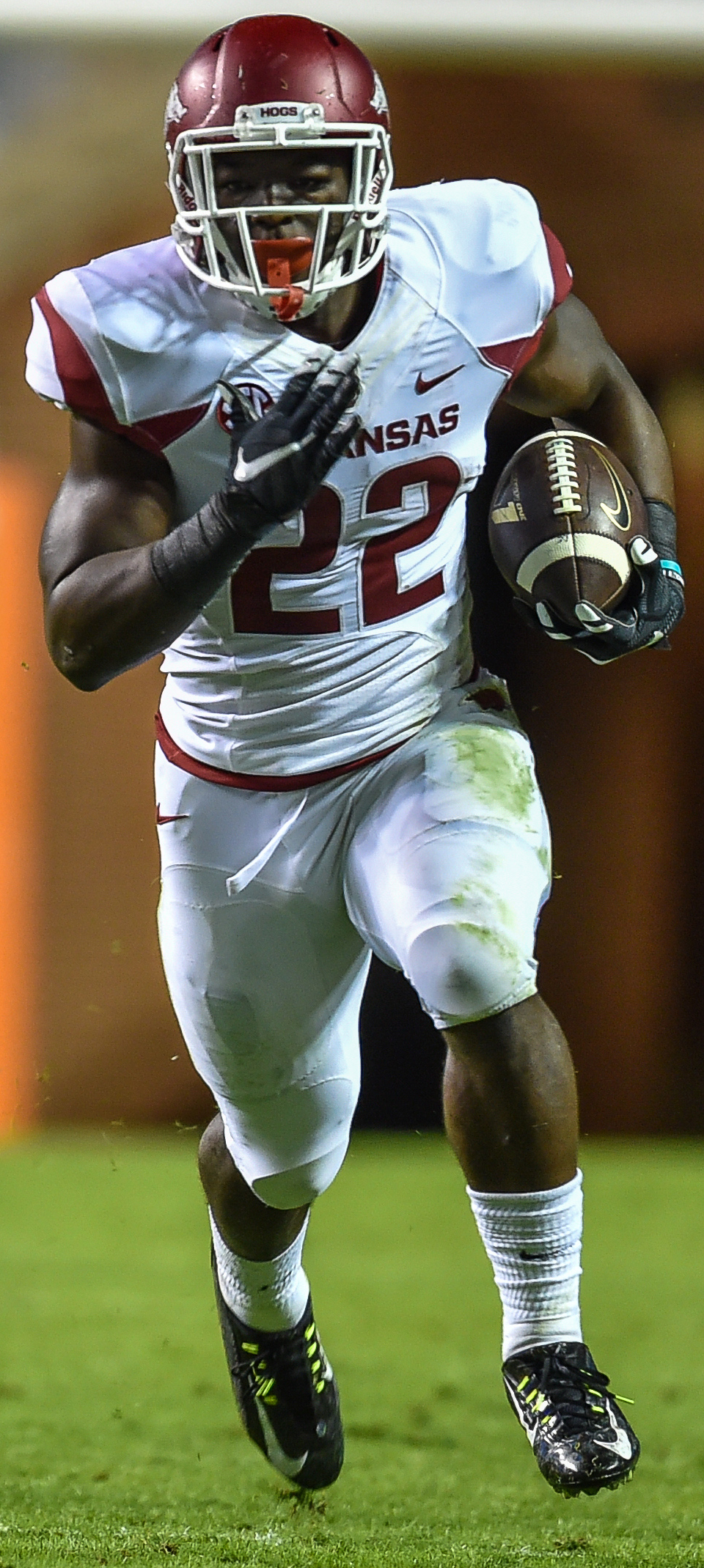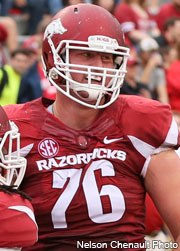 Sr OT DAN SKIPPER
FAYETTEVILLE

- Tuesday's latest offensive line alignment for Arkansas vaulted redshirt freshman Jalen Merrick from pressing Jake Raulerson at first-team right tackle to first-team right guard, while center Frank Ragnow, left guard Hjalte Froholdt, left tackle Dan Skipper and Raulerson stayed put.

Tuesday's second-team offensive line had sophomore Zach Rogers (first-team right guard in Saturday's scrimmage) at center with junior college transfer Deion Malone  at right guard and Johnny Gibson of Dumas at left guard. Brian Wallace worked at right tackle and redshirt freshman Colton Jackson of Conway at left tackle.

Skipper, a three-year starter was asked after Tuesday's practice about Merrick's promotion from head coach Bret Bielema and line coach Kurt Anderson.
"Jalen played really well in the scrimmage at tackle," Skipper said. "We thought that moving him inside to play guard would be a good move for him. He's so big (6-4, 322) and strong, any time you can get a guy like that in the middle, it's a huge asset for our line. The biggest thing with him is just making sure he knows where he's going at guard and the footwork. Guard is actually a lot more technical for us than tackle."

Skipper knows. He started at guard as a 2013 freshman then left tackle as a sophomore and right tackle last year.

Merrick says he's practiced at every line position since redshirting last year out of Oak Hill, Fla.

"Just wherever they put me, that's where I'm going to play," Merrick said. "Just come out to practice and do whatever I am told to do."

How does he like right guard?

"I like it," Merrick said. "Pretty much anything on the right side is my cup of tea."

Tea now with no sugar..

"I was pretty heavy pushing about 350 when I reported here (last year)," Merrick said. "Slimming down a lot has really helped me move and get lighter on my feet. When I was heavy, I would just get tired and out of energy and never really looked good after the first couple of plays."

Fourth-year junior quarterback Austin Allen noticed Merrick's weight loss and performance gain.

"He's probably in the best shape that I have ever seen him in," Allen said. "I really feel like he can help us."
RAGNOW TO ALLEN CHEMISTRY 101
Through all the line shifting, Allen says junior Frank Ragnow, the starting right guard last year and backup center in 2014,
has been first-team center this August with

just a day or two at guard.

"Frank has pretty well been at center the whole fall camp, and we have great chemistry," Allen said. "He's kind of the point guard out there for the offensive line getting all the calls right."
SHIFTING LINE OPENS HOLES
Despite all the offensive personnel switching at guard and tackle and the acknowledged prowess of Arkansas' defensive line, the makeshift O-line in Saturday's scrimmage sprung running backs Rawleigh Williams for  67 yards and a touchdown against the first-team defense.

Freshman Devwah Whaley netted 97 yards and a TD on 14 carries behind both the first and second lines vs. the first and second defense.

The shifting line's steady blocking didn't surprise Williams.

"The reason they are shifting is because we have so many athletes at the O-line," Williams said. "All those guys can play, and we are trying to find the best group. I have confidence in all of them.  Every day I look at the lineup and kind of laugh because it's always something different. But they always have a good day and always open holes."
RUNNING QUESTIONS ANSWERED
Certainly with senior Kody Walker, four carries for 27 yards before re-injuring his foot, Williams and Whaley excelling, Allen says all the running back questions seem answered despite 1,000-yard rushers Alex Collins and Jonathan Williams turning pro after last season.

"We have got a stable of 'backs," Allen said. "You saw Devwah on Saturday. He's the real deal. Rawleigh ran hard.  He's the real deal also. All those guys really. They all have something special, and they are all capable."
Senior receiver Keon Hatcher rested Tuesday with what he called a minor shoulder injury. The Hogs likely will lose senior receiver Dominique Reed of Camden for two weeks after spraining an ankle Saturday.

The receiving corps, with freshman Jordan Jones of Smackover back after missing two practices and the scrimmage with illness, pressed on Tuesday, Allen said.

"It gives other guys opportunities," Allen said. "Cody Hollister has been a beast all camp, running great routes and catching everything thrown to him. And Jordan Jones has flashed all camp also. He is making one-handed catches and looks like an older vet out there running great routes. He came back Monday and hasn't missed a beat."