HOGS: O line, receivers and injury updates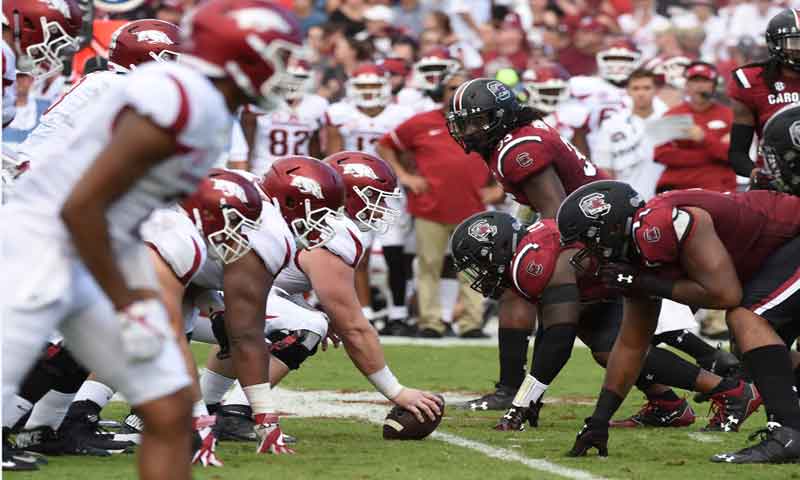 FAYETTEVILLE - Arkansas receivers Gary Cross and Tobias Enlow didn't start the preseason with much fanfare but they bear prominence now.
The two have run first-team in the Spread sets of new head coach Chad Morris, Arkansas junior first-team receiver La'Michael Pettway of Nashville confirmed.
"It varies," Pettway said Wednesday of a six-man receivers group that includes himself, seniors Jared Cornelius, Jonathan Nance, sophomore De'Vion Warren and Cross and Enlow.
Now a senior, Fordyce native Cross transferred to Arkansas last year from Hutchinson (Kan.) Community College. He  played in 10 games last season on special teams with one tackle and three kick returns and caught one pass.
North Little Rock High grad Enlow, now a third-year sophomore has no stats for his two UA years. He redshirted in 2016 and practiced scout team again in 2017.
ENLOW ON THE GO
Pettway said when he missed a recent practice with an injured groin muscle that Enlow worked into the rotation.
"Tobias stepped up and made a lot of plays and it paid off for him in the (last Saturday's) scrimmage," Pettway said. "He stepped up and Gary stepped up. When their number is called, they both perform."
Cross, among the fastest Razorbacks, seems up to speed mentally. He arrived from Hutchinson only at the August preseason start of former Coach Bret Bielema's final campaign in 2017 then had to adjust last spring to Morris' offense.
"I tell you one thing, Gary Cross is fast," offensive coordinator Joe Craddock said after Saturday's scrimmage. "He's gotten by some DBs in fall camp thus far.  Actually learning the plays was kind of his biggest thing in the spring. He just didn't know what to do. But man, he's really come a long way. Tobias is doing a great job as well. Two really good guys that are competing for a job." 
CROSS CATCHES UP
Cross said it makes an enormous difference knowing where his speed is supposed to take him as opposed to running unfamiliar routes last spring.
"I really got into my playbook, learned what the offense is doing," Cross said. "I've been playing fast, and coach has seen it. That's why I've been running with the Ones."
Sophomore quarterback Cole Kelley, still in an apparent dead-heat competition with junior Ty Storey of Charleston for the starting QB job, was asked about Cross and Enlow after Wednesday's practice.
"Tobias has been going with the Ones a lot," Kelley said.  "Gary Cross is a freak athlete, man. His testing numbers are like something I've never really seen. And now he's starting to put it together with how he plays. He's having a great camp."
THE OLD CORNELIUS
Cornelius was among Arkansas' best receivers in 2015 and 2016 granted a hardship season for 2018 after missing last season's final eight games with a torn Achilles that also prevented him from contact practices in the spring.
"When we go one and one, man, J-Red looks good," Pettway said. "I feel like he's almost 100 percent now. He's slimmed down and he's running real good. He looks like the old J-Red to me."
Wednesday's practice was tapered to no contact with another contact session scheduled Thursday leading into Saturday's scrimmage.
ALL MENTAL
"Today is more of a mental day," senior starting right guard Johnny Gibson of Dumas said. "We call it 'Class on the Grass.' We come out here and walk through some plays, go through different situations and then we go through our recovery, like yoga and stuff."
The offensive line, because of injuries, needs all the reps (mentally and physically) it can get. The line is relying heavily on true freshmen, Noah Gatlin and Silas Robinson as backups and redshirt freshmen Kirby Adcock, Dalton Wagner and Shane Clenin variously as first- or second-teamers. Last week, coaches moved junior Austin Capps of Star City from defensive tackle to offensive guard. 
WAGNER AILING, TOO
Wagner, playing both right and left tackle this preseason, didn't practice Wednesday because of an undisclosed injury, but starting senior right tackle Brian Wallace returned after a three-practice injury absence.
Reserve guard Jalen Merrick (reported headaches) continues to be withheld. Senior tight end Jeremy Patton, injuring an ankle during Monday's practice, already is out of his walking boot and aiming to return soon.
FRANK'S FINE FILM 
If anybody could capture Frank Broyles' larger than life life in 14 minutes of film, producers Larry Foley, Jim Borden and Kevin Trainor could and did.
Their well written, well photographed documentary available for free on arkansasrazorbacks.com and narrated by Scott Bull, Broyles' last Southwest Conference championship QB, highlights the 50 years Broyles was either the UA's athletic director, head football coach or both. Broyles passed away at 92, on Aug. 14, 2017.