Hogs: Young wideouts high on senior QB & vice versa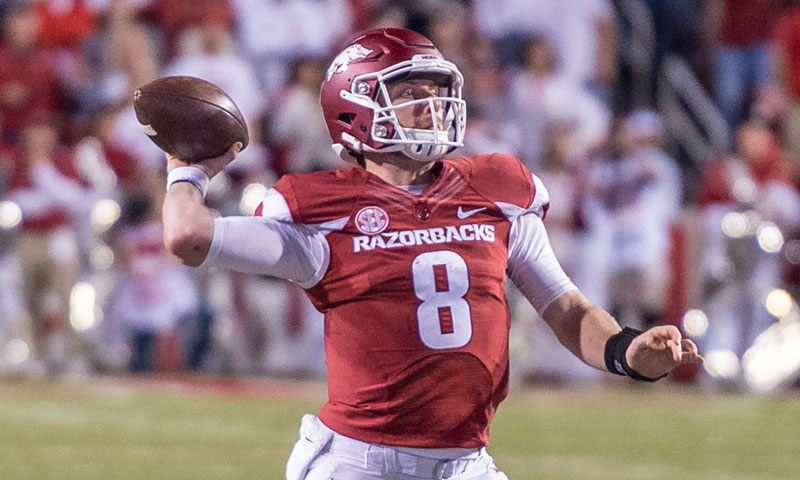 FAYETTEVILLE - With senior receiver Jared Cornelius not reporting to practice until the University of Arkansas fall semester classes start Monday, the receiving corps is so young that third-year sophomore and sparsely used 2016 reserves Deon Stewart and La'Michael Pettway rank oldest in tenure.
But they, the true freshmen and new junior college transfers have a senior aid, Pettway asserts. They have senior returning starter and 2016 SEC passing leader Austin Allen at quarterback.
"That's like a Tom Brady to a rookie," Pettway said after Tuesday of Allen's impact. "Austin is prepared, comes out and he just balls, man. He's a gamer. And he's a practicer as well. Every day he comes out and is on point. You want a quarterback like that."
FEELING IS MUTUAL
And Allen appreciates a receiver like Pettway, the muscular 6-2, 220 Arkansan from Nashville. Especially after Coach Bret Bielema lit a fire under Pettway with some caustic comments after Pettway's first few practices that started July 27.
"Unbelievable," Allen said. "Ever since that day, he's practiced his tail off. He's out there every day focused, prepared, catching that ball, running those good routes. He's a big body and I think he's taken the maturity step to know he's the guy this year. His whole demeanor has really changed, and I couldn't have been more proud of him."
PETTWAY TAKES THE CHALLENGE
Pettway urgently took up Bielema's edict.
"You get tired of being targeted," Pettway said. "It's like Coach B challenged us, and we just took the challenge and took it to a whole  other level as far as a receiving corps."
Of his early practices Pettway said, "I had a few mental busts, whether it was a missed assignment on a block or a snap count. But I've eliminated those and feel almost 100 percent."
CHASING TO BLOCK FOR CHASE
Pettway said freshman running back Chase Hayden's shifty speed accentuates staying on your block and improvising your blocking.
"With Chase, you never know," Pettway said. "He's the type of guy who can break a run and come back to your side so you have to stay on your P's and Q's."
FROM C.J. TO CHEYENNE
Third-year sophomore tight end Cheyenne (formerly C.J.) O'Grady of Fayetteville, often in Bielema's doghouse until the end of the 2016 season, continues to blossom with a new image and approach.
"Early on, when I first got here, I kind of took it as I was one of the better players," O'Grady said of starring at Fayetteville High. "I kind of took that approach, and that's not going to get it done in this league. Over these past two years that I've been here, I watched film, just took the next step, and it's put me in the right position. I just have to keep pressing."

What about going back to Cheyenne, his given full name, instead of the C.J. he went by at Fayetteville High?
"I came in and I wasn't the greatest student/player to be coached, and I kind of got into some trouble early on," O'Grady recalled of himself as C.J.. "I wanted to get away from the people that knew the C.J. and start something new. I wanted people to know I'm a changed guy. I'm a good guy. That's one of the main reasons I wanted to change my name."
CLIMATE CHANGE AT LAST
Climate changed on the Razorbacks Tuesday. The amazingly cool August suddenly heated into the low 90s.
"You could definitely feel a difference today," sophomore running back Devwah Whaley said. "This had to be the hottest day."
Whaley said the Razorbacks needed to swelter with their Aug. 31 season-opener against Florida A&M in Little Rock.

"It's good to go through it because you never know what game day is going to be like," Whaley said.
AUSTIN ALLEN REMEMBERS BROYLES
Arkansas' offensive players met with media for the first time Tuesday since Monday's death of Frank Broyles (92), the Razorbacks Hall of Fame  head football coach from 1958-76 and Hall of Fame athletic director from 1973-2007 and athletic director emeritus thereafter.
As the son of Bobby Allen, an Arkansas assistant coach from 1998-2012 and Bielema's director of high school relations ever since, Austin knew well of Broyles' legacy as Razorbacks tight ends coach Barry Lunney Jr., a Fort Smith Southside alum and Arkansas' quarterback from 1992-95, addressed the team Monday as the Arkansas coach who knew Broyles best.
"I know how much Frank Broyles means to this state, how much he means really to the world of college football," Allen said. "Without him, Arkansas wouldn't be where it's at today. All these nice facilities for this whole athletic department are because of him. He means a lot to Arkansas football. He means a lot to this whole state and really just credit to him where college football is today."