Bielema breaks injury news on RB Walker and WR Reed, resulting personnel moves; notes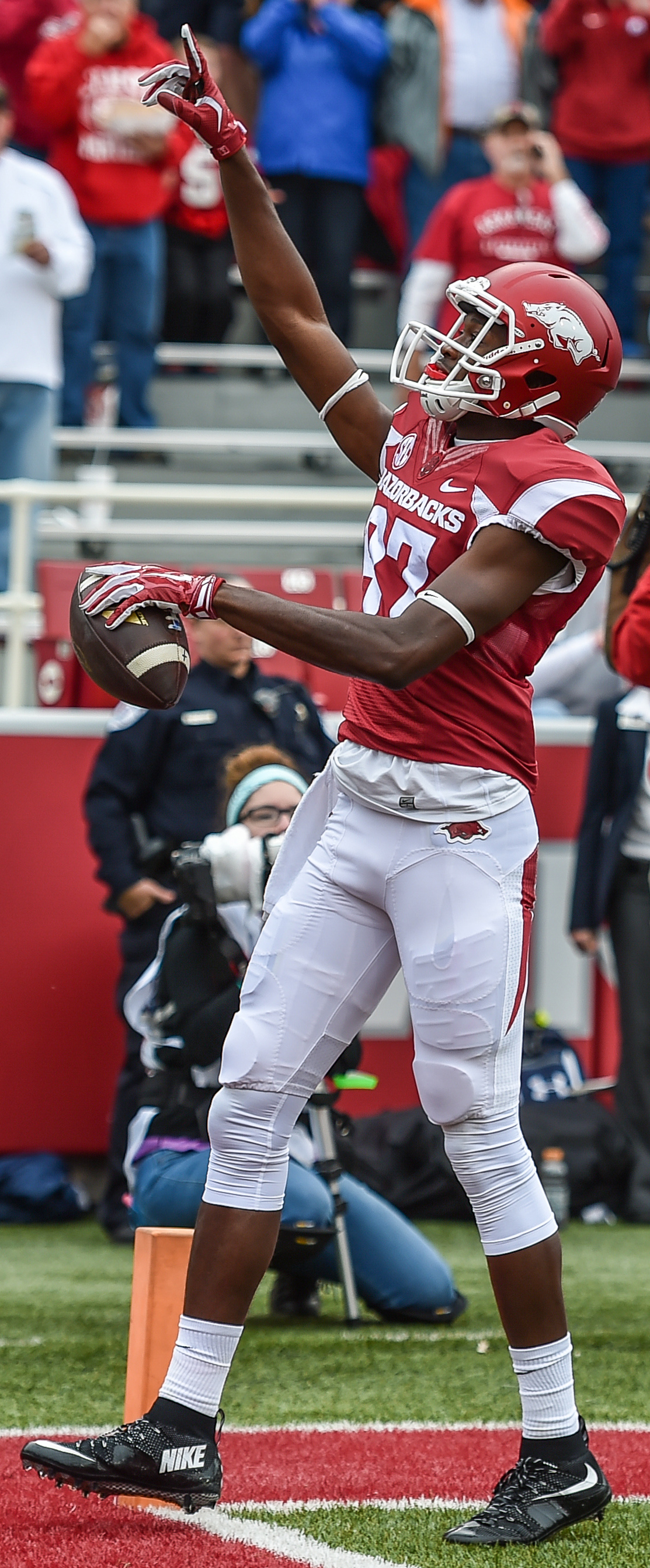 FAYETTEVILLE
- Arkansas coach Bret Bielema says senior speedster receiver Dominique Reed (in photo) has injured an ankle and may be out the next two weeks.
Bielema told reporters Monday he's optimistic Reed (28 passes for 535 yards last year) and senior tailback Kody Walker (sore foot he broke last year) will be available for Arkansas' Sept. 3 opener against Louisiana Tech.
RUNNING BACKS SHUFFLE

The "tweaked" knee that freshman running back T.J. Hammonds (Joe T. Robinson) suffered during warmups for Saturday's scrimmage was worse than Bielema feared, too. Hammonds underwent surgery Monday for a "torn meniscus," and likely will redshirt as will freshman receiver Kofi Boateng, who tore his ACL last week.
Boateng was going to redshirt anyway with the Hogs so deep in receivers. Hammonds might not since his projected recovery time is just two to three weeks, and he could help on special teams.

"We did have an outside expectation to see if T.J. could help, and we'll still address that depending on how fast he comes back," Bielema says.

With Hammonds and Boateng out, and Walker (four carries for 27 yards last Saturday) reporting pain in the foot, running backs Juan Day of North Little Rock and Connor McPherson have been activated to the 105-man preseason roster. The roster expands Monday with the start of UA fall semester classes.

Regarding sixth-year senior Walker being ordered some rest: "We'll get the soreness out and he'll be ready to rock and roll by game time," Bielema says.
SCOOTA UP
With nobody established behind surprising freshman Hayden Johnson at fullback, Bielema says sophomore Kendrick Jackson is moving from reserve linebacker to backup fullback just as he did last season. "He played it last year and did a nice job," Bielema says.

Moving Jackson to fullback was made easy because true freshman De'Jon "Scoota" Harris of Harvey, La., has practiced so well behind middle linebacker Brooks Ellis.

"De'jon is very intelligent.," Bielema says. "He's was a quarterback and middle linebacker in high school, and made all the calls. It's going to be impressive to watch him."

"He as a really good attitude," Ellis says. "It's helping him a lot because he takes teaching and applies that to the field. He just improves on what he did wrong, and that's what is making him better. Obviously, he made plays in the scrimmage."

Sophomore weakside linebacker Dre Greenlaw of Fayetteville, a starter last year as a true freshman, says Harris has the talent and precociousness to play.

"He's a beast," Greenlaw said. "He's a young guy like I was last year, and coach expects him to come in and compete for the job. I can't wait to see how his future goes."
RAULERSON STICKS AT RIGHT TACKLE
Bielema was asked about the revolving door at right offensive tackle. Junior Jake Raulerson, the graduate student transfer from the University of Texas, worked at center and guard in practices. But he was first-team right tackle during Saturday's scrimmage.

"I liked what Jake did," Bielema said.

Senior Dan Skipper and junior Frank Ragnow return as starters. Skipper moved from right tackle to left tackle last week while Ragnow seems settled at center despite starting 13 games at right guard last season. Redshirt freshman Jalen Merrick's stock seems to be rising at tackle or guard. Sophomore first-team right tackle Brian Wallace challenges sophomore Zach Rogers at right guard.

"We'll continue to rep Brian Wallace at right guard," Bielema said. "I like Jalen Merrick and see what he can do in there. Zach did good things, but we want to see what Jalen can do. Also Paul Ramirez (the new junior college transfer tried at offensive tackle and guard) probably played his best football (in Saturday's scrimmage) since being here, and he's only 13 practices into it. He played really good at guard more so than tackle. Frank, Jake and Zach can all rep at center."