Hogs: Healthy 'backers quickly mesh; more notes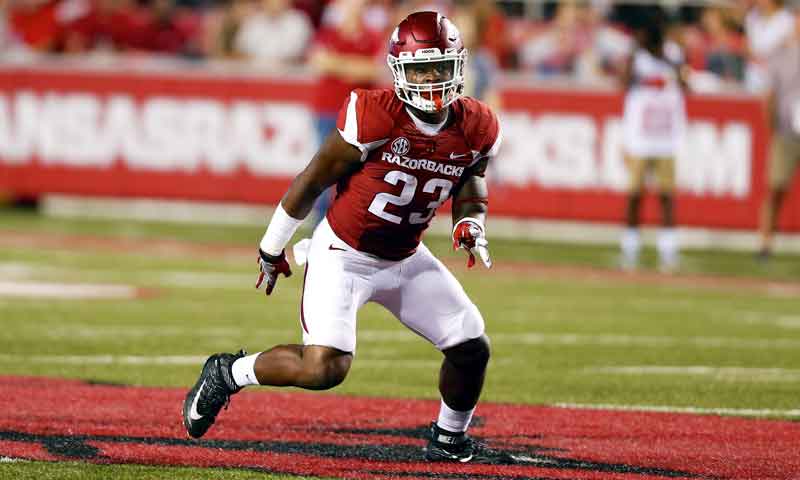 FAYETTEVILLE - Finally, with Saturday's scrimmage and Monday's practice, the 2017 Arkansas Razorbacks have practiced their best two inside linebackers together.
Weakside linebacker Dre Greenlaw (in photo) of Fayetteville was the starter last year and Scoota Harris his rookie backup when Greenlaw broke his foot in midseason. Harris replaced Greenlaw starting alongside 2016 senior middle linebacker Brooks Ellis.
Now sophomore Harris, out for a few days this preseason with a sprained knee but back again and scrimmaging Saturday, starts at middle linebacker.
Greenlaw, missing all spring practice after breaking his foot again during last December's Belk Bowl, was cleared for full go Friday and said he went full go Saturday at weakside alongside Harris.
"I did about 16 plays last Saturday, and it was full-scale tackling," Greenlaw said after Monday's practice. "It was good. That's all I've been wanting to do."
How did it go?
"It was a little rust," Greenlaw said. "Not much. For the most part I knew what I was doing and graded out a little bit over 80 percent. But there were some things, you know, where a little freshman Dre came out every now and then. Just have to get those corrected, and it's good."
Is he concerned about Junior Dre getting past Freshman Dre by the Aug. 31 season-opener against Florida A&M in Little Rock?
Greenlaw laughed.
"Oh, it was just a couple of plays where I was anxious," Greenlaw said.  "So, I really don't think it was freshman Dre as much as the anxiousness of just trying to go and make a play. I would kind of overrun it, but then I would come back in and make a play. Just little stuff technique-wise where I could tell I was a little rusty. But after about three or four plays, I got back to good. Out of the 16 plays, I think I had four or five tackles."

TEAMING WITH SCOOTA
How did it go teaming with Scoota?
"It was good," Greenlaw said. "Scoota has been working really hard on his game. We didn't get that much work together last year but I think this year from what I can see he's improved so much. We are going to be a good duo."
TEAMING WITH DRE
Harris was asked about working with Greenlaw.
"That was the first time we had practiced together live," Harris said. "It went pretty good. We were out there flying around and making plays.  I think Dre is coming along. The injury has not bothered him. They are just limiting him for protection and safety."
Harris intercepted a pass Monday thrown by starting quarterback Austin Allen.
BACKUPS IMPRESSING
Greenlaw and Harris complimented Grant Morgan, the redshirt freshman walk-on who has practiced first-team weakside in Greenlaw's place and at middle linebacker when Harris was sidelined. They said redshirt freshman inside linebackers Dee Walker and Giovanni LaFrance have progressed, too.
"Grant, he's just a smart guy altogether," Greenlaw said. "It was easy for him just to come on and play because of his brain. I think he's going to be a big help."
LIDDELL TAKES COMMAND
Senior safety Josh Liddell of Pine Bluff Dollarway met media Monday for the first time since re-promoted to first team before Saturday's scrimmage.
Liddell has started 20 consecutive games but was demoted behind junior De'Andre Coley during spring drills until Saturday and after "his 14 best practices as a Razorback," Coach Bret Bielema said.
"This last fall camp is the best I've felt my whole career here, just mentally, physically, you know everything," Liddell said. "I just feel comfortable. I feel fast and ready to play every day. So it's been a couple of great scrimmages for me. It's been a great 14 practices.  Guys were always in the right spot. We did the right things. We lined up right. We played fast, physical. There were a lot of really good tackles out there last Saturday.

RAZORBACKS REMEMBER BROYLES
Arkansas natives Greenlaw, Liddell and senior defensive back Kevin Richardson of Jacksonville were asked about Monday' passing at 92 of Arkansas iconic athletic director/football coach Frank Broyles.
Broyles retired nine years ago as athletic director. but his legacy remains indelible.
"He is a Razorback and he's the reason we all are Razorbacks," Greenlaw said. "He's a legendary guy, and he will be missed."
A larger-than-life legend even to so young an audience.
"What he means can't be put into words," Liddell said. "You can't do it justice, what he's done for this school. We're all thankful just to be here."
Arkansans much older than the current Razorbacks can't remember an Arkansas day without Frank Broyles.
"He's been involved with this program longer than I've been alive," Richardson said. "He's been a great head coach, a great A.D … to see somebody pass away that had such an impact on the state of Arkansas, it's a tough loss for all of us."