Hogs: Morris yells at sloppiness; notes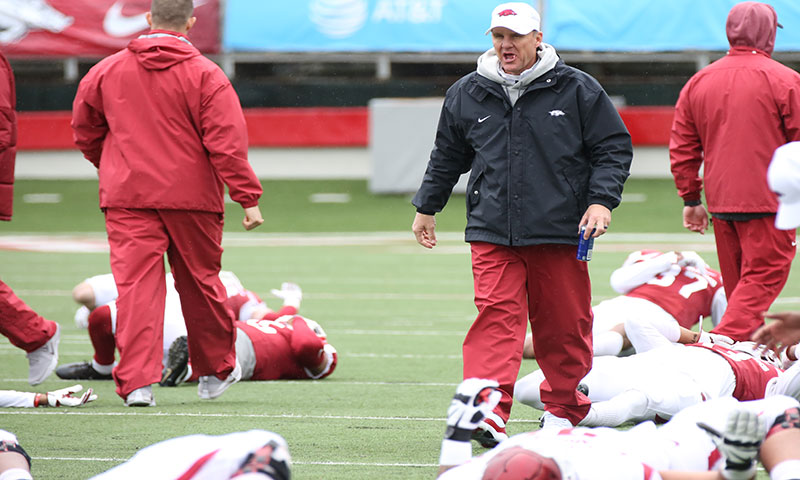 FAYETTEVILLE - Arkansas' four-deep tight end position was reduced Monday, at least temporarily, to three.
Senior second-year junior college transfer Jeremy Patton injured a foot or ankle while blocking for a field goal  attempt during the first 20 minutes of practice Monday and was carried off the field. Patton returned in a boot on the injured leg and watched the remainder of practice.
First-year Arkansas coach Chad Morris has called tight end among the deepest positions on the team, citing fourth-year juniors Austin Cantrell of Roland, Okla., and Cheyenne O'Grady of Fayetteville, third-year sophomore Grayson Gunter of Madison, Miss., and Patton.
"Really, everybody just steps up one spot," Cantrell said. "I don't think he'll be out that long, honestly."
MORRIS LASHES OUT
Patton's injury was the toughest for the Hogs to watch Monday, but Morris' vocal displeasure likely was the hardest to hear.
"He's kind of like that every day," Cantrell said of Morris being fiery. "But he was a little bit more mad today, I guess. We were a little slow on the start. We got a little punishment, had to do some up-downs, but I think after that it turned around."
Fourth-year junior cornerback Ryan Pulley and McTelvin "Sosa" Agim, the junior defensive tackle-end and Hope High alum, said they weren't surprised Morris lashed out.
"You will catch it every once in awhile, if he doesn't feel like you are giving it your all," Agim said.  "Especially after we just got a day off yesterday."
Pulley saw Monday's updowns coming almost from the get-go.
"We knew we didn't have energy when we went out there," Pulley said. "People were walking around. So, we knew we were going to get punished at some time today. So we just took it to the chin and got better today."
Pulley said Morris completed practice far more upbeat than he began it.
"Just a little message to motivate us," Pulley said. "He told us we've got to keep getting better everyday. We went out there a little slow, but we picked the energy back up at the end. We're gonna come out there tomorrow and have a big day.
PULLEY LIMITED
Pulley wore a green jersey Monday, signifying limited contact.
"I'm dinged up a little bit, but I'm alright," Pulley said. "Just a little stinger on my shoulder, but I'm ready to go."
Sophomore running back Chase Hayden, withheld from Saturday's scrimmage because of an injury, practiced Monday.
CAPPS AT LEFT GUARD
Though Saturday's scrimmage was junior Austin Capps' first live work after moving from the defensive to the offensive line, the 6-4, 311-pounder from Star City already pulls his weight at left guard.
"Capps, you don't want to be over there when he's pulling, I'll tell you that." Cantrell said. "He's been hitting people on that pull. He's one of the strongest, if not THE strongest guy on the team."
QBs EVEN BUT DIFFERENT
Seems all the Razorbacks have tactfully avoided directly replying to questions about the competition for starting quarterback between junior Ty Storey of Charleston and sophomore Cole Kelley of Lafayette, La.
Cantrell was no exception Monday, but he did contrast their personalities and styles.
"To me, it's neck and neck," Cantrell said. "I think it's wide open. They have their own personalities. Cole's just a really, really fierce competitor, but sometimes it may lead to a bad decision. Ty's usually more conservative and he's more of a thinker. That's kind of their personalities to me, anyway." 
CALLOWAY'S PICK
Sophomore cornerback Chevin Calloway described his leaping one-handed interception on the sideline during Saturday's scrimmage.
Morris, defensive coordinator John Chavis and offensive coordinator Joe Craddock marveled about Calloway's catch and tightroping the sideline footwork.
"I just looked up for the ball and saw it was in my reach," Calloway said. "I just reached up and grabbed it. Kind of mentally I told myself I need to drag this foot, so dragged that foot and just caught the ball."