Hogs: First scrimmage far from flawless, but QB Allen sharp and frosh RB Whaley wows; more notes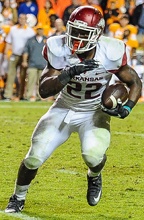 FAYETTEVILLE - Devwah Whaley, Arkansas' new running back, impressed Coach Bret Bielema Saturday, but last year's new kid most warmed the coach's heart during the scrimmage at Reynolds Razorback Stadium.

Though he has practiced in pads this week, sophomore running back Rawleigh Williams (in photo above) had not been tackled to the ground since breaking his neck during Arkansas' victory over Auburn last Oct. 24.

Williams got tackled 14 times Saturday by the first defense, netting 67 yards including a 2-yard touchdown on fourth down.

True freshman Whaley, running both with the first offense against the first defense and the second offense against the second defense, netted 96 yards including an 11-yard touchdown on 14 carries Saturday.

"Devwah is very, very impressive," Bielema said. "But probably the guy who shined was Rawleigh, to get back in the lineup. It was good to get him back in tackle football. He looked really, really good. Good patience on the perimeter, on some inside runs and everything else."

Even with Williams giving and taking licks in pads this week, Bielema felt queasy knowing Williams would be tackled Saturday.


"
I'm not gonna deny that I was anticipating today a little bit," Bielema said. "I think he was. I called his pops, and I wanted to see if he was sharing anything with them. If they had any fears or concerns, but he said, 'Coach just let him go. He's ready.' I'm like, 'OK.' I really liked that goal-line play. He kinda had to muscle his way in there a little bit ... and to see him come up, I think he might even be quicker than he was a year ago.

"I was very impressed with Devwah today, too. I think 21 (Whaley's number) can be something good."

The offensive line created some running room, an achievement given the ongoing shuffle of personnel. Saturday found University of Texas transfer Jake Raulerson, previously at center or guard, at first-team right tackle.

Walk-on Jackson Hannahs of Bentonville operated exclusively at second-team center, with reserve centers Raulerson at right tackle and Zach Rogers at right guard, while Frank Ragnow played  center.

A more experienced hand than Hannahs will end up as the backup center to Ragnow when the Hogs open the season Sept. 3 against Louisiana Tech, Bielema said.

Redshirt freshman Jalen Merrick played right tackle and some right guard. Redshirt freshman Colton Jackson of Conway worked at second-team tackle and briefly first-team left tackle when senior Dan Skipper cramped but quickly returned.

"We rolled a lot of different guys through there (offensive line)," Bielema said. "Jalen Merrick has had a really nice fall camp.  He's been a different man since he came back from spring ball a year ago. Colton Jackson could probably play left or right tackle. And we have a variety of guys in there at guard. Jalen could play right guard as well. Zach Rogers has had a nice camp, and Frank has been playing at a high level."

Junior starting quarterback Austin Allen completed 14 of 19 without a turnover for 151 yards.

"I think offensively the play of Austin I have been seeing in practice came out today," Bielema said.  "He has been very, very confident and very, very aware of his offense around him. I thought he got the ball around and distributed it well. I know a lot of different guys caught the ball."

Bielema noted Allen used the running game to throw well off play-action.

The first-team offense's biggest disappointment was in the red zone portion with receiver Drew Morgan's rare drop of a third-down pass preceding sophomore kicker Cole Hedlund bouncing a 35-yard field goal try off the right upright.


"
You know, we've put a huge emphasis on field goals," Bielema said.  "I don't like to be a Negative Nelly of the past, but you go back to the Alabama game two years ago, miss two field goals. You take the Mississippi State game (a blocked field goal), and that was protection. So, it's on me. I've gotta get those guys right."

Among the reserve quarterbacks, Ty Storey, 5 for 5 with 62 yards and an improvised 9-yard touchdown pass to tight end Cheyenne O'Grady.

Rafe Peavey completed 3 for 3 for 27 yards, and Ricky Town was 2 for 2.

Big true freshman Cole Kelley completed 5 of 12 for 116 yards, including a 68-yard TD to wide open Cameron Colbert against busted third-team defense coverage, and a 31-yard pass to redshirt freshman tight end Will Gragg of Dumas.

Senior Keon Hatcher's four catches led the receivers and netted 53 yards.

Senior Dominique Reed of Camden Fairview, struggling this spring after a sensational midseason through late season 2015, dropped his first pass Saturday, made a nice 17-yard reception and then "rolled his ankle," Bielema said.

Freshman Kofi Boateng will redshirt upon tearing the ACL in his knee in Friday's practice, Bielema said.

Freshman receiver Jordan Jones (illness) and freshman running back T.J. Hammonds (tweaked knee) were withheld.

Defensively, Bielema said he told coordinator Robb Smith to "tone it down and just line up in our base defense and play."

"That pulled back on them a little bit, but I thought we tackled efficiently," Bielema said. "There were a few missed tackles, but I thought probably that was because our offense did some good things."

First-team linebacker Dre Greenlaw led with eight tackles, while reserve defensive end Randy Ramsey posted three
tackles for losses. F

irst-team tackle Jeremiah Ledbetter posted two TFL, and reserves Khalia Hackett, Briston Guidry and Brandon Lewis had two each.

Junior linebacker Hackett posted seven tackles but missed a tackle when Gragg hauled his reception 31 yards.

The defense's turnovers were achieved by freshman walk-on and third-team linebacker Ben Brasuell of Benton, recovering a fumble, and JC transfer Britto Tutt picking off a pass thrown by walk-on QB Carson Proctor.