A-State: Anderson OK with first scimmage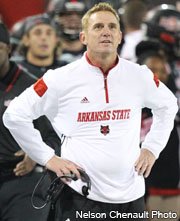 JONESBORO – The Arkansas State football team held its first scrimmage of fall camp Saturday morning as part of its ninth practice at Centennial Bank Stadium.

The Red Wolves scrimmaged for almost two hours, and the outing featured big plays on both sides of the ball
Offensively, A-State got a pair of receiving touchdowns from tight end Blake Mack and production from its running back corps that consisted primarily of Johnston White, Warren Wand, Jamal Jones and Armond Weh-Weh.
"We did some good and bad things on both sides of the ball," said A-State head coach Blake Anderson.  "Offensively, we controlled the ball pretty well with the exception of one interception.  We didn't have nearly the number of big plays – explosive plays – we are capable of having.  The tempo wasn't anywhere near where we need it to be, but that wasn't a huge concern today because we were limited on bodies and weren't pushing it as much.  For the first time out of live football, communicating from the sideline and all those things, I thought it was a decent step in the right direction."
Mack, a 6-foot-3 junior tight end, caught the first touchdown of the morning on a 24-yard toss from senior quarterback Chad Voytik. The Cleveland, Tenn., native was also responsible for a 58-yard pass to Kendrick Edwards during the scrimmage. He also connected with junior wide out Christian Booker on a 35 pitch-and-catch, while adding a 37-yard run in early in the scrimmage.
Redshirt sophomore quarterback Justice Hansen also connected with Mack for a 12-yard touchdown for the second score of the scrimmage. Hansen also had a 50-yard toss to Cameron Echols-Luper and found junior Christian Booker on a 33-yard pass.
Defensive coordinator Joe Cauthen's unit had eight tackles for loss and five sacks, although the Red Wolves' quarterbacks were never taken to the ground before the whistle blew the play dead.  Griffin Riggs, Darius Rosser and Chris Odom accounted for three of the sacks.
The special teams unit also saw extended time with J.D. Houston converting a 45-yard field goal attempt. Blaise Taylor and Echols-Luper also split time on punt return, while Damon Foncham took all the snaps as the team's punter.
The Red Wolves opened fall camp Aug. 9 and have held nine practices to this point. It was the first time that A-State has scrimmaged this fall, and the team will have one more on Saturday, Aug. 20, when the Red Wolves will celebrate Fan Appreciation Day at 6 p.m. at Centennial Bank Stadium.
Tickets may be purchased through the A-State Ticket Office, located at the Convocation Center's lower red entrance, in person, by phone at 870-972-2781 or online at AStateRedWolves.com/tickets.