Hogs: Liddell surges at safety; more scrimmage notes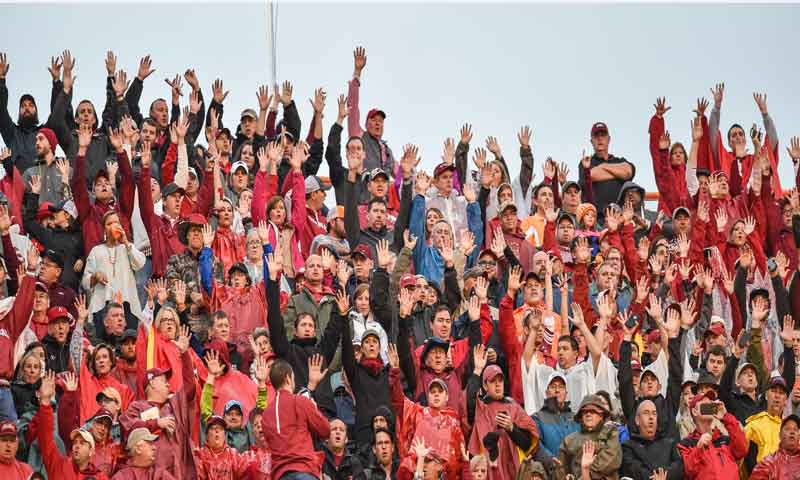 FAYETTEVILLE - Arkansas senior safety Josh Liddell's string of starts will likely extend after all as the Aug. 31 season opener against Florida A&M approaches.
Though considered one of three first-team safeties after starting 20 consecutive Razorback games, the Pine Bluff Dollarway alum was the odd man among fellow safeties Santos Ramirez and De'Andre Coley for the two first-team spots from the mid-point of spring drills through the summer's preseason practices.
During Saturday's scrimmage, Liddell started first-team ahead of Coley.
"Josh Liddell has probably had the 14 best practices of his career," Arkansas head coach Bret Bielema said after Saturday's scrimmage. "He has bought in. As always, he has always taken coaching. He plays within the extremes of what he can play. I think Paul (Rhoads) summed it up best. He's always in the right spot. His eyes are always in the right spot, and he seems to make all the plays."
The second half of the Saturday afternoon scrimmage at Reynolds Razorback Stadium was open to media and the public.
However, starting senior quarterback Austin Allen, starting inside linebackers Dre Greenlaw (his first scrimmaging since breaking his foot for the second time in the December 2016 Belk Bowl) and Scoota Harris (recent ankle injury) completed their scrimmaging before the public's and media's viewing.
"To get 23 (Greenlaw) back in there, to get Scoota back in there for the first half, they were very productive," Bielema said. "Very dominant, could run really well and do a lot of really good things. The defense definitely plays at another level when those two are in there together. I think that stood out big time.
"Then offensively, Austin again was really, really productive. Very, very accurate. Very in control."
Redshirt freshmen Grant Morgan of Greenwood and Dee Walker filled the first-team weakside and middle linebacking slots during Saturday's second half of the scrimmage.
Bielema and offensive coordinator coach Dan Enos used Saturday's second half extensively to audition scholarship reserve QBs Ty Storey, the third-year sophomore from Charleston, and redshirt freshman Cole Kelley.

Storey had the better Tuesday with the first unit than Kelley did Wednesday, Bielema said, regarding the days he gave each the most chance to show who should be the backup, but said Kelley had the better scrimmage Saturday.
Storey threw a nice deep pass to running back Devwah Whaley Saturday among his two completions in four attempts but also threw an interception to true freshman cornerback Kamren Curl.
Kelley completed four of six passes for 48 yards.
"I thought Cole Kelley threw the ball extremely well," Bielema said. "He created some plays, extended some plays when some things broke down around him. I thought Ty Storey through the course of the week was a little bit more productive and still did some good things today. Those guys continue to battle it out. We've got a great decision on our hands there. I feel really good where we are at."
Bielema intends to keep evaluating both QBs next week before committing to one as the definite No. 2.
Frankly, Jack Lindsey, the redshirt freshman walk-on and son of former UA tight end Lyndy Lindsey and grandson of Forrest City native and former UA  great Jim Lindsey, played as well as anybody Saturday.
Lindsey quarterbacked the second offense to a scoring drive against the first-team defense capped by his 4-yard touchdown pass to third-year sophomore tight end Will Gragg of Dumas.
Bielema praised Jack Lindsey's performance and his genetics.
"Obviously Mr. (Jim) Lindsey had something special, and I know Lyndy and what he has been able to accomplish in life, and Jack has just got that something to him," Bielema said. "He is very productive and smart, intelligent and engaged and doesn't make a lot of mistakes."
Bielema also praised walk-on QB Carson Proctor of Vero Beach, Fla., who threw the best pass of the Aug. 5 scrimmage. a 45-yard TD strike to freshman receiver Koilan Jackson.
Third-year sophomore Deon Stewart of Hardy, three catches for 62 yards in Saturday's second half, had the statistically biggest scrimmage among Saturday's receivers.

"Deon Stewart, as you saw, makes a lot of good plays, catches the ball well," Bielema said. "Then Jordan Jones (the talented redshirt freshman from Smackover) has got to decide to grow up. I got after him a little afterwards. If he wants to be treated like a Division-I player, an SEC player, he has got to take coaching, and I think he will. He's a great kid who has a lot of ability."
Sophomore running back Devwah Whaley, seven carries for 24 yards Saturday, logged the only rushing TD in the first half, while freshman Chase Hayden (11 carries for 65 yards) led the rushing in Saturday's portion watched by the public.
"Offensively Chase Hayden is a guy who belongs on the field," Bielema said. "He's a guy that stands out."
Bielema said true freshman offensive tackle Dalton Wagner, junior linebacker Josh Harris of Watson Chapel (foot injuries earlier in the week) and walk-on receiver River Warnock (hamstring) of North Little Rock have been deleted from the 105-man active roster allowed to practice until the roster expands with the UA's Aug. 21 start of fall semester classes.
Backup offensive tackle Jake Raulerson (ankle) did not scrimmage Saturday nor did backup defensive end Briston Guidry, who was excused to be with family upon his grandmother's death.
Ben Brasuell, the redshirt freshman walk-on linebacker from Benton, is among those added to the roster since injuries deleted Wagner, Harris and Warnock.