Hogs: QBs battle in today's scrimmage; notes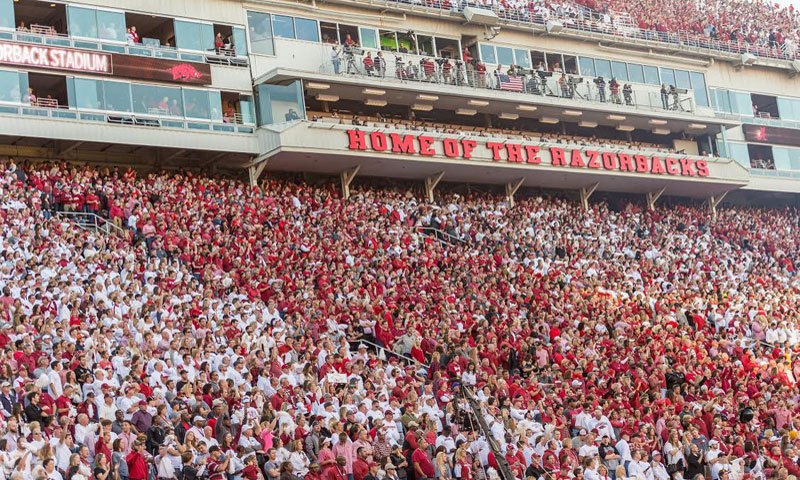 FAYETTEVILLE - Though named Arkansas' head coach in December with 15 spring practices and seven August practices behind him, Chad Morris, for the first time, works his Razorbacks today inside Reynolds Razorback Stadium.
The ongoing north end zone construction has preempted the Hogs from using their campus home, moving last spring's Red-White game to War Memorial Stadium in Little Rock.
But obstacles from the Frank Broyles Field are sufficiently cleared today for Morris' Razorbacks to scrimmage.
"I told our guys a couple days ago that Saturday's scrimmage would be in the stadium," Morris said.  "They were excited. They see what's going on. I mean, they're driving down the road seeing everything kind of coming together. Just a lot of excitement. Change of venue, something that's always good for these guys, especially in a scrimmage. A lot of their parents are coming in and will have a chance to watch them perform. As close to a game situation as we'll get."
Apparently, players' parents and various staff invitees may be the only ones seeing today's scrimmage. It is closed to the public, including media, as was Friday's workout.
The scrimmage should reveal more to coaches concerning the battle for first-team quarterback between sophomore Cole Kelley, junior Ty Storey from Charleston, true freshmen Connor Noland of Greenwood and John Stephen Jones and redshirt freshman Daulton Hyatt.
"I think they need to stay consistent from what we have seen this week," Morris said, "in as much a game setting as we can have. We will put them in for eight straight plays and see how they respond and lead their team. I think it's all about getting in that stadium and seeing how guys respond."
Walk-on Jack Lindsey seems to have carved the first leading role of the QBs. The son of former Razorback Lyndy Lindsey and grandson of 1964 Razorbacks national champion wingback Jim Lindsey, Jack Lindsey seems the top holder for returning place-kicker Connor Limpert's field goal attempts.
GROWING UP
Morris, offensive coordinator Joe Craddock and receivers coach Justin Stepp spent the summer challenging third-year sophomore receiver Jordan Jones of Smackover because of the speedster's inconsistent spring.
They root for Jones today to scrimmage like he's practiced the first six August preseason workouts.
"Jordan Jones, in particular, is having a really good camp right now," Morris said after Thursday's practice.  He's standing out.
"I've heard Jordan Jones talk more over the last three or four days than I've heard him talk since I've been here. He's got a lot of confidence. I think that has a lot to do with some strength that he gained during the summer. He's making plays on the field, and it's good to see that."
SVELTE WHALEY
After slipping from 2016 freshman flash to 2017 sluggish sophomore, junior running back Devwah Whaley has shed weight and revved his motor, a combination Morris wants on display today.
"I think Devwah has looked lighter on his feet," Morris said. "His movement, his plants in the ground and his vision. He sees it and makes the cut. In the spring. I think he saw it but just couldn't get into the cut quick enough. He just looks more explosive."
FROSH UP FRONT
Because of injury-induced absences on the offensive line, true freshman Noah Gatlin (6-7, 294) of Jonesboro and Silas Robinson (6-4, 304) will be varsity monitored today more than most true freshman offensive linemen are.
"Silas Robinson and Noah Gatlin are getting a ton of reps in that offensive line," Morris said. "We have some guys out right now that's forcing these two young guys to get in there and get game-speed reps. They have done a really good job. I think we have a lot of freshmen who have a chance to help us out this year."
FROSH TO WATCH
Outside linebacker/nickel back Joe Foucha of New Orleans and safety LaDarrius "Day-Day" Bishop of Ashdown are rookies of Morris merit.
"Joe Foucha, I think hands down he has a chance to be special," Morris said. "He really does. I've been pleased with Day- Day, LaDarrius Bishop. He's done some good things."