HOGS: Morris praises all QBs, RB Whaley; notes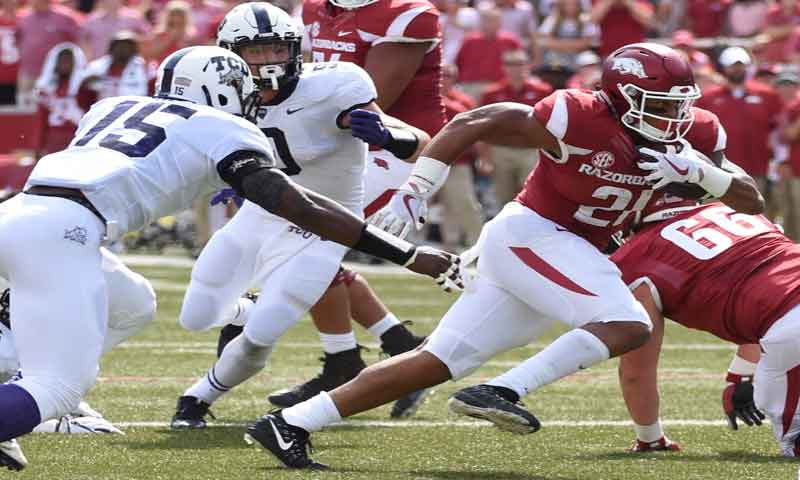 FAYETTEVILLE - Arkansas defensive tackle Austin Capps has moved to the offensive line at left guard, completing a chain reaction that started earlier in the week with left guard Hjalte Froholdt practicing at center and defensive end McTelvin "Sosa" Agim working at defensive tackle.
Capps, a 6-4, 311-pound junior from Star City, opened the August preseason at backup defensive tackle after missing spring ball because of hernia surgery. Capps scrimmaged at backup left offensive guard Saturday behind redshirt freshman Kirby Adcock, Arkansas head coach Chad Morris confirmed.
Froholdt snapped all first-team from center, and Agim scrimmaged at defensive tackle, Morris said.
Morris said all this to media after the closed scrimmage at Reynolds Razorback Stadium.
With the  scrimmage (140 to 200 plays, Morris estimated) closed, here are the observations from Morris, offensive  coordinator Joe Craddock and defensive coordinator John Chavis on the position moves and the scrimmage.
"That (Capps from defense to offense) will be a permanent move as we continue to develop depth," Morris said. "When I was watching him (Saturday), he did some good things. When I approached him, his mindset was 'Coach, I just want to win football games,' and that's what we're looking for. We can win a lot of games with guys with great attitudes like that."
Senior starting weakside linebacker Dre Greenlaw, one of four players also media available post scrimmage, echoed Morris' sentiments on Capps.
"Everybody loves Capps," Greenlaw said. "He's a guy as a potential starter who doesn't mind going from one side to the other from defense to offense. You've got to appreciate people like that."
Froholdt is now all center all the time. The senior said snapping the ball is the biggest adjustment, but there are spatial adjustments, too, moving to center.
"Even though it's only a couple of inches, you're closer to the defender," Froholdt said. "You have to get your footwork in quicker. You have to get your hands up quicker considering they're right there in your face."
Regarding Capps, Froholdt noted Capps had starred as both a defensive and offensive lineman at Star City. "He's not a greenie," Froholdt said. "He's played offensive line before."
Craddock noted that, too.
"Selfishly, I've been begging for him for awhile," Craddock said. "He's doing a heck of a job trying to learn."
Resting senior right tackle Brian Wallace, joining Froholdt as almost indispensable, offensive line coach Dustin Fry scrimmaged a lot of novices Saturday, including redshirt freshmen Dalton Wagner and Shane Clenin, true freshmen Noah Gatlin and Silas Robinson  and sophomore Ty Clary, variously cross-training throughout the line.
On defense the practices by Randy Ramsey (also withheld Saturday), Gabe Richardson, Michael Taylor and Junction City's Jamario Bell on the ends free Hope High alum Agim to fill the tackle void inside.
"He's smart and can handle working both," Chavis said. "But the majority of his work will be inside."
Morris was asked if either top two quarterbacks Ty Storey, the fourth-year junior from Charleston, or third-year sophomore Cole Kelley, moved ahead in their battle to be the starter.
"Nope, no leader," Morris said. "I thought Ty Storey did some really good things. He started the scrimmage, and then Cole Kelley came in and he got the next rack of number ones. They both led their team down the field, sustained some drives." 
Storey, Kelley and walk-on quarterback Jack Lindsey, the holder for place-kicks, which included two 50-yard plus field goals Saturday by Connor Limpert and a 50-plus by Preston Stafford, all scrimmaged in no-contact caution jerseys.
But Morris said he scrimmaged true freshmen QBs Connor Noland of Greenwood and John Stephen Jones and redshirt freshman Daulton Hyatt live contact.
"I wanted to see how those guys were going to move around with everything coming in hot around them" Morris said. "I thought they all three did a great job moving the football and stepping in that pocket and escaping when they had to."
Morris most lauded junior Devwah Whaley among the running backs.
Defensively, Morris cited interceptions by true freshman Myles Mason and especially, Morris said, "a fantastic interception" by sophomore first-team cornerback Chevin Calloway.
Not given to superlatives after coaching defense for 39 years, Chavis also was impressed.
"I'll see it on film because I was looking to see if he was going to come down in bounds," Chavis said. "But if I'm not mistaken, he went up and got it with one hand. It was a big-time play."