Hogs: Storey gets time as #2 QB; Reed struggles at WR; Cantrell surges at TE; notes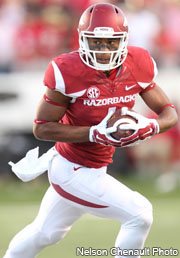 FAYETTEVILLE -  Arkansas offensive coordinator Dan Enos said between Wednesday's two-a-day practices that "we don't have a (number) two right now at quarterback."

After third-year sophomore Rafe Peavey, listed No. 2 to junior Austin Allen, threw an interception Thursday to cornerback Henre Toliver early in the workout, redshirt freshman Ty Storey of Charleston replaced Peavey on the second unit and even took a series with the first unit.

Saturday's scrimmage will be the real test for those contesting for backup and in some cases starting positions.
Even a proven senior game-breaker, receiver Dominique Reed of Camden Fairview with six  touchdown catches last year over six consecutive games, needs a good scrimmage to raise his stock.

Reed's spring drills weren't up to what Reed, Coach Bret Bielema and receivers coach Michael Smith anticipated.

Thursday's open-to-media practice plummeted below Reed's spring. Reed dropped four passes and got called out on an assignment bust.

So, Smith's post-practice review was thumbs up on senior receivers Keon Hatcher, Drew Morgan, and Cody Hollister and junior Jared Cornelius, and a better-do-better thumbs down on his fastest receiver.

"I thought Keon and Drew and Jared were practicing really well," Smith said Thursday. "Cody Hollister was practicing really well. I was disappointed in the way Dominique had his approach to practice today. He put some balls on the ground. But we'll get in the room tonight and get that corrected and he'll come out and play well tomorrow."
Hollister made a big catch of freshman quarterback Cole Kelley's 50-yard strike during drills, and in team practice time Cornelius made a spectacular one-hand catch of an Allen pass.

"I didn't get a good look at it," Smith said. "I just saw him come out with the ball. It was a really nice play he made and I was excited for him."

Smith said he was especially excited because Cornelius caught it draped by defensive back Kevin Richardson.

"It would have definitely been defensive pass interference," Smith said smiling. "It's always defensive pass interference. … That makes it even better when you catch a ball, and they're trying to illegally cover you."
JONES, WALKER OUT


Jordan Jones, the flashy freshman from Smackover drawing Bielema's and Enos' praise after Wednesday's practice, missed Thursday's practice because of a fever, Smith said.

Running back Kody Walker, a rare sixth-year senior granted an extra year by the NCAA because of injuries ending early his first three seasons, got Thursday off, running backs coach Reggie Mitchell said.
"He's a sixth-year guy," Mitchell said. "He deserves a day off."

CANTRELL MOVING UP
Austin Cantrell, the redshirt freshman from Roland, Okla., has moved ahead of the young tight ends trying to be the second tight end to senior Mackey Award candidate and senior tight end Jeremy Sprinkle.

"Today was pretty solid with him being in there," tight ends coach Barry Lunney said Thursday of Cantrell.  "He was working strictly No. 1 the last few days supplementing the huddle. He and Jeremy have been the mainstays. Now that's today, and it's an evolving process, but he has proven he has got a skill set that will help us win football games on Saturdays."

Blocking is what Cantrell (6-4, 269) does best.

"What made Hunter so good and Jeremy so good is you can put them out there and they can do anything," Lunney said.  "Right now, we are not to that point with him (Cantrell). But there are some things we can do with him that he does very well.  He is in a good spot right now."

Cantrell has good hands but needs to improve his concept of the passing game, Lunney said.

"He is running routes better and hopefully each time we throw that playbook against the wall more and more is sticking each time," Lunney said. "Hopefully we can get to the point where it all sticks."
Even the assistant coaches were shocked when Bielema whistled an early end to Thursday's 105-heat index practice because he had secretly reserved time in the HPER (Health, Physical Education and Recreation) pool for the Razorbacks to swim.


"
Whoever was in charge of contacting the HPER knew and the head ball coach knew," defensive backfield coach Paul Rhoads said. "That was a surprise to all of us."

And a "great thing by the head ball coach," Rhoads, the former  Iowa State head coach, said of Bielema's treat to the team.

"Shots like this are very important to our team morale, especially when you are physically tired," Rhoads said.  "I'd do a movie. I used to do the pool and then I had a starting receiver break a toe going down a doggone slide. I quit on the pool at that point."

Bielema has said the Razorbacks will prime for Saturday's scrimmage with a shorter Friday practice.